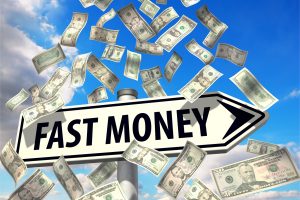 When you find yourself short on money for upcoming bills or simply want extra spending cash, you need a way to make easy money fast.
But where do you even begin to find it? Is there such a thing as "easy money"?
Lucky for you, there are many options for earning extra money that doesn't require a lot of work. Though they're not a get rich quick type deal, they will earn you enough to cover bills or a night out on the town.
Let's look at 10 ways you can make easy money fast and leave those money troubles behind you.
1. Sell Your Stuff
Chances are you've got several things in your home you no longer use that you can sell for cash right now.
You can do this in several different ways. Such as using online marketplaces, selling to a consignment shop, using a pawn shop, listing on eBay, or having your own garage sale.
Look around your house for items that you don't need and are in good condition. Then research online how much you may be able to get for them.
You likely won't get as much at a consignment shop then you would if you sold it yourself. But it's up to you to decide how much effort you want to put into it.
2. Get Paid to Take Surveys
When companies want to understand their target consumers better, they turn to surveys to find answers. And if you're willing to take the time to fill out these surveys, you will get paid.
Sites such as Survey Junkie pay users to take easy surveys, most taking less than 5 minutes to complete.
And new surveys are added every day. Which can keep the money coming in when you really need it.
3. Walk Dogs
Dogs lovers, rejoice! There's an easy way for you to make money AND spend time with those precious pooches at the same time.
You can join a service such as Rover and have people in your area hire you to walk their dogs. Or if you don't want to go that route, simply advertise your services on social media or talk with your neighbors.
And once you have a proven, solid track record of good reviews, you'll be able to easily find quick work whenever you may need it.
4. Drive with Uber or Lyft
If you've got a car and some extra time, you can make some extra cash fast by driving for Uber or Lyft.
This option is great because it allows you to work whenever you want, on your schedule. Which means you have the ability to bring in a good chunk of change when it's convenient for you.
And you don't have to pick just one service to drive for. Sign up for both so you can keep yourself busy and compare fares.
5. Photography
Do you love to take photos and have several amazing, high-quality ones you wouldn't mind selling?
Websites such as ShutterStock and iStockPhoto allow users to upload their photos online and sell as a download to customers. In return, you get a commission.
And it's easy because once you upload your photo, that's it. You get paid as your photo gets a download, so it's a continuous passive income.
6. Trim Your Bills
Take a hard look at your bank account and your monthly bills. Chances are there's some fat that can be trimmed to save you some money.
Have subscriptions that need canceling? Can you negotiate that cable bill down, or even cut the cord all together? Are you eating out too much?
Knowing where your money is going and how to save on your bills is a smart way to keep your budget in check. And if you need help, there's an app called Trim that may be able to locate savings that you couldn't find on your own.
7. Rent a Spare Room on Airbnb
Turn that spare room you don't use into much-needed income. You can list your room on Airbnb for short-term renters.
And if you know how to be an amazing host, you are sure to start racking up positive reviews that will keep renters, and the money, coming in.
8. Find Unclaimed Money
Wouldn't it be great if there was money sitting out there for you and all you had to do was claim it? That could very well be your reality.
Unclaimed.org can help you find money you didn't know you had. This could be in the form of a deposit from a utility service you had a long time ago. Or money in a bank account from when you were a kid.
Who knows, you may be surprised at what you find. It may feel like winning the lottery, but it's more about finding what's rightfully yours.
9. Freelance
Do you love to write? Are you a whiz at graphic design? Or specialize in accounting?
Lots of freelance work in a variety of industries can be found on websites like Upwork and Fivver. All you have to do is apply for the task you want and get approved.
If you don't like that option, try pitching to companies and bloggers in the industries you want to work in. Many of them are willing to pay a pretty penny for high-quality work.
But if you've never done freelance work before, you can try to gain experience by doing projects for friends and family. Ask around! You never know who's looking to outsource some work.
10. Start a Blog
Starting your own blog can not only be a creative outlet for you but earn you money at the same time.
And the best part is you get to have total control of it. Write about the things you love! Share it on social media and create a following.
Then you can start to create e-books, tutorials, and other digital products you can sell online. You can even use affiliate marketing to bring in more income.
This won't earn you money overnight, it will take some work to get going, but it has the potential to pay well if you work hard enough at it.
Now You Can Become an Easy Money Pro
Finding yourself in a financial pinch is never a good feeling. But now that you have options to turn to, you can avoid the worry and earn easy money fast the next time you need it.
Want to learn more about working from home? Click here to access our blog posts all about it!