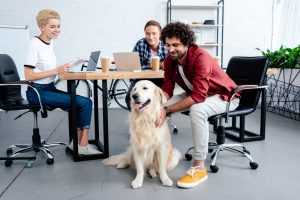 Did you know the pet industry in the US is worth $86 billion dollars?
If you're looking to start a business in a booming industry, then this is it. It's a huge niche with a staggering variety of jobs. And plenty of those jobs are things you could start a business with today. If you truly want to work with animals, there's little to stop you.
Not convinced? Here are 9 pet business ideas a businesswoman can launch today.
Training
Few people want an unruly pet, so training is often one of the first things pet owners think about when their pet is young. That's the perfect chance to sell your services.
You don't need qualifications to start dog training, but they're recommended if you want people to take you seriously. You might struggle to attract business without recognition. But if you're ready for a little commitment, you can build a quality business from pet training.
Grooming
There are plenty of pampered pet prince and princesses out there. Setting yourself up as a pet groomer gives you a chance to borrow a pet for some quality petting time.
Even better, you can hand them back when you're done! All the stress-relieving joy of pet ownership, none of the fuss.
Of course, you'll need to have some real skills for grooming. No one wants their pet back looking like a ten topiary collision. But once you have some experience, the quality of your service will speak for itself and make it easier to attract new custom.
You'll need to spend some time and effort marketing a grooming service for it to get off the ground, but word of mouth will help you spread awareness through your community.
Walking
Looking for more exercise and a job in the open air? Offering dog (or other pet!) walks is a great way to provide a service that pet owners are always looking for.
You'll need to prepare yourself for all weather conditions and maybe some early starts, but an outdoorsy person could do worse for a day job.
Walking also benefits from having low overheads — there are few expenses besides travel and marketing. Although it's not a scalable job when taken alone, you could hire other people to transform a side hustle into a full-fledged business.
Pet Sitting
Whether it's children or pets, sitting is a time-honored classic of a job. Providing pet sitting services to your town is an excellent way to gain experience in working with pets.
Sitting might sound like the small time, but you can bring others into the fold to establish a company name that pet owners will trust.
Pet sitting also offers some great opportunities to branch into other services. You can combine it with one-to-one training, grooming, or walking services for a multi-purpose package.
Pet Boarding
Pet owners often overlook the realities of owning a pet when vacationing time comes around.
It's tough to leave a beloved pet with a kennel. There's no guarantee of quality care, even from a well-reviewed business. Many pet owners would instead choose to leave their pet with a trusted individual.
You can run a pet boarding house from your own home if you have enough space. You'll need to kit the place out, but start with these products and you'll soon equip yourself.
Luxury Spa
It's not just people who love to get some luxury treatment on occasion. Offering health and beauty services is a fantastic way to spoil some pets rotten and show them at their best.
Many animals respond as well to massage as humans do. On top of that, there's styling, breath freshening, bathing, and a host of other treatments to destress a beloved pet.
As a business, running a spa is also a great chance to earn a profit. While some of the ideas on this list have slimmer margins, a luxury spa has more prestige you can leverage to charge more. That only becomes truer as your reviews give testament to the quality of your services.
Yard Cleaner
Okay, this might not be one for the faint of heart. But many owners would love to be rid of the practical responsibilities of owning a pet so they can focus on the love and affection.
If you have a strong stomach and a strong back, cleaning up pet mess in yards is a good earner. You don't need too much specialist equipment for it, either. It's not the most glamorous of the options on this list, but it's of definite value for pet owners.
Toymaker
If there's anything more idyllic than working with pets, it might be making toys for a living. So why not combine the two?
Many pet toys are the product of faceless companies churning them out on assembly. There's no care, no soul, and not even a guarantee that they're using pet-safe methods.
As an artisan pet toymaker, you can guarantee all three. And the only thing more wholesome than giving toys to children is giving toys to good boys.
Prestige will help you make a profit here, too. When it comes to handmade goods, skill adds value above and beyond the cost of materials, and that's where you can make the real money.
Pet Bakery
If there's one business where artisans will always win out, it's in food. There's no level of mass production to match the care and attention of a dedicated bakery.
Many pet owners want the absolute best for their companions. Special treats, cakes, cookies, you name it — they just want to spoil their fur babies.
Much like being a toymaker, starting a pet bakery gives you a chance to deliver the kind of quality that comes from the heart.
Pet Business Ideas You Can Start Today
See what we mean? These are pet business ideas you can use to start a business today. There are plenty more out there, too. If you have your heart set on working with animals, there's no better time to start than right now.
Looking for more business ideas? Why not take a look at our blog?