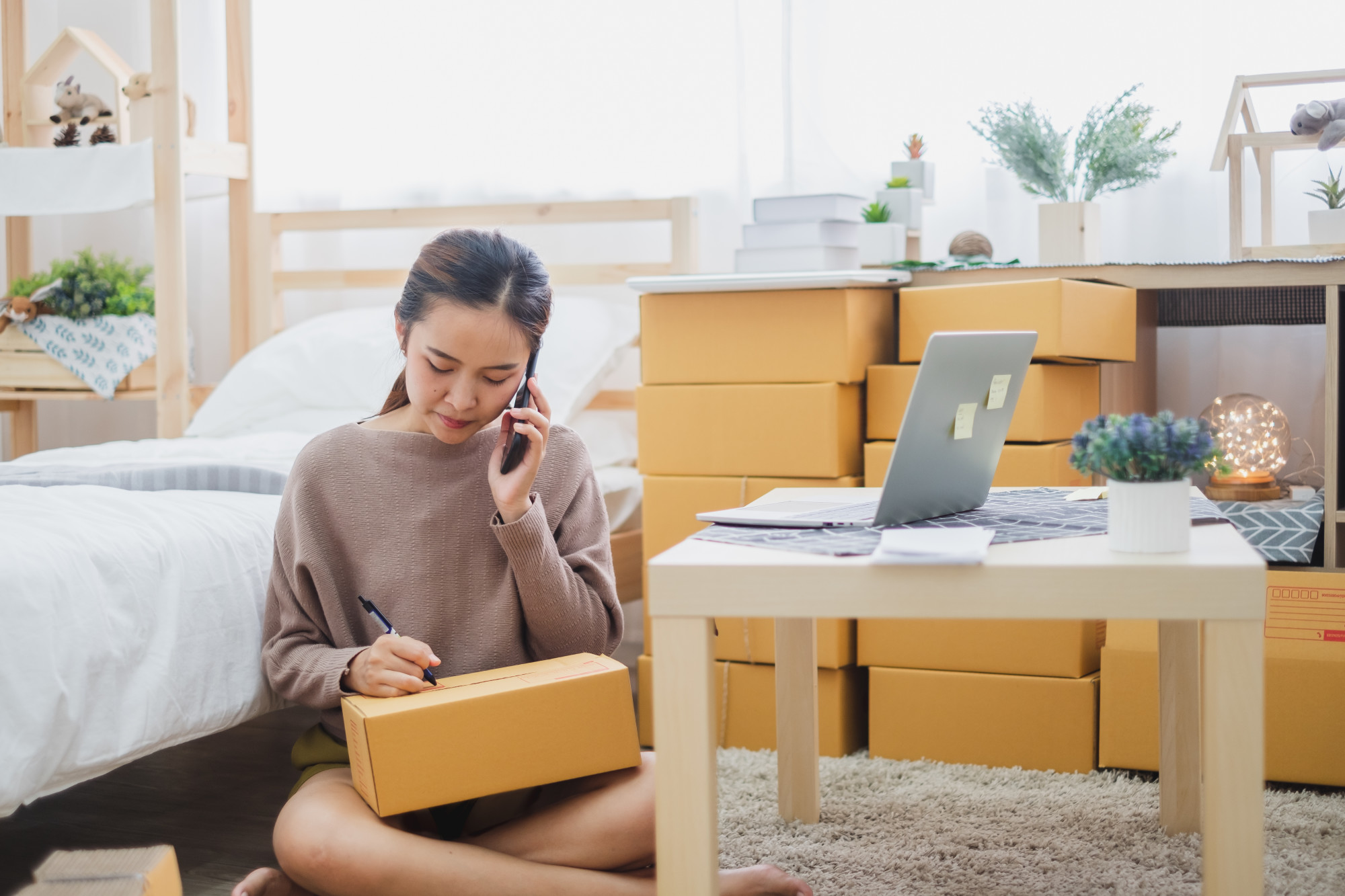 Did you know that 62% of billionaires in the United States are self-made? That's grand and all, but what does this have to do with you?
Well, if you're one of the 15 million Americans who are currently self-employed full-time, this statistic means a lot. Most business owners start their businesses from scratch. One day, you could be one of those billionaires.
So let's start at the beginning. 
Are you running an Etsy shop, selling goods and products you make and love? Are you familiar with all the rules, regulations, and processes of Etsy shipping?
Being as informed as possible about this aspect of your business ensures you're not losing money. And that you're holding up a good reputation to your buyers.
If you want to work from the comfort of your home, you've got to do things right. You can't afford to make excessive (or expensive) errors.
Here's how to be a savvy shipper!
First, Why Etsy?
If you're selling crafty, homemade, or vintage items, Etsy is the platform for you. This e-commerce site specializes in selling personalized goods, ranging from jewelry and furniture to artwork and clothing.
As of 2018, Etsy's inventory reached over 60 million items! They had a hand in connecting 2.1 million sellers with 39.4 million buyers. This kind of reach is essential for entrepreneurs to be successful. 
Remember those billionaires we were talking about earlier?
Etsy's Gross Merchandise Sales for the year of 2018 were $3.9 billion. If you want to dip your toes into that pool of money, Etsy is one way to do it.
With your business launched online, how can you hone in the details? Let's look at Etsy's shipping procedures next.
A Look at Etsy Shipping
Why would you use Etsy's shipping rather than calculating and doing it yourself? There are many benefits to using Etsy to ship your products:
It saves you money (more on this later)
It's convenient as Etsy has a shipping feature built into its platform
It offers start-to-finish tracking so you can ensure your package's arrival
It can calculate the costs of shipping for you (less manual labor!)
When it comes to shipping, Etsy's thought of everything. Their program is navigable, easy to read, and not a headache for Etsy sellers. Many a retailer has raved about their convenience. 
One way Etsy does this is through their "Print Shipping Label" button.
Clicking this leads you to enter details about your package: its shipping type, package type, dimensions and weight, and insurance. Once these get entered, you can calculate your shipping costs.
This gets done through either Calculated shipping or Manual shipping. 
Calculated shipping is what it sounds like. Taking all the info you entered about your package, Etsy will calculate a shipping cost for you. Since they've negotiated shipping rates with the Post Office, Etsy's rates tend to be lower than if you went through a service other than Etsy.
Calculated shipping costs get determined by the size of the packaged item, not the thing itself.
Manual shipping works well for different businesses depending on circumstance. It takes more work on your part, but for certain situations, this could save you money (as opposed to Etsy's pre-calculations). 
Should You Ship Internationally?
This isn't that difficult of a question for you to answer! International shipping won't affect your business as much as not offering it would. It only requires one more simple step.
Etsy has provided four customs forms that you would print, sign, and date. Place these forms in a USPS-appropriate envelope (available from their site). Stick this envelope on the top of your package and—voila!—that's it.
A Look at Shipping Services
Your buyer can choose from a few different options when they decide on their shipping. If you wish, you can even offer extended options such as Priority mail. To get an idea of the quotes given, you can see for yourself—these UPS carrier partners offer free UPS shipping quotes.
Etsy generally offers the following six shipping services on their page:
USPS Priority Mail (1-3 days)
USPS Priority Mail Express (1-2 days)
USPS First Class Package Services (2-5 days)
USPS Priority Mail International (6-10 days)
USPS Priority Mail Express International (3-5 days)
USPS First Class International Package Service (Can vary)
Once your customer has made their order, the rest is up to you!
Ensure that all looks good—do the addresses match up? Are the dimensions and weights accurate? Is everything good to go?
Then print that shipping label!
Shipping Supplies Checklist
Of course, you're packaging everything yourself. You'll need to have the supplies necessary, from envelopes and boxes to tape and bubble wrap.
Your supplies checklist will vary based on the product you're selling. Is it fragile? Is it incredibly tiny or pretty darn huge? Alter this list to your business's products.
In general, here are some items that you'll likely need to ensure a quality, safe, and insured shipment:
Boxes (small, large, corrugated, etc.)
Envelopes (padded and not)
Long boxes or mailing tubes
Poly bags (to group miscellaneous items)
Bubble wrap
Air pillows
And you could need more, depending on your operation. This list isn't all-inclusive!
Another tip from one consumer to another—don't hesitate to get creative or unique with your packaging. This can really make yours stand out from the bland beige. 
If you're selling something lightweight like a T-shirt, consider mailing it in a cute, printed envelope. Hand-stamp all your boxes with your label. Or throw some free stickers in with every order over $50.
One Last Tip Before We Go
Did you know that you can schedule a USPS pick-up to come to your front door?
This is great if you're mailing a lot of packages at once (or if you don't have the time to make it to the post office that day). You can schedule a totally free—and convenient!—pick-up, as long as you do so before 2 a.m. on the same day.
Now that's a great tip. Don't forget to tap into services like these to save yourself time and money!
That's what being a thrifty business owner is all about.
Etsy Is Thrifty
Working from home is a gift in itself.
To ensure the longevity of your freelancing career, try to save money here and there by using quick, affordable options like Etsy shipping.
We know you're busy. After all, you're your #1 employee! That's why we put together 10 more awesome tips for running a successful home business.