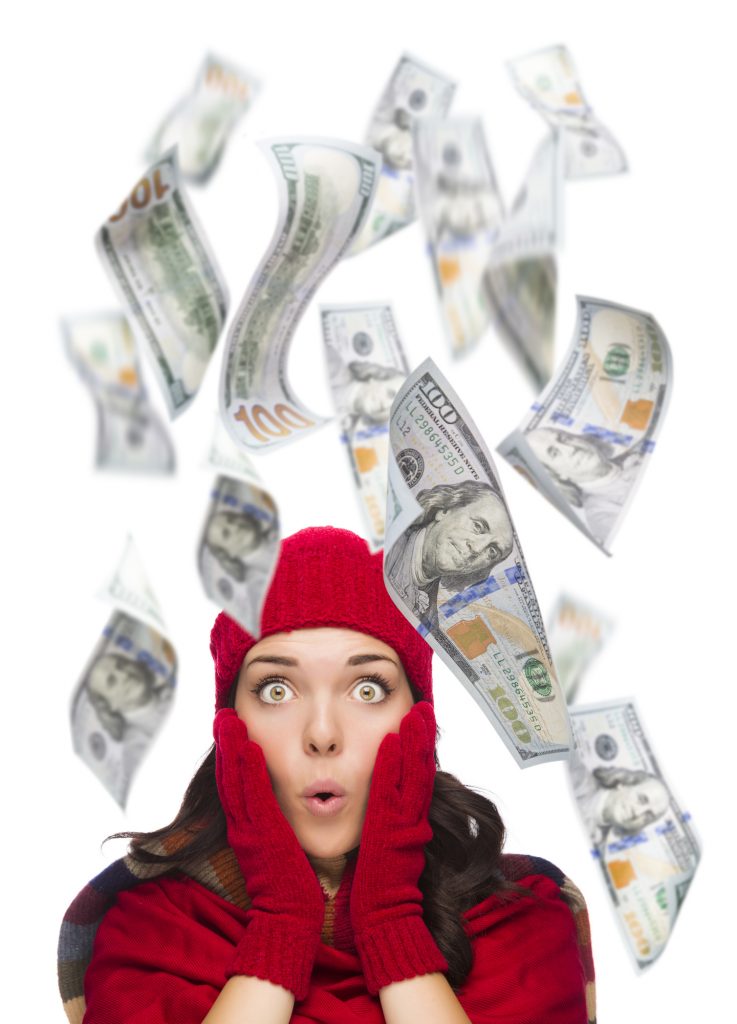 Spent all your money holiday shopping and want to put some extra cash back into your wallet? Or are you looking for ways to earn a whole second income?
Whatever your goal, you can turn a passion into a side gig or a profitable venture that you allows you to escape the chains of your day job.
If you're wondering how to make money in the winter, stick around for a few profitable ideas. You might even turn your side gig into a full-time money maker!
Get Crafty
Cold months call for beenies, mittens, and scarves. As a crafter, you can make a living putting your creations on sites like Etsy and Ebay. If you make your own patterns, Craftsy is a great place to share your talent so others can make similar items.
If your local church hosts a winter bizarre, you can sell your crafts there too. You might even take special orders and make a difference in your community.
Quilters can find themselves in popular demand during the winter season. Quilts and blankets are popular gifts. You could fund your holiday shopping with the money you make selling these crafts.
Teach a Class
If you're confident in your ability to share your crafting talents, you could teach a class.
Popular classes include:
Knitting/crocheting
Quilting
Scrapbooking
Hand lettering
Painting/watercolor
Jewelry making
You can teach classes online or at your local craft/art supply stores.
You may even offer weekly, bi-weekly or monthly classes to your community. Post flyers for your class on community boards and on free online announcements and newspapers. Offer the class for free and charge for supplies – or vice versa, or charge a flat fee to cover your costs for your time and supplies.
If crafts aren't your thing but you have a profitable skill, you can teach that too. Photography, computer software, woodworking, and even language classes are marketable classes you can teach online and in your spare time.
And if teaching isn't your thing, you could tutor instead.
Start a Delivery Service
Many people would rather work in an office than go out and brave the elements in the cold months. Others are homebound and aren't able to run their errands as often as they'd like. You can help them out by starting your own delivery service.
Set your base price and choose what service to provide. Will you pick up groceries? Deliver take-outs?
There are a few ways you can run your business. You can contract stores or restaurants that you'll deliver from. Or you can charge a flat rate, a percentage based on the total order, or a mileage fee.
Get the message out that you're offering your services in the area. Let the stores or restaurants know about your services so they can refer you to their customers.
Put Your Shovel to Work
A snow shovel is your best friend when you have to pull a car out of a garage but your driveway is covered with inches of snow. People often have to get up early to shovel snow before leaving for work. You can take care of that for them with your snow shoveling service.
Work out a shoveling schedule with potential clients to have their driveways and walkways cleared by the time they leave or arrive home. You can set your own price base on square feet, inches, time, or occasion, and accept daily or weekly payments.
Shoveling snow is one of the best ways to make money in the winter for teenagers. If you've got an active teen, this might be a great way for them to start their own seasonal business.
Just make sure to stay warm in the snow; a case of frostbite can put you out of business fast. Wear comfortable, insulating clothes to protect your skin. Learn more about Ecosox and avoid frostbitten toes.
Put Your Truck in Gear
You can't talk about how to make money in the winter without mentioning snow plowing.
There are some jobs that are just too big for a shovel. If you own a truck and plow, you could be someone's lifesaver.
Setting up a plowing service can be done in a couple of different ways. You could subcontract yourself out to your town or neighborhood, or you could run an on-call business. Determine what would work best for you to cover your expenses.
Don't forget to check into necessary permits and insurance for the area you live in.
Babysit Snowed-in Kids
Just because the school is calling it a snow day, it doesn't mean parents can stay home from work. They'll need a sitter – and that could be you.
You can help them out in a jam and make some cash on the side. You can design activities for them based on the snow day. All you need is some construction paper, scissors glue, and markers.
You could also sign up for an online sitter service where parents in need of a babysitter can look for someone local.
Sell Your Baked Goods
Holiday treats are popular in the winter months.
If sugar cookies are your specialty, invest in holiday cookie cutters and package your cookies for sale. Include your business card with a list of items you bake and their prices.
Every holiday dinner needs dessert. Offer your baking services to family and friends who are cooking for the holidays but don't have the time or don't know how to bake. They put in their request, and you charge them for the product or a service fee.
Set Up a Hot Chocolate Stand
If you want to teach your kids how to make money in the winter, a hot chocolate stand will do the trick.
Much like a lemonade stand in the summer, they can set up a table with a thermos or two of hot chocolate and sell it for $0.50 – $1 a cup. They can even charge an extra $0.05 for marshmallows.
It's Not Just about How to Make Money in The Winter
As you see, it's not that difficult to supplement your income. We hope this article gave a better idea of how to make money in the winter so you can afford all those gifts and treats without feeling guilty for overspending.
Visit our page to learn more ways to earn money. Whether you just want to make a little extra money or make a full-time income, we have tons of tips and ideas to get you started.
Anything to Add? Leave a Comment!