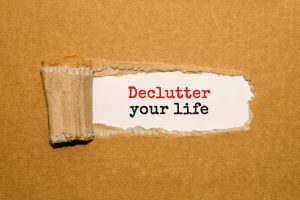 Are you tired of stuffing things into a closet whenever you have friends over? Are you sick of wasting time trying to find things in your house? Or are you fed up with feeling frazzled and stressed out every time you look around a room?
If you answered yes to any of these questions, it sounds like you might be in need of some home decluttering.
Getting rid of clutter isn't just about making your space look nice. It also helps you be more productive and has been shown to decrease stress and anxiety.
Read on for 10 great tips on decluttering your home and living a more organized life.
1. Don't Try to Do Everything at Once
It's easy to get overwhelmed when you take on a decluttering project. This is especially true if you try to tackle the whole house at once.
Space out your project and start by choosing just one room. Don't try to declutter everything in just one day — that's a major undertaking, and you're likely to feel exhausted if you take that approach.
Give yourself a specific date when you'd like to have the house cleaned out by. Then, figure out how much time you're willing to spend getting rid of clutter each day.
Don't worry if you don't have a lot of time to dedicate. Even if you just spend 15-20 minutes a day, it's better than nothing.
2. Move the Clutter to a New Place
Sometimes, it's hard to tell how much clutter you're dealing with until you move it to a new place. For example, try moving everything that has accumulated on the kitchen countertops into the living room.
You'll be able to look more objectively at your belongings and get rid of anything that you don't need or want.
When you've finished pruning your clutter pile, just be sure to move everything back and put it away — otherwise, you're not really clearing clutter, you're just moving your junk from one room to another.
3. Gather Plenty of Equipment
It's hard to declutter effectively if you don't have any containers to hold all the clutter you're eliminating.
Make sure you have plenty of trash bags, bins, and organizational tools on hand so that you can permanently get rid of the things you no longer need. Get yourself a paper shredder, too, for sensitive documents.
4. Create a Master Plan
Many people find it helpful to sit down and create a master plan before they begin a decluttering project. Then, they have a guideline to follow and can cross things off as they go.
Grab a piece of paper and write down every room or area in your house. Then, make note of what belongs in each room or area.
Be sure to include items that don't currently have a designated space — for example, do you have important papers or toys scattered throughout two or three different rooms? Pick one place where you want all of these items to be stored.
5. Use a Storage Unit
If you have items that are taking up a lot of space but that don't get used very often, you may want to consider renting a storage unit (like the ones offered by Secure Box Self Storage).
If you have the money to spend, this is a great option for clearing clutter and freeing up space.
6. Work in a Pattern
It can also be helpful to systematize your process. For example, work from the inside out and clear items off the floor first. Or you work in a clockwise or counter-clockwise direction in each room.
This eliminates the problem of not knowing where to start when you move on to a new room. You'll just pick a corner and move in the same direction as you did in the last room!
7. Use Labels
To keep track of the items your getting rid of, take some time to label your piles as "trash," "recycle," and "donate." That way, you'll know what goes where when you're finished clearing out a specific room.
You can also expand your labeling to your newly organized rooms to keep them that way. Label areas for toys, books, clothing, etc. That will take the guesswork out of maintaining these areas later on.
8. Make it Cute
Decluttering doesn't have to be boring. It can also be a great way for you to enhance and personalize your home.
Floating shelves, colorful bins and baskets, and glass containers are all great ways to make your home look cute and clutter-free.
9. Ask Yourself Some Tough Questions
It can be hard to get rid of things that you've had for a long time, even if you don't use them anymore. In order to successfully declutter your home, you're going to need to ask yourself some tough questions, including the following:
Have I used this item in the past year?
Am I making use of this item right now?
Am I saving this item for future use?
Do I actually like this item?
How does this item add value to my life?
Is this item preventing me from doing something I'd like to do?
It can be hard to answer these questions and realize you're hanging on to things that are no longer of value. But, they'll take some of the guesswork out of the process and help you successfully clear out your home.
10. Finish What You Start
Finally, make sure you finish what you start. Don't move on to a new room until you've completely cleared out and thrown away (or given away) everything you've taken from the first room.
This will help you avoid having a bunch of half-decluttered rooms, and you'll be able to track your progress more easily.
Looking for More Decluttering Tips?
These decluttering tips should be more than enough to get you started. But, if you want to take your clean out to the next level (without spending a fortune), be sure to check out the cleaning section of our blog today.
We've got tons of tips and tricks to help you conquer clutter and simplify your living space.