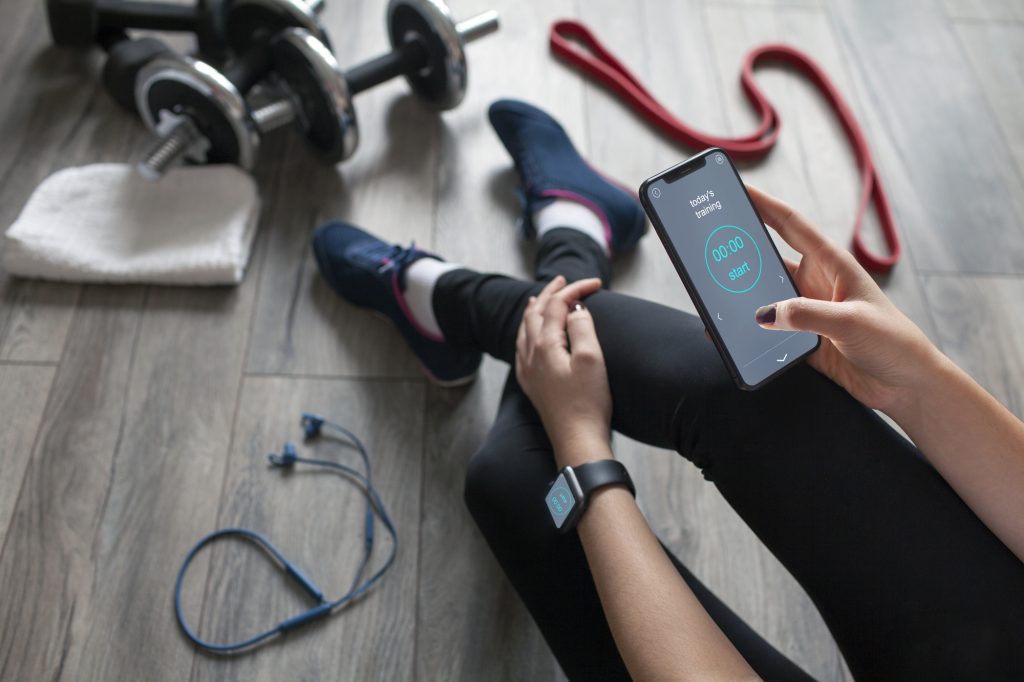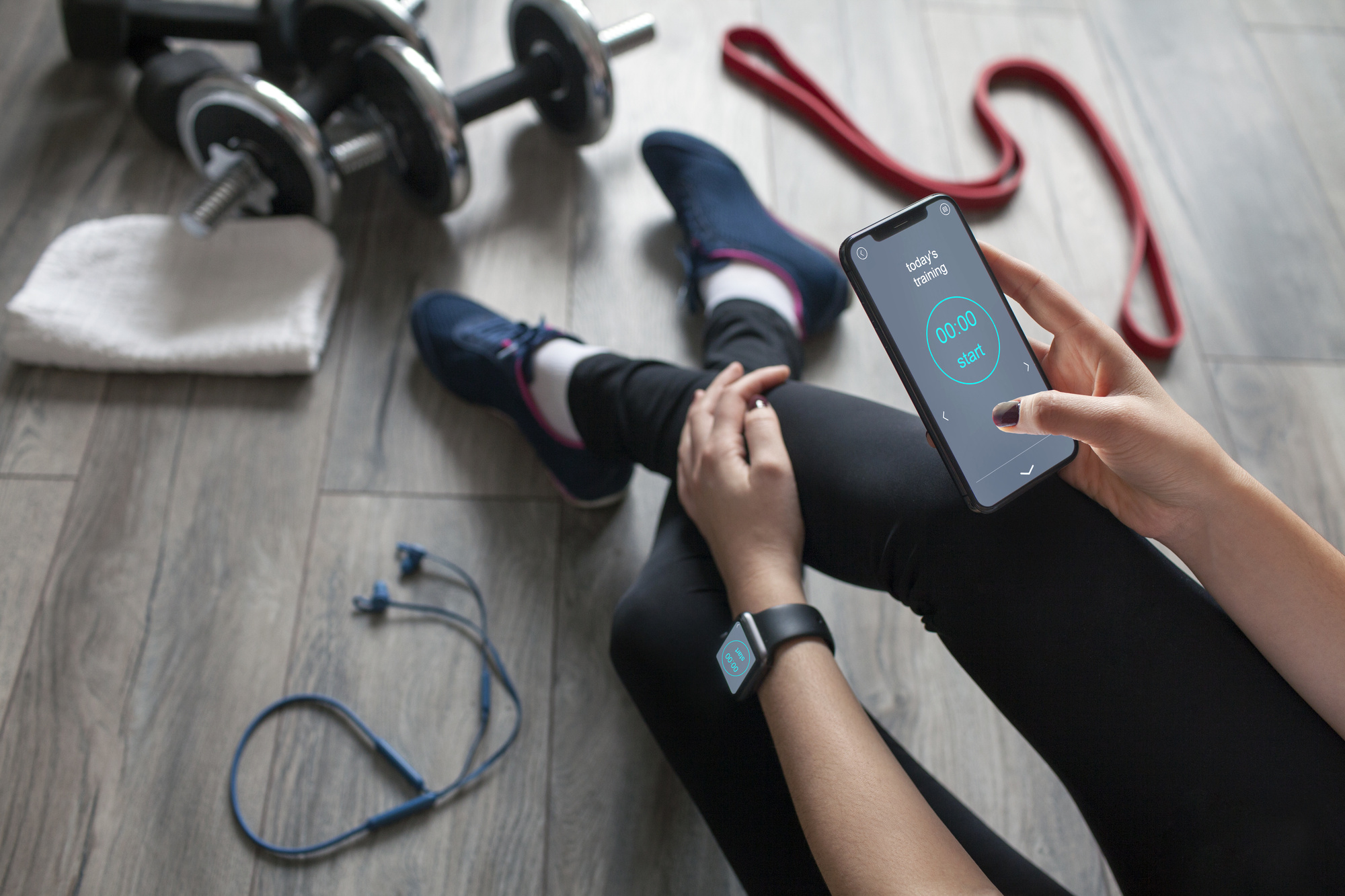 At the last count, there were more than three hundred thousand fitness apps available to choose from. They're great motivators and the ultimate 'grab and go' accessory for busy people on the move.
Let your fitness app become your new gym buddy. Think of the amount of time you'll save by not having to travel to a health club to do your workout. And no more expensive monthly fees either.
Spoilt for choice? On your marks. We're here to give you the lowdown on ten of the best workout apps for women over fifty.
1. My Fitness Pal
Two things are going to help you lose weight and keep trimmer for longer. Firstly you need to exercise several times a week. Next count the number of calories you eat and keep a record of them.
This app has a food database that holds more than 5 million items. It also has a bar code scanner. That makes it simple to keep a food diary whether you're in the supermarket or at home or in a restaurant.
You can also import healthy and creative recipes. You can sync the app with other tools like the Withings Wi-Fi Body Scale or the Fitbit Aris smart Scale. These will measure your weight loss and body mass index too.
2. Map My Walk
Walking at a brisk pace is a great way to keep in shape. This app uses the GPS in your smartphone. It'll then work out routes for you and keep a record of the ones you choose.
As well as telling you how fast you walked and for how long, it'll also let you know how many calories you've used. Your history is safely stored so you can measure your progress. Other variations are Map My Run and Map My Ride for cyclists.
3. Fitbit
This is another multiplatform app that lets you track the exercise you take, your diet and weight. It has a great extra feature that monitors your sleeping habits. That helps build a complete picture of your fitness level.
There are add-on Fitbit devices you can buy to track all your movements. You can also sync all your data with other computers. There's even a way to compete with friends who have Fitbit accounts too.
4. Yoga Poses
This app will show you two hundred and fifty different yoga poses. They all come with video demonstrations. You can modify some of them if you're just starting out. The app gives you details on how each pose can benefit you.
It's a great app if you prefer learning by yourself and in the comfort of your own home.
Learn more here about another great yoga app as well as more apps that are going to teach you new skills and fitness techniques.
5. Endomondo
This is a great social fitness app and will let you monitor your fitness and health stats. It'll track your running routes, the distances, durations as well as your calorie intake. It can also monitor your favorite activities from kayaking to hiking.
The app can help to analyze your current performance and give you recommendations to help you improve. Let your phone become your personal trainer. You can connect with other users with instant messaging too.
6. 7 Minute Workout
This fitness app is incredibly popular. You can lose weight and keep fit with quick workouts that are easy to follow.
You have a choice of twelve high-intensity bodyweight exercises. Each takes thirty seconds and there's then 10 seconds of rest time in between. It combines cardio and strength training but you won't need any special equipment.
7. Pilates Anytime
This is great if you're new to pilates and want to really drill down into the moves. A series of videos carefully explains things. It gives you that bit of extra time that you might not get in a group setting.
If you're already a Pilates genius, then you can select one of two and a half thousand classes. Firm favorites like foam roller workouts and basic mat routines are included.
8. GymGoal
If you bring weights into your workout you can help to retain and build muscle, flexibility, and strength. These are real benefits as we begin to age. Adding extra protein to your diet will help your muscle develop with this type of exercise.
This app is going to teach you the correct form for lifting weights. That's going to decrease the likelihood of injury. A library of workouts can also be accessed. These can be modified to suit your ability and aims.
9. Couch to 5K Running App
This is a great app for people who want to start running at a gentle pace. There's a nine-week program that includes three thirty minute sessions each week. There are four different virtual coaches to choose from.
The app alternates running, walking and resting. As you progress, the exercise periods increase and the resting time decreases. It's a really effective way to develop a passion for running.
Remember to pack in the carbs early on the day. You'll need them when you progress to a half marathon or marathon!
10. You Are Your Own Gym
The best selling book by Mark Lauren forms the basis for this app. His bodyweight exercises were used by him to train the most elite levels of the U.S. Special Operations.
There are over two hundred bodyweight exercises to choose from. You can get into great shape with as little as thirty minutes of training a day. You will be guided you every step of the way. There are high-quality demonstration videos.
The warm-up and cool down videos come free. You can purchase the circuits, timed sets and ladders packs separately. They're available at three different difficulty levels.
Our 10 Best Workout Apps for Women over 50
It's no time for excuses. You've now got some of the best workout apps for women over fifty on the market. It's time to start building up a sweat the easy way and without those expensive gym fees.
Visit us here for more money saving health and fitness tips. You'll soon be looking and feeling great without breaking the bank.
Anything to Add? Leave a Comment!