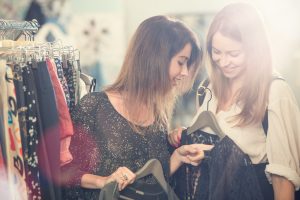 Have you been wondering how you can cut costs and still look fabulous?
Being fashionable without breaking the bank can be a challenge. The key to being fashionable on a budget is knowing what to spend money on and what to avoid purchasing.
Here are some tips that will show you how to be fashionable on a budget.
1. Take It Easy With the Trends
While trends will make you look more fashionable and hip for the moment, they have one obvious flaw.
They don't last.
The fact that they are so fickle means that you have to be conservative about what trends you buy into. Following clothing trends is never a good idea when you are on a budget.
If you have a footwear fetish and tend to buy a lot of shoes, you should train yourself to stick with the classics, such as black pumps with varying heel lengths.
However, not all trends are bad. The best kinds of trends are the ones that involve cheap jewelry, hats, and scarves. Trends of this kind keep you looking very fashionable but won't be so painful to discard once they are out of season.
2. The Little Black Dress and More
You have probably heard it said time and time again, that every woman should have a little black dress.
Here are some tips for buying this classic, so that you will always look fabulous:
Make sure it flatters your figure. This may require some digging and extra cash but it's well worth it.
Stay away from black dresses that have patterns. Patterns often take away from the timelessness of the dress.
Avoid black dresses that have a trendy design or cut. These won't stand up to the test of time.
Remember, you want this dress to be your go-to dress for many occasions, so it should always be simple yet classic.
The next item that you should invest in is a pearl necklace. If you can splurge on real pearls then that's great because you will have them for years.
If you can't afford to splurge, then you can just get fake ones, since they often look as good as the real ones.
The next wardrobe must have, is a pair of black shoes. A pair of plain black pumps with a three-inch heel is timeless and classic.
The combination of the little black dress, pearls and black pumps are a must-have when you are learning how to be fashionable on a budget.
3. Pick the Right Colors
There is nothing worse than choosing the wrong colors for your clothing.
Choosing the right colors for your clothing will greatly enhance your look.
Some colors may not work for you and it's important to accept it, so that you won't make fashion mistakes.
This means that you should only buy clothing in colors that brings out the beauty of your complexion, the color of your eyes and the shade of your hair.
4. Make the Right Investment
Clothing sales where you can get cheap clothing in bulk may seem like a dream come true.
However, the most important question you should ask is: Are these items good quality?
If you are not sure, then don't spend your money. It makes no sense to buy cheap clothing that falls apart as soon as you wash them a few times.
It is better to invest in more expensive items that last longer. This doesn't mean that cheap items are always poor quality, sometimes you will get a good deal.
However, when you purchase these clothing, feel the fabric thoroughly and try to stretch the cloth. Fabric that is thin and feels flimsy should be avoided.
Knowing how to be fashionable on a budget sometimes means you have to spend more.
5. Buy Used Clothing
If the idea of buying thrift store clothing conjures up images of people wearing rags and walking barefooted, you are not alone.
However, you might be surprised that the trendsetter you are admiring from work or school is actually wearing used clothing.
Thrift stores, as well as consignment shops, are great places to buy brand name clothes that are just like new at significantly lower prices.
If you are short on cash and need something exquisite for a special occasion, then don't rule out thrift stores and consignment shops.
6. The Changing Season Is Your Friend
If you want to truly save, then buy your clothes when a season is ending. Buy the clothing you will wear next summer at the end of the present summer season.
Buy the clothes you will wear next winter at the end of the present winter season.
By now you should be getting the idea.
When the season is about to change, stores are in a mad rush to clear the season's clothing.
This means you will often get a discount and the closer it gets to the end of the season, the higher the discounts often become.
7. Mix and Match Effectively
Pairing a top or a bottom with different items in your wardrobe can make it look like you have a completely new outfit. This is one of the key skills you must master when learning how to be fashionable on a budget.
Try pairing a top you have always worn with a pair of pants, with a skirt instead.
Try wearing a jacket over a dress instead of wearing the dress on its own.
Accessorize these mixed and matched pieces with a scarf or chain to get a different look.
8. Take a Thrifty Friend With You
If you have a tendency to overspend, it is a good idea to take someone with you to hold you accountable and keep you on track.
Next time you go shopping, tell your accountability partner how much you have budgeted to spend.
Take them along with you and have them help you to stick to your budget.
How to Be Fashionable on a Budget: Closing Thoughts
If you would like to save money, then you know that one of the key traits you must master is discipline.
Having the discipline to stick to a budget and consciously choose to hunt for bargains will help you stay fashionable without breaking the bank.
If you would like to learn more about how to save, you'll absolutely love our frugal living tips.