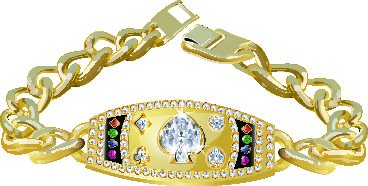 If you can't get enough of the latest fashion trends, then chances are you already know that gold chains are back in a big way this season.
Whether you want to wear them by themselves or plan to add a statement pendant onto them, there's no time like the present to rock your chains.
The only problem?
It seems like most of the chains you're interested in are seriously out of your price range.
Don't sweat it — in this post, we'll tell you how to get the look for less when shopping for gold chains.
1. Compare Your Prices
The first step in saving money when buying gold chains?
Know your prices, and make sure you compare them. To get a better understanding of how much the type of chain that you want will cost, check out this list of gold chains for men.
Whether you choose to shop in-store or online, knowing how much things actually cost will prevent you from being taken advantage of.
Once you've decided on a piece, be sure to ask about potential discounts. If you sign up for a credit card with the shop, will you save enough money to make it worth it? Is there a pre-sale going on in the near future? Will the piece you want be marked down anytime soon? Is there a customer loyalty program you can join?
Remember, the only way you're going to find out about discounts is by being direct with your sales associate and asking the right questions.
2. Know What You Need
When you're shopping for gold chains, we know that it can be incredibly tempting to get the biggest one possible — regardless of your budget.
However, going that route will give you a serious case of buyer's remorse.
Instead, determine the type and length of chain that you need before you even start shopping. Then, only look at the chains that are within your limits and fit your specifications.
Are you going to put any pendants or charms on your chains? What Karat of gold are you interested in? Would you like a spring ring clasp, or a lobster clasp? Would you like to have a safety catch added on for extra security?
Once you know exactly what you need, you'll be a lot less likely to overspend.
3. Don't Be Ripped Off
When you're shopping for gold chains, it's surprisingly easy to get sold a fake.
While you can always buy a gold testing kit and use it in the store, there are a few other ways to determine whether or not what you're being sold is the real thing.
First of all, always look for a manufacturer hallmark. In today's world, most fakes will always have a Karat stamp, but few will actually have a stamp from their manufacturer.
Additionally, bring a magnet to the shop. If the chain you're considering buying is magnetic, it's time to walk away — and maybe report this so-called "jeweler" to the Better Business Bureau.
When you do find a chain that you like, we highly recommend getting a gold certification and a warranty from the jeweler. This way, not only is your piece protected, but you also have a guarantee of authenticity.
4. Steer Clear Of Chain (No Pun Intended) Stores
Sure, it might convenient for you to head to a store in the mall or a big-box chain when it comes time to purchase gold chains.
But even if you're able to walk out of those big-name stores with a chain in a couple of hours, it won't be worth it when you learned how much you overpaid.
In fact, the average markup when it comes to jewelry stores can range anywhere from 26-110% — meaning that you're actually paying more than the jewelry is really worth.
That's not a situation you want to be in.
Instead, stick with qualified online retailers or the smaller stores. Not only will you likely get better customer service, you also won't end up the victim of a serious markup.
5. Look For A Used Option
If you're interested in gold chains but don't yet have the income to buy a new one, then going with a used option is a smart way to shine and save money at the same time.
Head to your local pawn shop, visit a vintage jewelry store, or even comb through places like a flea market or garage sale to find what you're looking for. If you decide to buy online, through Craigslist or Etsy, always make sure that you ask the seller to provide you with a certificate of authentication.
There's no shame in buying used. Plus, it can be lots of fun to hear the stories of the "past lives" of your gold chains!
This is the perfect option for those of us who are on a tighter budget — and aren't afraid to do a little digging.
Ready To Buy Gold Chains?
We hope that this post has made the process of buying the perfect chains a little bit easier for you.
Remember, it's all about knowing your prices, buying based on your needs, and ensuring that you're getting sold a real piece.
Have questions about how to save money in other parts of your life? Want a little advice about how to perfectly style your new chains?
We can help!
Spend some time on our website and blog to access not only information on the best work from home jobs, but also for tips and tricks on how to live the chic lifestyle on a budget no one would believe!
Anything to Add? Leave a Comment!