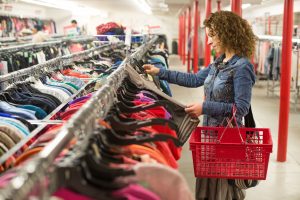 Have you stepped foot into a thrift store recently?
If you're not well versed in the secondhand world, you'd be surprised at the incredible things that you can score in a thrift shop. In fact, if you're a fan of anything vintage, the odds are that many of your favorite vintage pieces were found in a thrift store.
While the benefits of secondhand shopping are plenty, only 18 percent of Americans report actually shopping at thrift stores. For the sake of the planet and your wallet, we're here to better those numbers!
If you're serious about saving money and reducing your carbon footprint, you're going to want to read this. To help start your thrifting journey, we're outlining the nine most useful items that anyone can locate at a thrift store.
From antique dishes and solid wood furniture to children's clothing and a wide collection of books, there's certainly something for everyone at today's thrift stores.
Let's get started!
1. Solid Wood Furniture
If you've been on the search for quality wooden furniture, you know just how difficult it is to find these days.
As it turns out, even high-end stores are finding creative solutions to produce more affordable options. In efforts of making "wood" furniture cheaper to produce and afford, many will use an alternate material that mocks the look and feel of wood. While this does make it significantly more affordable, it also results in an inferior and short-term product.
This is why shopping for solid wood furniture at secondhand stores is such a great option. This allows you to find wood products that were manufactured long before alternate materials were so widely utilized.
2. Antique Dishes
Do you remember those beautiful antique dishes that your grandparents used to serve Thanksgiving dinner in? The ones with the golden rims and the soft, delicate flowers that detailed each center?
If you try finding those in your favorite interiors store, the odds are that you're going to be disappointed. Fortunately, we can always count on thrift stores to offer gifts from the past such as these. While it may be difficult to find a matching set, you can mix and match collections to create a more unique set for yourself.
Our advice?
While you may use these dishes at dinner parties, be sure to treat them well and hold onto them long-term. Who knows how much these dishes may be worth in the years to come!
3. Books
For all the book lovers out there, it just might be time to stop buying your books from the big-box stores. Not only is this an important environmental initiative, but it's also going to save you a ton of money.
For anyone that frequents thrift stores often, you know firsthand that the book section is one of the best. You can look forward to finding anything from classics and collectibles to the latest in fiction and biography.
You'll be surprised just how quickly the latest releases end up on the secondhand shelves.
4. Children's Clothing and Toys
Even parent knows just how quickly babies turn into toddlers and toddlers into children.
In terms of their clothing and their toys, it can sometimes feel impossible to keep up. While one jumpsuit may fit perfectly one week, the next week just might be a different story. Similarly, while a certain toy is the chosen favorite one week, they're onto the next best thing the following week.
When we consider the everchanging life of a baby, it's easy to add up just how expensive these different stages are for parents. In choosing to purchase children's clothing and toys secondhand, you're able to save money for the more important things in your children's life.
5. Maternity Clothing
Calling all soon-to-be-parents -this one is for you!
For any mothers out there, you know firsthand just how much your entire body changes throughout your pregnancy. From your feet and your belly to your breasts and your hips, these changes continue to take place from beginning to end.
If you were to commit to buying all of your maternity clothes brand-spanking' new, it's easy to see the dangerous result this might have on your bank account. After all, when you're preparing for the arrival of a brand new baby, it's more about saving money than spending money.
Choosing to buy maternity clothing secondhand is always a great idea. Remember, these clothes are typically worn for a very limited amount of time as sizing is always changing throughout one's pregnancy.
This allows you to have almost new clothing at a significantly discounted rate!
6. Tools
As our parents love to remind us, things just aren't made the way they used to be. When we consider the truth to this statement, we can understand why buying tools secondhand is the superior choice.
Let's face it, buying new, unused tools is incredibly expensive. Shopping for tools secondhand gives us the opportunity to find significantly more inexpensive tools that are also built to last.
When we compare the craftsmanship of old-school tools to the craftmanship of present-day tools, the differentials are obvious. This is obvious even when looking at the low-end materials that are used to create modern-day tools.
7. Electronics
Keeping up with the latest electronics and gadgets can feel exhausting at times.
If we truly committed to always have the newest and the best electronic items, it's safe to say that our bank accounts would be hurting. Fortunately, thrift stores are home to many incredible and current electronics.
Whether you're looking for a top-notch sound system or the best foot massager on the market, you'd be surprised what you can find in the aisles of your favorite secondhand shop.
8. Christmas Decorations
Compared to the many holidays celebrated throughout the year, Christmas is the holiday in which the highest percent of Americans will decorate their homes.
In fact, 76 percent of Americans stated that they decorate their homes with a Christmas tree each year. When we consider just how much money is spent on this type of decor, it's simple to see how this adds up. December is also a notoriously expensive time of year due to the gift-giving practices that are a part of the holiday.
If you're looking to do yourself a financial favor this season, why not buy your holiday decor secondhand? This may be anything from wreaths and tree ornaments to lights and the tree itself.
Come November, the majority of thrift stores will have a healthy display of holiday decorations available.
9. Picture Frames
Do you have a print laying around that's been begging to be framed?
If you've been on the hunt for a suitable picture frame, you know firsthand that they don't always come cheap. Who knew that a simple piece of glass and frame could be so costly?
Fortunately, thrift stores typically have an incredible supply of picture frames. Whether you're looking for something vintage or something a little more clean and contemporary, you're likely to find it on the shelves of your favorite thrift store.
Saving Your Wallet One Thrift Store at a Time
While there's no denying that some items in life are best to purchase new, this isn't always the case.
In fact, choosing to buy certain items at a thrift store is a wise move for both your wallet and the planet. Here, you are saving money while also embracing the reuse-reduce-recycle movement.
Are you looking for more tips on frugal living? If so, be sure to keep browsing our blog for similar articles!