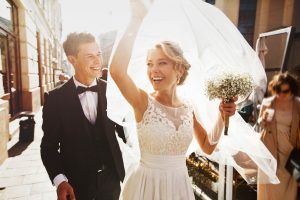 Your wedding is the happiest day of your life, but it could also be the most expensive. On average, Americans spend around $35,000 on their special day, and that isn't cheap for most of us.
But you don't need to pay an insane amount on your wedding day. After all, the most important thing is that you celebrate your love together. If you're getting married on a budget, we're here to help.
Wondering how to plan a wedding on a budget of $1,000? Read on to find out.
How to Plan a Wedding on a Budget of $1,000
If you're getting wed on a budget, you'll need to lower your expectations. You won't be able to have a destination wedding in Greece or have a 5-star chef prepare the dishes. But you can still have an amazing time.
Here are 5 ways to have an amazing day without breaking the bank.
1. The Venue
The where and when of your wedding day is an important cost factor to consider. The venue and time of year can make a huge difference in the price. If you go for a church wedding, you'll have to find another spot for the reception.
Don't get married on a Saturday, it's the most common and thus the most expensive day. Instead, choose a Friday or Sunday to cut the cost. Consider taking it to a local park or beach. You might need to pay a rental fee but it'll be a lot cheaper than most wedding venues.
2. The Decorations
Having the right decorations can help set the romantic mood for your wedding day. But, they can often be very expensive. Instead, it's time to get creative.
Use white Christmas lights and drape them around the room. They look cute and most of us already have them lying around in a closet. Professional flower arrangements don't always have to expensive either. You can view here for some cheaper options which still look great.
3. The Dress
On a budget, you're not going to be able to get a designer dress custom made. But you can still find a beautiful dress. Look around online and hit up some thrift stores. Your mom may still have hers you could re-tailor for yourself.
It's a chance to stray from the traditional and go for something else. It doesn't have to be a white dress, go for something you find beautiful. Since you'll only wear the dress once, you could rent it for the day and save a lot of money!
4. The Photographer
One of the best parts of the wedding is getting the photographs to last a lifetime. But wedding photographers can be a huge expense. Instead, get creative!
Bring a tripod and use your own camera to get the best shots. Ask guests to take as many photos as possible on their smartphones. Most phones now have incredible cameras and lenses so you'll get some amazing shots.
5. The Food
Another big expense for a wedding is the food and drink. But you don't need to spend a fortune on it. Instead, make the day into a pot-luck and ask guests to bring a dish. It's a fun and cheap way to feed everyone!
If you go for a caterer, skip right to the main meal and don't bother with appetizers. Food brings people together and nobody cares if it's not super expensive, so long as it's tasty.
Have the Wedding of Your Dreams on a Budget
Have you been wondering how to plan a wedding on a budget of $1,000? These five tips are the way to do it. You don't need to spend a fortune on your wedding day. Even if you have the cash to spend, you might prefer to invest it into your marriage instead of the big day.
Whatever the case may be, these are the best ways to save your cash while marrying the love of your life.
Find this useful? Check out our blog for more great money saving tips.