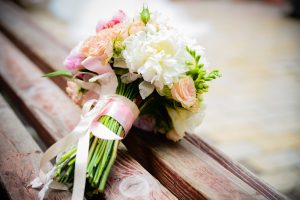 Getting married and planning a wedding is one of the most exciting times in a couple's life. If you've recently become engaged, congratulations! And even if you haven't yet, it's never too early to start thinking about your future wedding.
Weddings are certainly not cheap. In fact, the average wedding costs around $25,700. But that's not to say that a wedding can't cost less, either.
Budget weddings are not uncommon, and more couples opt to have a frugal wedding compared to those who go all out.
Are you aiming to fulfill your dream wedding on a budget? Looking for unique and innovative wedding ideas that'll help you save more money?
We've got you covered. In this article, we'll tell you about 8 unique wedding ideas on a budget that you can use for your big day. Let's get started!
1. Plan Together
Before planning, you and your partner need to discuss the vision you both have in mind for your wedding.
Is there a dream venue you've always had in mind? Do you want to host a lavish dinner or would you rather have a bustling cocktail party?
How many guests do you want to invite? Where do you and your partner want to honeymoon?
Most importantly, how much are you willing to spend in total?
These types of questions will help you distinguish which amenities are most important. That way, you can budget appropriately, save money where you can, and splurge in other areas.
2. The Venue
Couples will often spend the most money on their reception venue. By the same token, the venue is where you can also save the most money.
Venues that provide the catering and wait staff are going to be the most expensive. You may be able to find inexpensive wedding venues. But, if you're looking to have your dream wedding on a budget, it's time to get creative.
Do you know someone with a large backyard and a beautiful view? If so, consider asking them if you can host your wedding there. You can also rent a large cabin for the day.
Do you know people who work in the food industry? You could hire your own wait staff and get a good deal on catering. This way, you can spend the money on a cheaper venue and provide your own food and staff.
3. The Photographer
If you're not careful, you could wind up spending lots of money on just the photographer alone. Luckily, we live in the day and age of smartphones and iPhones. So, you can definitely count on your friends and family to snap gorgeous shots of your big day.
There are lots of talented wedding photographers who are willing to be a part of your big day at a reasonable cost. You may even know one! Feel free to barter with them in exchange for their services.
4. The Rings
When it comes to wedding rings, the costs vary significantly. People can spend as little as a couple hundred dollars to tens of thousands!
Of course, some metals and materials are much more expensive than others. Gold and diamonds, for example, are often the most desired – and the most expensive.
You don't necessarily have to shell out tons of money on quality, beautiful rings. For a frugal wedding, focus on durability. You'll want to spend the money where it counts, which is in the quality of the rings.
Take moissanite, for example. This mineral comes from meteorite and occurs naturally in diamonds. It's also one of the more affordable materials on the market. You can view here for more of an idea on moissanite wedding ring designs.
5. The Dress
Every bride dreams of finding the perfect gown for her wedding. But often times, brides will spend an unnecessary amount on a dress they'll only wear once. So, how do you find your dream dress on a budget?
First, think about a close friend or relative who recently got married. Chances are their wedding gown is somewhere tucked away. If you loved their dress, why not ask them to borrow it for your big day? That way, all you would have to worry about are the alterations.
Still, you may want your own wedding gown – and that's okay! Try searching Etsy for custom-made dresses at budget-friendly prices. Then, expand your online search (you never know what you may be able to find).
6. The Entertainment
Do you want to know a little secret?
You don't need to hire an expensive DJ or band to have a rocking wedding!
You may know some musicians who are willing to entertain your guests all night long. And if you don't, start compiling your own wedding playlist. All you'll need are decent speakers and an auxiliary cord.
On your wedding invitations, ask your guests to jot down their song requests ahead of time!
7. The Invitations
Speaking of invitations. This is an area where you can save a couple hundred dollars and spend that money on catering or your flowers.
Send out digital invitations instead of paper invitations and "Save the Dates". Facebook makes it easy to plan events and have guests RSVP to them. You can also send out emails to those who are not on social media.
And when in doubt, call up the guests who are harder to reach online than others.
8. The Honeymoon
After budgeting for your frugal wedding, look at the amount of money leftover. You can very well use this money towards booking your flight tickets or the hotel.
You can also register at Honeymoon Wishes. Your guests can fund your honeymoon instead of giving money or gifts. This is the best way to go about traveling far for your honeymoon if you're on a budget.
You don't have to necessarily go far or spend a lot of money on the honeymoon, either. Plan a staycation or only travel a couple hours away!
As long as you and your soon-to-be husband or wife are happy, it doesn't matter where you honeymoon!
Fulfill & Enjoy Your Dream Frugal Wedding
Weddings don't have to be as expensive as people make them out to be. With detailed budgeting and creativity, you can have your dream wedding on a budget and remember your big day for years to come.
Looking for more tips and ideas on how to save money and have a frugal wedding? Check out our Frugal Living blog for the whole scoop!