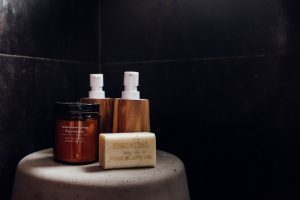 The price of beauty typically comes at a high cost for men as well as for women. Just as you have to be careful of how much you spend on hair care, skin care, and makeup items, men have the same issue when looking for facial cleansers, shaving creams, and more.
Luckily, your household doesn't have to compromise feeling and looking good just to save a few bucks. There are plenty of affordable grooming products out there that can do a beautiful job without breaking the bank!
If your husband is looking for new ways to save a bit of money, suggest that he try the men's grooming products listed below.
1. L'Oreal Paris Men's Charcoal Cream Cleanser
That's right – men have to wash their faces, too. One of the best affordable grooming products to wash with is L'Oreal's men charcoal cream cleanser.
This is great for men who work outside. The charcoal does a wonderful job of gripping all the dirt and oils on the skin, leaving the face refreshed and with a healthy glow. If your man has sensitive skin, though, it may not be the best cleanser for him to try.
2. Mario Badescu Enzyme Cleansing Gel
For men with more skin sensitivities, a good product to try is Mario Badescu's enzyme cleansing gel. This is a lightweight cleanser with deep-cleaning capabilities.
The enzymes sink into the skin to clean unwanted particles like dirt and oil. It also helps protect the skin from producing too much oil or from breaking out after a bit of dirt (sweat, pollen, dust, etc) comes into contact with the face.
3. Neutrogena Triple Protect Face Lotion
Men have a bad habit of thinking they don't need to use moisturizer. It sounds too girly for a lot of them, but it's actually something that everyone needs.
See how your macho man likes Neutrogena's triple protect face lotion. It's a sunblock and a moisturizer all in one, perfect for everyday use and nighttime application, too!
4. American Crew Shave Cream
Whether your man shaves every single day or he just likes to trim his beard from time to time, you need to get him American Crew's shave cream.
This is made with affordability and comfort in mind. It's a soft cream that moisturizes the skin while he shaves. The result is a soft, clean shave ready to show off smooth, healthy skin.
5. Anthony Shave Cream
Another great shave cream to try is the Anthony shave cream. It's ideal for men who struggle with razor burn or burning skin after they shave. The cream is made with eucalyptus, peppermint, and rosemary which help calm the skin in their own unique ways.
Eucalyptus is a soothing plant that can help rebuild dry or irritated skin. Peppermint lifts the hair follicle to help your man get a close shave without having to go over a certain area multiple times. Meanwhile, rosemary is providing the skin with antiseptic benefits to fight bacteria.
For an even better shave on sensitive skin, you should discover more about a safety razor and see if that's right for the man in your life.
6. Origins Fire Fighter
Speaking of sensitive shaving, have your husband or son try Origins' fire fighter if they struggle with razor burn and irritations. This is a pre-shave oil that helps reduce the chances of inflammation and irritability.
The oil closes the pores so that shave cream stays on the surface of the skin. It allows for a man to shave as-needed without letting anything else get underneath.
7. Every Man Jack Beard Oil
This is something every bearded man absolutely needs. Regardless of his skin sensitivities (or lack thereof), a man with a beard should take the time to care for his facial hair just as much as the hair on top of his head or his skin.
Beard oil does the trick. This soothes beard hair. It makes it soft and easy to work with, while also helping create a beautiful style and a nice hold.
Men with particularly unruly beards will need something a little stronger on top of their beard oil to hold everything in place. But, this an essential step when getting ready to leave the house and when practicing self-care at the end of the day, too.
8. Blind Barber Sea Salt Spray
The final affordable men's grooming product to look for the next time you stock up is Blind Barber's sea salt spray. This is arguably the most diverse product on the list.
Sea salt spray is great for long, thick beards to have a bit of texture and to stay moisturized, too. It's nice for men with thick hair to create waves and movements on their head in a short amount of time. Plus, it's a product you can share!
Sea salt spray will create beachy waves and a good amount of texture in your hair as well. This could mean you cut back on all the grooming products you buy between the two of you, which could lead to lots of savings in the long-run.
Buying His and Her's Grooming Products on a Budget
The more research you do for affordable, high-quality grooming-products, the easier self-care becomes for you and for him. There's no need to spend hundreds of dollars on high-end brands when you can get just as much of a good clean and style for half the cost.
For more frugal grooming tips and tricks that are focused on your feminine needs, click here.