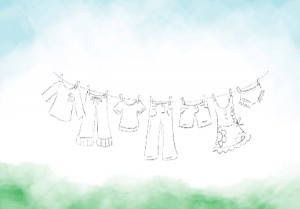 Today's thrifty living tip is to hang your laundry using a clothesline or a laundry line. I have two metal posts outside that I use for my clothesline. Inside the house, I have a thick long chain on hooks which runs the length of my wash room. I do have a long wash room.
I can use the inside line when the weather is too rainy or cold to hang laundry outside. Hanging laundry helps to save electricity or natural gas, and I also find it puts less wear on my dryer. I have had the same dryer since 1997! I do use my dryer, but I hang laundry as much as I can.
Worried about wrinkles or clothes are too stiff, then just throw them in the dryer for a few minutes to help soften them. I prefer my towels to be stiff as I find they absorb the water more after I bathe. I just love how my sheets smell in the fresh air.
Do you hang your laundry?