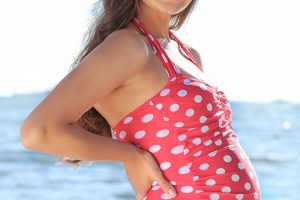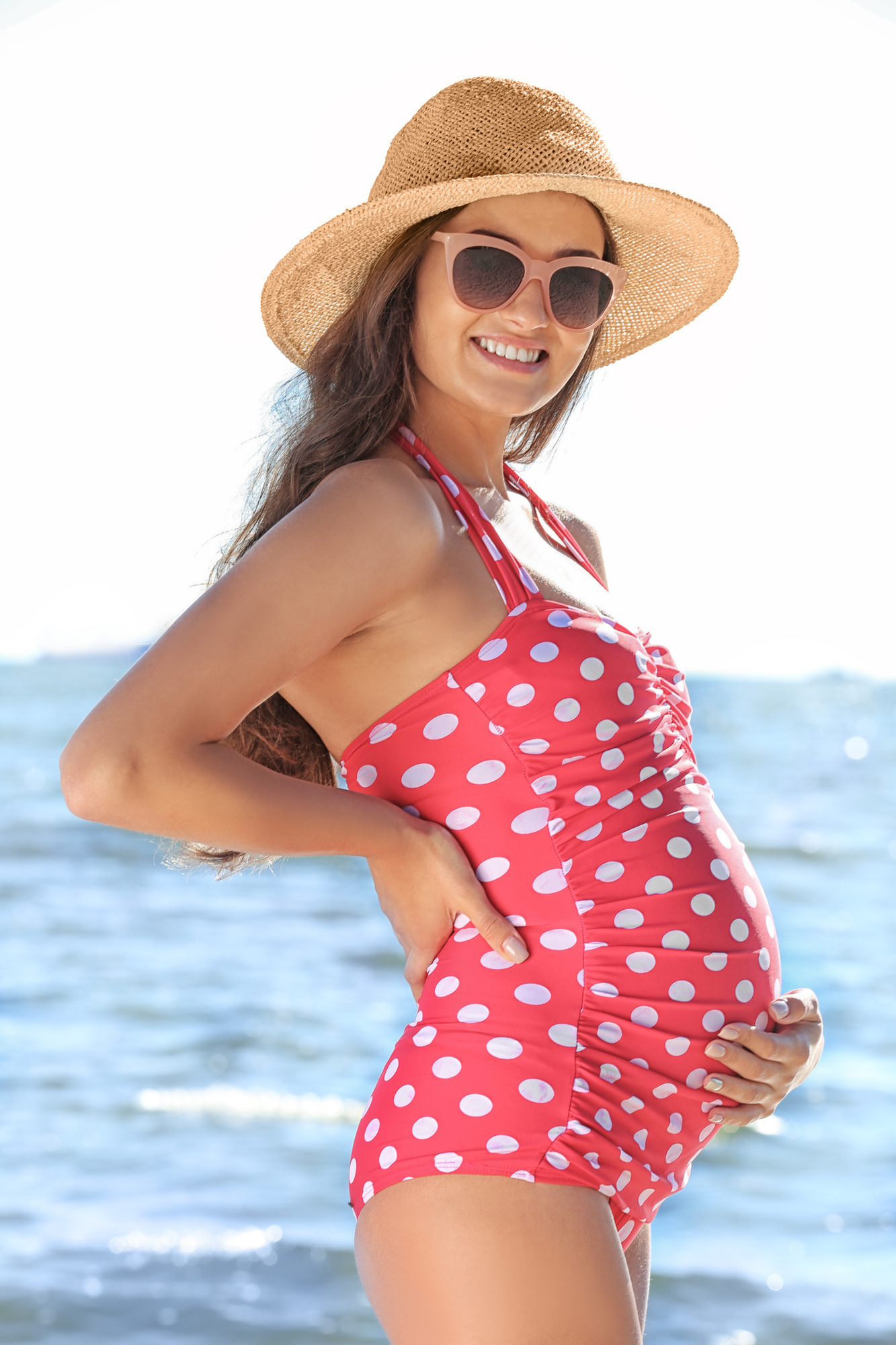 Did you know that mommies-to-be who exercise regularly lower their risk of developing gestational diabetes by more than 27 percent? They also gain fewer excess pounds and experience less back pain. Since swimming's one of the best low-impact maternity exercises, it's time to invest in maternity swimwear.
Swimming and water aerobics also help you sleep better and stay more fit. And some doctors believe that regular training can even ease labor. Now, what expectant mom can't get behind that?
But where to start? How do you find a bathing suit that makes you feel sexy and confident when you can't even see your toes? Read on for our ultimate guide to maternity swimwear…
Where to Start
Maternity bathing suits, like other swimwear, come in countless styles, colors, and prints. And the best ones make you look and feel radiant. Finding the perfect fit for your changing body can be a little overwhelming at first, though.
But don't fret! Maternity swimwear has come a long way over the years. Just check out the stylish, comfortable pieces at this site.
Today's manufacturers provide easy-to-use size charts to ensure a great fit. Better yet, many base maternity sizing on pre-pregnancy sizing.
So, if you wore a size 8 before becoming an expectant mom, shop for a size 8 in bathing suits. But here's the caveat. If you're expecting twins, go up a size.
No matter the size, choose comfort, flexibility, and a little room to grow. Avoid swimwear that constricts your expanding belly or causes discomfort.
Quality maternity swimwear should grow with your curves over the course of your pregnancy. It should hug and support you in all the right spots while flattering your body type.
More on the Right Size
Look for swimsuits that offer comfort while fully and securely covering you. Now's not the time to go down a size on principle. Besides discomfort, you risk a serious, confidence-shattering wardrobe malfunction.
Your breasts, tummy, and hips need expanding room. Don't squeeze into tight swimwear, or you may find yourself in a compromising situation at the pool. Towel anyone?
Still feeling a bit anxious about finding the right size? Consult a salesperson in the maternity department where you're shopping. They'll be happy to offer assistance.
Look for Added Value
During pregnancy, your body adapts in miraculous ways. Good maternity swimwear should come with special features that guarantee stylish appeal and optimize comfort.
These extras provide additional value and ensure your bathing suit goes for the long haul. Look for the following:
built-in shelf bras or molded cup bras with extra elastic support
supportive yet comfortable materials like Spandex, Lycra, and Nylon
adjustable straps at the neck or back
versatile pieces that can be mixed and matched post-pregnancy
a band of support around and under the belly
two-piece suits that make bathroom breaks a cinch
plenty of stretch in the tummy, breast, and hip areas
These are just a few of the design features that you'll want to look for to ensure the optimal fit. But they will definitely increase the comfort and fashionability of your swimsuit. Besides looking for a great fit, always think comfort.
Look for Added Comfort
The next generation of maternity swimwear can be surprisingly comfortable. Especially if you know what to look for…
Choose maternity swimwear with thin mesh lining. Why? It offers extra support while helping you avoid the pulling and pinching that comes with poorly fitting or cheap swimwear.
When it comes to straps, be absolutely certain that they're not too short. How will you know? They'll gouge into your shoulders.
If you notice this, then go up a size or look for another suit. Adjustable straps are another option that will help you avoid maternity swimwear that's simply too short for your torso. If you think it's a little tight now, wait until your baby starts putting on weight during the third trimester!
Make sure that arm openings and leg openings fit well and aren't too tight or rub the wrong way. There's nothing more painful than a suit that chafes around your legs or armpits. So, nip this in the bud right now by paying attention to arm and leg openings.
If you opt for a swimsuit that has an underwire bra, make sure the underwires feature extra padding. Otherwise, the wires could dig into your skin causing painful chafing around your breasts. That's no fun either…
Body Type Matters
It's important to look for swimwear that complements your body type just as you did prior to pregnancy. But what does this mean in terms of maternity swimwear?
If you're tall, consider wearing horizontal stripes. They'll balance out your height giving you a more proportional appearance.
Likewise, if you're less endowed in the height department, invest in vertical stripes. Vertical stripes will accent your torso making you look longer and leaner.
If you have large hips, choose suits with low-cut openings or a small skirt or flounce. These styles offer extra coverage where you need it most. Or, consider a bathing suit with vertical stripes that elongate your shape.
For mommies-to-be with short legs, look for higher-cut leg openings. Why? They create the illusion of legs that go on forever…
If you have ample cleavage, then a supportive shelf bra or built-in molded cup bra should be a top priority. Depending on your comfort level, you may wish to opt for a higher neck that provides extra coverage.
If you're actively trying to minimize an ample upper body, choose a dark color on top and a lighter color on the bottom. This will trick the eyes while minimizing large busts.
If you'd like to enhance small breasts, go for a halter-style top to create instant cleavage. A plunging neckline will bring more attention to your upper body. Or, consider a top with ruffling, sparkles, or texture at the bust line to amplify your curva-licious charms.
Color Choices to Consider
When it comes to bathing suit colors, it's hard to beat black–pregnant or not. It's an amazing color that creates sleek, minimal lines and flatters ANY body type. Black slims and streamlines curves, making it a sophisticated, confidence-inspiring option.
Other hues, mixtures of color, or prints can also flatter your physique. Options abound, and some can even be related to your pregnancy. For example, some expectant moms go with bathing suit colors that relate to their child's gender.
So, if you're in the mood to get playful with it, why not go with a pink or blue suit? Or how about your favorite color? Above all else, pick a hue or print that makes you feel like the fierce, amazing creature that you are.
Types of Maternity Swimwear
One-piece swimsuits come with their charms. And for some moms, they offer the most compelling mixture of coverage and security. But they can be a pain to get in and out of every time you need to stop for a bathroom break.
A two-piece might sound a little scary if you're feeling nervous about your pregnancy curves. But they're stylish and practical. For example, a tankini still covers you thoroughly while allowing quick and easy access for bathroom breaks, which only get more and more necessary as your pregnancy progresses.
Not only are they handy, but they make you feel sleek. And they provide all important room for growing hips and your tummy. Finally, they can be mixed and matched with other pieces, and the tops can sometimes be reused post-pregnancy with a different pair of bottoms.
Besides tankinis, some two-pieces provide complimentary tummy covers. These protect pregnant skin from the sun when it's more sensitive due to hormonal changes.
There are those brave, adorable mommies-to-be that slay in a bikini. And if you're one of them, more power to you, Mama! But there are a few things you need to know about the differences between maternity bikinis and their non-maternity counterparts.
Maternity bikini bottoms should be cut low in the front and higher in the back. That way, they allow room for your growing tummy yet still provide ample derriere coverage. Remember that whole wardrobe malfunction thing?
Here are a few more things to think about when it comes to maternity swimwear ensembles. Look for maternity tops that tie in the back. They allow you to adjust the fit of your bust line over the course of your pregnancy.
While you might be tempted to stick with a non-maternity tie-back top, they aren't actually designed to accommodate size expansion like their maternity counterparts. So, stick with mommy-to-be tops.
Some maternity swimwear allow you to tie your top at the neck, across the back, or both for added ease-of-fit. These are fabulous and make adjustment throughout your pregnancy as simple as retying.
Which Bathing Suit Fits You?
Which bathing suit is right for you? As you've read above, maternity swimwear has never offered more choices for a comfortable fit and a fashionable look. Shop online to access reviews from other expectant moms.
Online shopping also gives you access to helpful sizing information. And you can nix the annoying fitting room thing altogether by having suits shipped directly to your house. Simply return what doesn't fit.
Just like maternity clothing, you can find the perfect fit at an affordable price. And you shouldn't settle for anything less. So, dive into shopping with an eye for the factors that we've mentioned above.
When it comes to affordable, gorgeous maternity swimwear, we've got you covered. Interested in more tips for living frugally and beautifully? Check out our website where you'll find loads of deals, freebies, giveaways, and coupons.