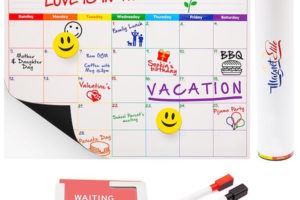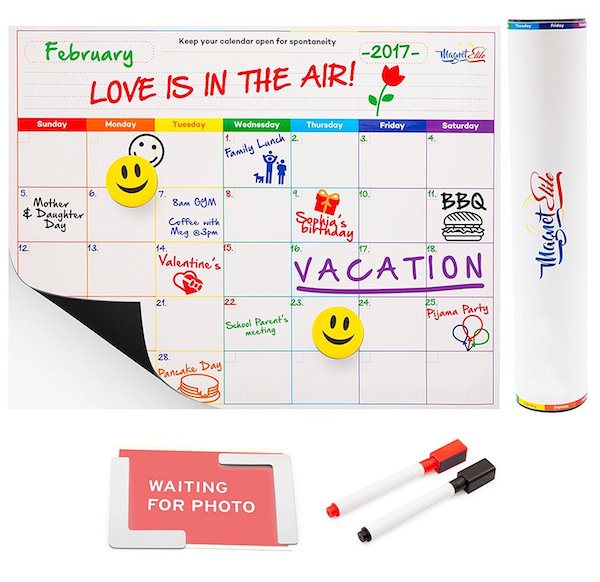 Keep your life and family organized with this awesome Magnetic Family and Children Calendar White Board for Fridge Magnets – Monthly Organizer and Dry Erase Board – 16×12 Inch – by MagnetElite Calendars 2017! Go now and see if you are the INSTANT WINNER!
100% MONEY REFUND – ALWAYS BE ENTIRELY SATISFIED – This is why your order comes with a BEST QUALITY GUARANTEE – If you are not completely happy with your dry erase calendar we'll refund your money.

AMAZING DESIGN: Created with attractive, color structured and very organized design, this planning calendar is a perfect choice for your kitchen fridge, office, or any other place that can work with full the magnetic back. The magnetic back is very effective, holds the calendar very well, making easy for you to note all the important dates for all of your project, duties, activities, family time or any detail you want to remember.

BUNDLE INCLUDES: 1 Full Magnetic calendar board planner, 2 smiley face dry erasers, 2 pens, one red and one black, and a 1 SPECIAL BONUS: 2 photo corners that will help you go thru the calendar day by day or you can use it to frame all your favorite moments you share with the ones you love.

COOL MINIMALIST PACKAGING: We deliver our magnetic calendar in one of the best protective packaging, with a minimalist and lightweight design. The tube is crafted with premium and high quality cool recyclable materials and you won't have to deal with bent corners or creases in your magnetic sheeting.

SMART STRUCTURED: The fridge magnetic calendar board is designed to help you organize better your time and helps you schedule all your activities. The board design is monthly organized and weekly structured so you can mark and note everything you want to remember on each and every day. This monthly planner will help you become more organized and will save you lot of wasted time.