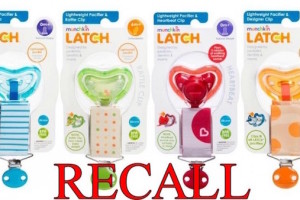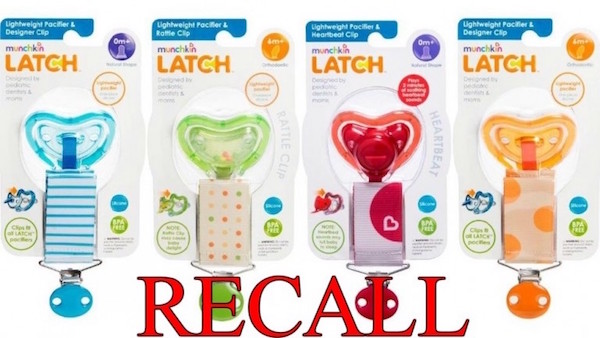 We are mommas and we try to protect our babies, even as they get big. WE also trust the products are babies use. I am thankful when companies admit their faults! Please check and see if you have these products at home now!
Description– This recall involves Munchkin's Latch lightweight pacifiers and clips sold as a set. The pacifiers were sold in five styles: designer, rattle and heartbeat clips with 0m+ natural shape pacifiers, and designer and rattle clips with 6m+ orthodontic pacifiers. The designer pacifiers and clips 0m+ and 6m+ are in three color patterns: blue and white strips, orange and with white polka dots and pink with white polka dots. The rattle pacifiers and clips 0m+ and 6m+ are green with beads in the pacifier cover to make a rattle sound and have a polka dot strap. The heartbeat pacifiers and clips have a red, heart-shaped pacifier cover and red and white polka dots on the strap.
Incidents/Injuries– The firm has received 10 reports (5 in the U.S. and 5 in Canada) of the clip cover detaching from the pacifier clip. No injuries have been reported.
Hazard: The clip cover can detach from the pacifier's clip, posing a choking hazard for young children.
Contact Munchkin toll-free at 877-242-3134 from 7 a.m. to 5 p.m. PT Monday through Friday or online at www.munchkin.com, to receive a Refund or a replacement.