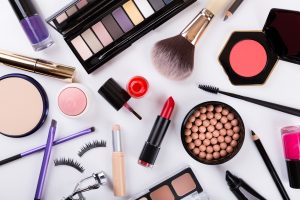 Are you a makeup artist or a makeup enthusiast? Social media platforms have shined a light on the world of makeup artistry. The growing trend has paved a career path for a lot of people on Facebook and Instagram.
Many people have made lucrative careers in the cosmetic industry. A successful career can include high-level positions in major corporations. You can also travel the world putting your artistry to work for A-list celebrities.
If you have ever watched a makeup artist on a live stream, you know the time and technique involved. But do you know the cost of the products needed to keep up with the latest beauty trends?
The best products can be quite pricey so there is no surprise people want to know how to get free makeup. If this is you, continue reading for ways to get brand new high-end products at no cost to you.
1. Earn Free Cosmetics with Survey Sites
One way to get free makeup is by registering with websites that do product surveys. Agree to take part in make-up surveys about products. In return, you get rewarded with free stuff.
Some survey sites award survey takers with points and rewards. These points are used to shop from an online store filled with various beauty products. In other scenarios, the site takes the information and send products that you review.
Try winning brownie points by doing online reviews for every product you test and like. You never know who's looking and can provide more free stuff.
2. Become a Product Tester
Like to survey takers, product testers receive free makeup from manufacturers for giving their opinion. In this case, the free merchandise is sent to the consumers. After using the product, you will need to take a survey.
This is the time to share your honest thoughts and opinions about the product.
Getting retail sized products is a bonus for product testers. Too often, participants receive sample sized gifts for their time.
Some companies may even allow video responses. This trend is a marketing tool to entice potential customers. People are visual. They are more likely to buy if they see someone with their facial features using a product.
3. How to Get Free Makeup Using Coupons
Coupons are a great way to get to get discounted makeup. If you are good at couponing it can be a great way to get free makeup.
The best couponers search for deals online, in stores, and in the weekly ads that are delivered to their mailboxes. It is also a good idea to join mailing lists for your favorite cosmetic brands.
Getting deals from retailers you shop with can be useful too. Look for special promotions where retailers are offering double coupons and a buy one, get one free deal. Some will also have sales circulars with 50% one item
Save your receipts and don't pass on opportunities to get mail-in rebates or cash back on purchases. You can also benefit from using coupons while redeeming in-store rewards points.
4. Ask for Free Samples When Visiting the Makeup Counter
Most department store makeup counters have free samples that give away when someone makes a purchase. If it is a new product, they will give samples to anyone walking by.
The next time you're in the store, don't be afraid to ask if there are samples available. High-end department stores and beauty meccas like Sephora are quite generous with their beauty product samples.
These handouts make great travel companions when you don't want to take your full makeup kit.
5. Consider Using Subscription Box Services
Subscription box services are not free, but they are a great way to try new makeup products from popular companies. It's also how to get free makeup products from new and up and coming brands.
These services are inexpensive and if you sign on with a popular company that will allow you to give information about yourself. With the info you provide, they are able to tailor your boxes to your style.
If you want to experience a different type of service that offers the best makeup products at discount prices, try this website.
6. Make a Product Video Review
Do you have a favorite brand of makeup and a smartphone? This could be all you need to get free makeup products.
Create a video showing you wearing the make-up and talking about how much you love it. Post the video to social media sites like Facebook, Instagram, and YouTube. Tag the brand in your video descriptions and include product hashtags.
Brands have social media specialists that search social channels for this type of engagement. If they like what you are doing they might send you free makeup to make more videos.
If your social media channels have a big enough following, you can earn extra cash by becoming an Instagram influencer.
7. Ask For Free Stuff
We've heard the saying, you receive not because you ask not. So why not reach out to your favorite cosmetic brand and ask for free makeup?
Be open and honest about how much you love their products. Tell them how long you've been a loyal customer and how honored you would be to try a new product.
Offer to review whatever they send you and share the review on popular sites like Makeup Alley and Total Beauty.
You may not be the only person trying this option, so make your request stand out. Include images of you wearing the product and describe how it makes you feel.
Even if you don't get any free products, you may receive some valuable coupons.
These Hacks are Sure to Get You Free Stuff
We hope you enjoyed these tips on how to get free makeup. Give it a try and put your artistry to work. Try out new brands and stock up on your favorites.
If finding deals is your thing, don't stop with make-up. There are ways to get great deals on household products, clothing and more.
Click here to check out more tips on finding the best deals online.