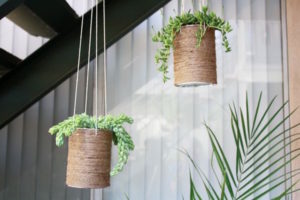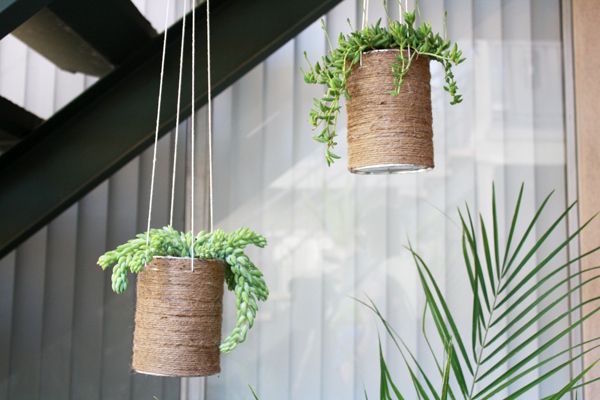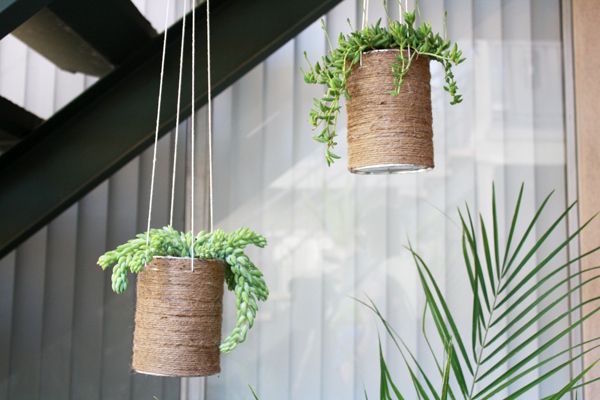 Hanging plants are all the rage these days, right? I love the simplistic look these adorable natural hanging pots! Another great thing about these is that if you don't have a green thumb (like me), you can put succulents in these pots, either live or fake! Only you would really know! Follow these super simple DIY instructions below to liven up your place!
What you need:
* 2 or more soup cans (cleaned and dry)
* a spool or 2 or twine (any shade is fine, make it personal)
* hot glue works great for this
* a hammer
* a nail
How to make them:
First off you are going to completely clean and dry out your cans. Then you are going to hammer holes into the side of your can near the top opposite from each other, so you can put some string to hang them. Then take your hot glue, twine, and your can. Start at the bottom and dab some glue and place the end of your twine there. You might want to hold it for a second or 2 to make sure it stays. Next you are going to keep doing that while wrapping your twine around the can over and over glue about every other row or every few inches to make sure it won't come off. You will get the idea as you start working on the 1st one! Once done, go ahead and run some twine through the holes you made earlier with the hammer and nail. Tie twine together to hang. Add dirt and a flower if you are going to live route or some paper, foam, dirt, or whatever if you are going to fake route! If you don't want to hang them, they are also super cute placed in groups together around the house; in the bathroom, entry table, kitchen table, dresser, or where ever else you would like!
Did you love this fun quick and easy DIY? We would love to see your personal touches on these beauties! Let us know what you thought of these!Check out our other DIY ideas!