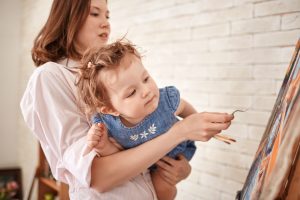 If you're a stay at home mom, you already have a full-time job.
So if you are looking to earn a little extra money, you need a job that offers the ability to work at home and on your own schedule.
Luckily, the Internet makes it easy for busy moms to make a small additional income without investing a ton of time. Some of these jobs/gigs require special skills. However, others can be done by anyone with a computer, tablet, or phone.
If you're ready to start making some extra cash, check out these five simple ways for moms to make money from home.
1. Freelance Work
If you're a great writer, editor, or graphic designer, you can cash in on a massive online market.
Businesses of all types of sizes are increasingly turning to freelancers to get work done. They save money by avoiding paying for benefits or full-time salaries.
You get the chance to use your skills to make big bucks, and you can set your own schedule.
2. Online Surveys
Online surveys are a great way for anyone to make a little extra money.
All you have to do is join an online survey site and start taking surveys. Opinion Outpost is a great site for surveys. They pay in Amazon gift cards starting in the amount of $5.00.
The surveys take anywhere from a few minutes to an hour. You could start earning gift cards after taking as few as five surveys.
3. Blogging
Moms and dads from around the world love to read blogs like proudmummy.com. They enjoy learning about the trials and triumphs that other moms and dads experience. They benefit from the tips and tricks that other parents have to offer.
If you enjoy reading parenting blogs, why not start your own? If done correctly, this can also be a great way to earn some extra money.
If you want to start a blog, you should learn from those who already have successful blogs. Learn what your first posts should be like and how to add advertisements.
You need to know how to create a consistent, polished blog that other parents will want to read.
4. Etsy Sales
If you love to take photos, knit, or create other handmade items, then becoming a seller on Etsy might be the perfect way to make some extra money.
With so much competition on the site, selling on Etsy can be tough.
However, if you can create a unique product, offer it at a reasonable price, and spread the word about your items on social media, you'll be making money in no time!
5. Product Testing
Many companies outsource product testing of all sorts of products. You can cash in on this. All you have to do is sign up with a product testing website, like Product Testing USA.
While becoming a product tester won't always earn you cash, it can be a great way to get products that you need for free. This will help you to save you money on your next grocery store visit.
Make Money As A Stay at Home Mom
Making money as a stay at home mom on your own schedule doesn't have to be tough.
Any of these five options can be a great way to make some extra money. Yes, even when you're juggling taking care of a house and kids.
Try one out today to see for yourself.