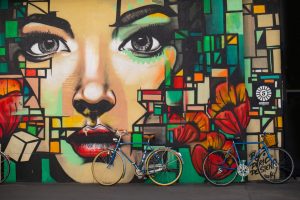 Would you like to see more street art?
Maybe you regularly walk past a cool mural in your neighborhood, or you've seen some amazing graffiti on vacation and would like to see more.
If you want to enjoy this brilliant urban art form, why not combine it with exploring a new city?
There are examples of incredible street art around the world. But if you have trouble thinking of where to go, or feel limited by your budget, this handy guide can help point you in the right direction.
Here are five places where you can enjoy street art on a budget.
Montreal, Canada
The city of Montreal loves street art so much that it hosts an annual mural festival every summer.
Artists worldwide come to Montreal to leave their mark on the city's buildings, creating a vibrant and multicultural street art scene.
There are reasonably priced direct flights to Montreal from all over the U.S., so a trip to this cool urban art scene doesn't have to break the bank.
Sao Paulo, Brazil
Sao Paulo, Brazil is the street art capital of South America.
in Sao Paulo, the local laws permit any building to be used for street art, with the consent of the owner. This has resulted in the city becoming a giant canvas for famous street artists.
The Vila Madalena, Nicknamed Batman's Alley, is home to countless artists' work from all over the world. The 100-meter long alley is effectively an open-air art gallery that's constantly changing.
Philadelphia, Pennsylvania
Yes, good old Philly!
Philadelphia is home to the Mural Arts program, which is the largest public arts program in the country.
Subsequently, Philadelphia has developed a real culture of street art. And being right here in the US can make for a really affordable and accessible city break, especially if you're traveling with kids.
New art pops up all the time in Philly, so every time you visit, you'll definitely see something new.
If you want to find out more about famous street artists, such as Banksy or Mr. Brain Wash, then sites like hamiltonselway.com are a great place to do research.
Mexico City
Mexico city has a long tradition of mural art. Many of the mural artists in Mexico draw on the imagery of thousands of years of culture and history for their art.
This place is a wonderful showcase of the history of street art, incorporating the art of religion, politics, and resistance.
Berlin, Germany
If you do want to push the boat out a bit further, then traveling to Europe can reward you with some incredible street art.
If you visit the East side of Berlin, you can see more than 100 murals covering a mile-long portion of the Berlin Wall. A lot of the street art in Berlin documents the resistance to the Communist era division of the city, and makes for poignant viewing.
Street Art around the World
These are just a few of the cities you can visit to view some street art around the world.
The great thing about virtually all street art is that it's free to view. Any trips you do, whether in the US or abroad, won't have to blow your budget.
You can also check out loads of more traveling tips on the Travel and Vacations section of our site.