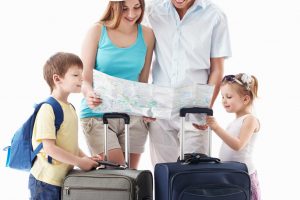 Did you know that recent estimates say that a Disneyland vacation costs upwards of $200 per person per day!
With those kinds of expenses, a family vacation with kids seems out of reach.
But it doesn't have to be!
Read on for our list of the best places to travel with kids!
Places to Travel with Kids in the United States
1. Yellowstone
Yellowstone is a national park that stretches across parts of Idaho, Wyoming, and Montana. Because of the active volcano underneath it, visitors can enjoy over 10,000 geysers, mud pots, and hot springs.
Not only is Yellowstone an amazing educational experience, but it has a lot of wildlife to enjoy as well.
There are over 200 species of animals living in Yellowstone like bison, wolves, mountain lions, bears, deer, antelope, moose, and more!
Since there's a lot of driving involved, it's a perfect opportunity to pack snacks, games, and some good music for a trip full of memories.
2. Pacific Northwest
Pack the kids in the car and head out for a breathtaking view along Highway 1 as you travel up the Oregon and Washington coastlines.
A few of our favorite activities along the way include:
Stopping at all the lighthouses along your route. If they're open to the public and accessible, take a photo of the view from the top.
Stop in Tillamook, OR for a tour of the cheese factory. Sample some old favorites and some experimental flavors!
Walk out to Haystack Rock in Cannon Beach, OR at low tide.
See the locks and fish ladder in Seattle during salmon season.
Visit Pike's place for an authentic market experience.
Stroll through one of the pacific northwest's 100s of botanical gardens.
Take a ferry to Victoria and back
3. Las Vegas
You read that right! We already know there's plenty for mom and dad to do in Vegas, but did you know that it also features some amazing activities for kids too?
The pinball museum features enough machines to keep the kids occupied for days!
And the Ethel M. Chocolate's factory is just a short drive away in Henderson. Kids can watch chocolate being made and then tour the neighboring cactus garden.
Need a little outdoor fun? Visit Red Rock Canyon to the west for a spectacular view of southern red rock and a few short hikes. Visitors can even see a waterfall during the late winter and early spring by walking the Children's Discovery Trail in Lost Creek Canyon.
4. Spend Time at the Farm!
There are hundreds of farms to visit throughout the United States.
Let the kids enjoy a horseback ride, feed the animals, ride the tractor, etc.
If you're traveling in the spring be sure to visit a flower farm to enjoy the blossoms in all their glory!
But remember, you can enjoy the flowers back at home to. After you've enjoyed a day visiting a flower farm, order some blooms to be delivered to your home the day after your return so you can extend the vacation even more!
You can read more on that here!
Best Places to Travel with Kids Internationally
1. Canada
Canada is an attractive option to those who want to travel internationally and on a budget.
But it's also home to some amazing and family-friendly attractions.
Canada features some of the worlds best whale watching, especially for Orcas. Brittish Columbia has some of the highest sightings for killer whales during the months of April-October. You might also catch a glimpse of a gray whale or humpback.
If you're traveling during the winter, you're sure to catch a view of the northern lights or aurora borealis. Kids will never forget the nature's fireworks they saw on your vacation up north.
2. Indonesia
Indonesia was listed as one of the safest countries to travel to in 2018. And if that's not enough to persuade you to add it to the list, then read on!
Indonesia is home to world-class snorkeling, historic Buddhist landmarks, and beautiful naturally occurring sites.
The Ubud hot springs and waterfall near the Batur volcano
The ancient Mount Kawi ruins surrounded by functioning rice farms
The Borobudur Temple (the world's largest Buddhist temple and a UNESCO World Heritage Site)
Bali and it's famous beaches and water activities
No matter what your interests, there's something for every member of your family in Indonesia.
3. Norway
Norway is home to a series of world famous fjords or steep canyons that open up to the sea. Many families enjoy cruises through the unbelievable scenery.
Once you've finished taking the family through the unforgettable fjord regions, take a scenic train ride to Oslo where the whole family can enjoy a beautiful city with extensive bike trails, over 50 museums, and world-class hiking.
Our favorite kid-friendly museums in Oslo include:
Norwegian Museum of Science & Technology: this museum has over 100 interactive exhibits so it's a perfect attraction for kids and the young at heart.
International Museum of Children's Art: this quaint museum hosts a collection of children's art from over 180 countries.
The Viking Ship Museum: this museum has the world's best collection of preserved Viking ships and artifacts.
The Oslo Reptile Park: the name is deceiving because this is actually an indoor zoo that is home to over 100 different types of animals.
If you're visiting in the summer, be sure to experience the 19 hours of daylight. Winter visitors must go skiing.
Remember This!
Now that you've got a start on your list of places to travel with kids, it's time to pick one and plan the vacation you've been waiting for!
Now go make some memories!
Contact me to comment or suggest more thrifty travel tips!