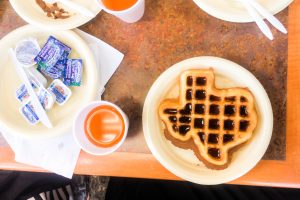 No one makes 'em bigger–or better–than Texas! And that goes double for the Lone Star state's delicious cuisine. When traveling through or camping in the large state, there are a number of Texas destinations you'll want to stop by to sample everything it has to offer.
Such notable Texas destinations for great food range from the urban cities to the rural southeast part of the state.
Central Texas
Central Texas is the home of the "Texas Trinity": ribs, sausage, and brisket. Ribs come in either full-size spare ribs (which come from pork) or big beef ribs. Texas sausage is usually made of beef, but sometimes you'll find it made of pork.
The Texas Trinity formed way back in the 19th century when Czech and German immigrants made their way to the center of the state. Both Czech and German cultures are noted for their love of meat, so it's only natural that their mingling would lead to new meat creations.
Specifically, the Texas Trinity is the result of the two cultures finding new ways to preserve and recycle leftover meat. Some immigrants smoked it inside enclosed brick smokers while others ground it up to produce new sausage.
East Texas
Hot links, an east Texas delicacy, came to be in 1897 in Pittsburg, TX. That year, butcher Charlie Hasselbach sought a way to efficiently recycle scrap pieces of meat such as cheeks and tongue. He ended up grinding them into a paste which he then molded into raw hot links.
The original hot links took a hit of water and binder as well as some spice to mask any "outdated" flavor. Today, Texas hot links are made with fresh meat and sold at a myriad of different restaurants, stands, and food trucks.
In addition to hot links, you'll find a great deal of Cajun food in east Texas (specifically southeast Texas). That area of the state's close proximity to Louisiana has caused it to adopt some of the Pelican state's cuisine.
The most noteworthy Louisiana-Texas crossover food is crawfish. Crawfish is a staple at mud festivals and other popular Texas events.
The Gulf Area
Without a doubt, the most popular food found along the Gulf coast in Texas is oysters.
While not as popular as east or west coast oysters, a true Texan appreciates oysters from the Gulf. They're best eaten in-season when they're plumper and sweeter.
South Texas
Much like southeast Texas has adopted some of its neighbor Louisiana's delicacies, Mexico has influenced its neighbor south Texas's cuisine.
Mexican staples such as tacos, fajitas, and the like first became popular in the Rio Grande Valley and San Antonio. Their popularity has since spread north to Austin and beyond, though, so you don't need to learn how to make migas or any other ingredient to enjoy them!
Other Texas Destinations For Delicious Food
Texas is a huge state, and the number of amazing delicacies that it offers is endless. If you know of any other great Texas destinations for excellent cuisine, feel free to comment below or shoot me a line!