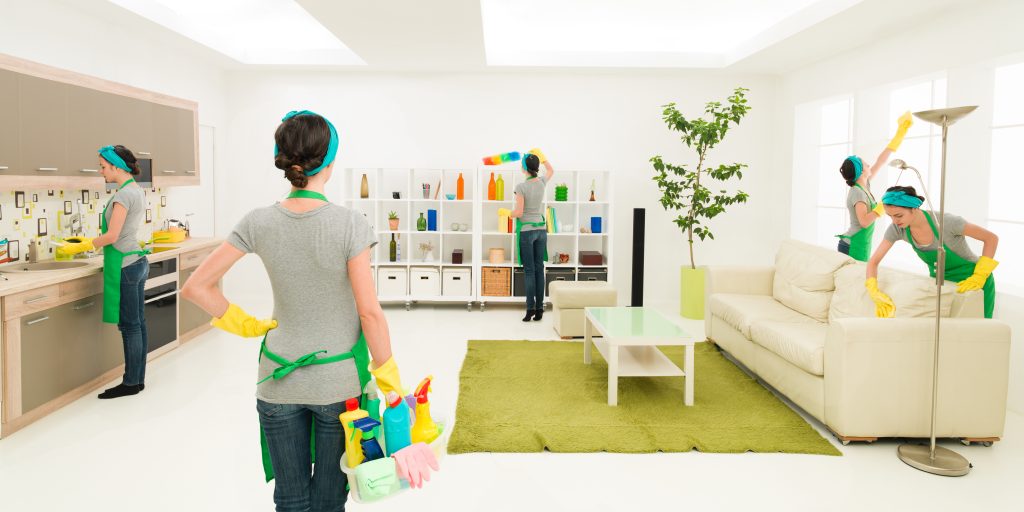 Who wants to live the rest of their life making someone else rich? The only way out of this conundrum is to go into business for yourself.
And what better way to do so than by starting a home cleaning business? If you have experience as a housekeeper, maid or are really great at cleaning your own home, then this could be for you.
What's great about this industry is that it's very lucrative. After all, people will always need their homes cleaned and most lack the time to do it themselves. Plus, landlords require your services when tenants move out.
So there's definitely a market for it.
Back in 2010, there were over 824,000 cleaning workers. The 50 largest cleaning companies made up about 30% of the revenue. Yet only 7% of cleaning workers were self-employed. So that means less competition for you in the small business sector.
Now, let's review what you have to do to jump-start your home cleaning business.
Do Your Own Assessment of the Industry
There are many factors that play a part in determining whether starting a cleaning business is a good idea. For instance, the area you live in and your own skill set.
What makes this an attractive option is the low overhead required to start a home cleaning business. All that matters is that you and your employees work hard to maintain a happy customer base.
You'll need to be in good physical condition, which means having the ability to stand, kneel, reach and bend repetitively. However, if you're not fit, this doesn't exclude you from being a business owner.
In this case, you can open up shop and then supervise employees who can handle the cleaning tasks.
What Office Skills Do You Have?
The more office skills you have, the fewer employees you'll need to hire. For instance, you'll need to know how to answer phones, schedule appointments, file paperwork and do your bookkeeping.
Then when tax season comes around, you'll have to file accordingly. It's also important to be very detailed, so you know exactly what your customers need to provide satisfactory cleaning.
Write Up a Business Plan for Your Home Cleaning Business
Once you've assessed the industry and your ability to run a cleaning business, it's time to start planning. And the best way to do this is with a business plan.
This is mainly for your own use unless you need a loan to get equipment and vehicles to operate your company.
In your plan, go over details about the type of cleaning services you'll offer, what demographics and locations you'll target and whether you'll have a niche. For instance, you can offer a "green" cleaning service for eco-friendly customers.
Next, go over your pricing plans – will you charge by the hour or per sq ft? Research what your competitors are charging and how, so you can gain a competitive edge.
Now, you don't have to lower your rates to compete. You can offer greater quality or a different range of services to attract customers.
Set Up Your Accounting System
This has to be set up well before you begin operating. It's important to keep track of all invoices, expenses, sales tax, payroll, and income.
Keep your business finances separate from your personal expenses. This will only muddle things when it comes time to file taxes for your company.
You can use an online software, such as Quickbooks to make things easier. Or you can work with an accountant. Either way, it's good to keep track of your finances in the physical, so keep a record book on hand.
Apply for Insurance and Bonding
Customers like to work with businesses that are licensed, bonded, and insured. If you advertise this in your promotions, then it'll help build trust.
There are different types of coverage you can seek. For instance, you'll need liability insurance (depending on where you live). Options include yearly or quarterly payments, and bonds are readily available at local insurance companies.
Make sure to renew your bond annually. Do note that each employee you hire will hike up your insurance rates. So make sure you're hiring people who are trustworthy and careful.
It's also important to know that you can only cover employees under your insurance, not sub-contractors. However, you can check your policy to make sure.
Purchase the Supplies You Need
The products you purchase for your home cleaning business depends on the type of services you offer. For instance, if you boast eco-friendliness, then you need to acquire natural cleaning products.
It's good to go with brands your customers heard of. This way, they already know and trust the products you have. Otherwise, you'll have to educate them on why it's healthy, good and reliable.
Make sure to ask whether the customer has specific cleaning supplies for certain appliances.
Then you'll have to decide whether you want to use the customer's vacuum or tote around your own.
Begin Advertising Your Services
Now, it's time to get the word out about your new home cleaning business. You can easily do this with a mix of online and offline marketing. For instance, you can use social media, pay-per-click ads, fliers and feather flags.
Make sure the business logo, name, numbers, rates, and services are consistent on all your marketing collateral. You can choose to post your rates are only disclose it to prospects who call (to keep competition down).
Get Transportation and Uniforms
Presentation and consistency are everything in business. So you need professional cleaning uniforms and a reliable means of transportation.
You have to determine whether you want employees to use their own vehicles or supply them with one.
Continue Learning About Becoming an Entrepreneur
There's a lot you can learn when you find the right online resources. At Thrifty Momma Ramblings, you can find tips and advice for running a thrifty business and living frugally.
If you're looking to start your own home cleaning business, then browse through Thrifty Momma Ramblings blog for more thrifty business tips.
Anything to Add? Leave a Comment!