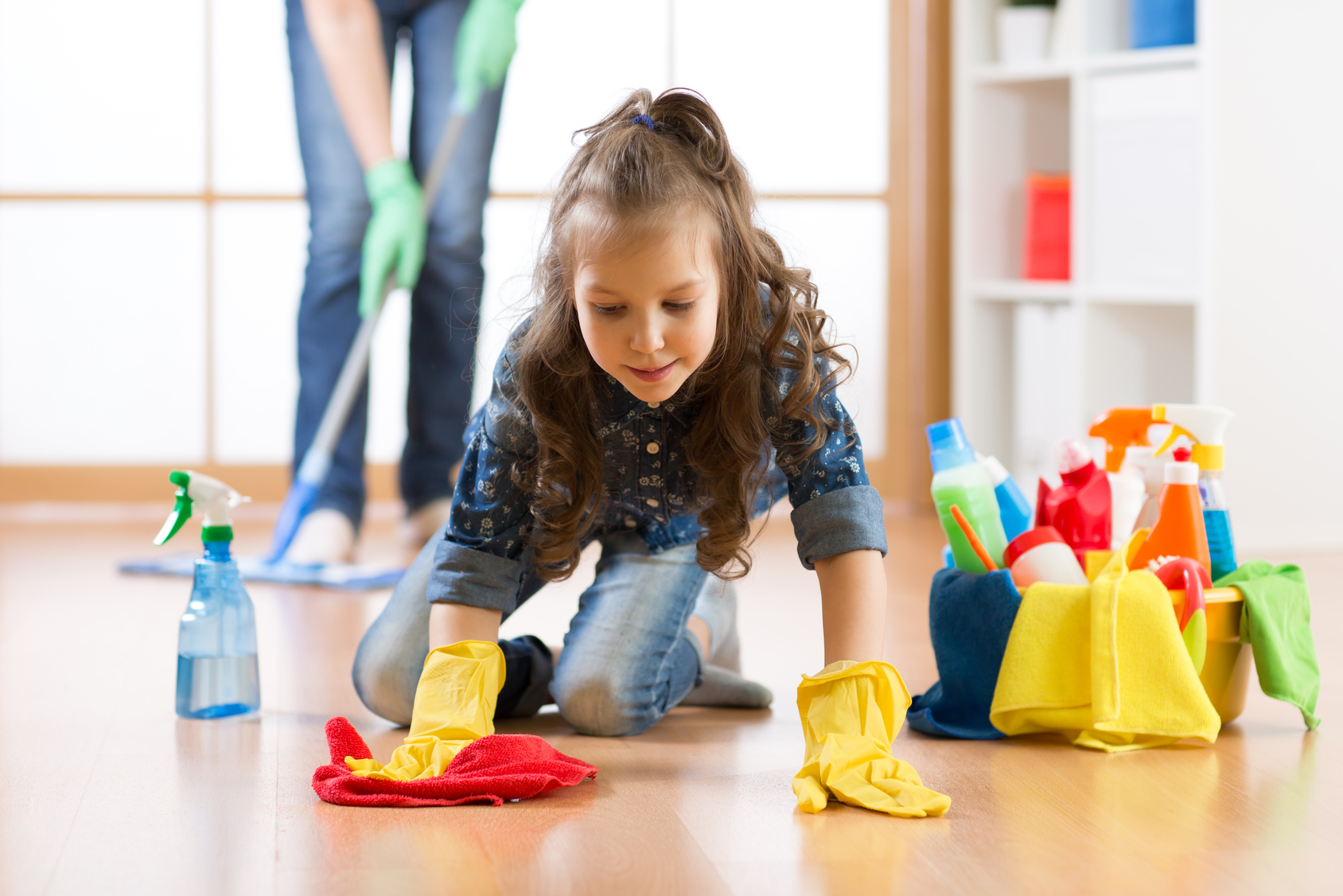 Keeping a clean and tidy house can seem like a daunting, and expensive, task. We've all seen how shiny those homes are in magazines, right? Everything's crisp, fresh, organized, and there's nary a crumb in sight!
You don't have to hire a troupe of maids to keep your home spotless, however. Here are 5 tips that will help you keep your house sparkling and tidy, without breaking your budget.
Do It Every Day
While you don't need to suit up and scrub down your entire house from top to bottom every day, doing some tidying and cleaning daily can help keep things nice. This is especially true if you have children or pets.
Wiping down hard surfaces quickly, picking up stray toys and clothes, spot dusting, and doing a light sweep of hard floors daily is a great way to keep your home tidy and neat. Depending on the size of your home, it probably will only take you 45 minutes to an hour, max, and then your home is refreshed and ready for the day.
Not only will doing the smaller things daily help you save time, but it will also make your deep cleaning tasks easier. This also saves you money; when your tasks are easier, you're not using as many cleaning items or products! You're also not spending more money on products designed to tackle hard or nasty messes.
Go Natural
Considering using natural products for your daily cleaning tasks can go a long way towards helping your budget. They are often multipurpose, less expensive, and take up less space in your cleaning cabinet. Not only will that help make keeping a tidy house easier, but you also have fewer chemicals to worry about.
Baking soda, for example, makes an excellent scouring paste for gritty jobs. It also has great odor-absorbing properties, making it perfect for freshening your carpet.
Vinegar also makes a fantastic multipurpose cleaner. It's streak-free, so it's perfect for cleaning windows and metal surfaces you'd like to shine!
Don't Skip The Professionals
There are times when you'll want to have professionals do some of the cleaning in your home, such as carpet and upholstery cleaning. While it's fine to do spot cleaning yourself, every so often you'll want to have it done by the experts.
They can get the deep-down dirt that home cleaners can miss, refreshing and extending the life of your carpets or furniture. If you're worried about price, consider going with a locally-owned business such as Raleigh Carpet Cleaning Pros.
Re-Use
Disposable cleaning products may make your life easier, but they're also more expensive in the long run. Consider getting items that you can wash and re-use easily, such as microfiber dusting cloths and mops.
You can also re-purpose items around your home. Used dryer sheets can make good dusters, and old t-shirts and clothes can make good cleaning rags. They're washable, and you can always throw them away if it's a nasty project.
Don't Forget Sales And Coupons
Sales are a great time to stock up on cleaning and organizational supplies. If you need to replace your vacuum, consider doing it in April. Memorial Day sales are also a great time to pick up big-ticket items for cheap.
Back-to-school is a great time to stock up on your organizational essentials. With everything marked down for getting dorms ready, you can get some real steals.
For times when you find you're out of something and need it now, don't forget to check and see if you can find any coupons. There's almost always something for cleaning supplies if you look!
How Do You Keep A Tidy House?
This is just the tip of the iceberg when it comes to ways to keep your house clean and tidy on a budget. We'd love to hear some of your top favorites! Leave them in the comments below, join in on our Facebook page, or drop me a line!
Anything to Add? Leave a Comment!