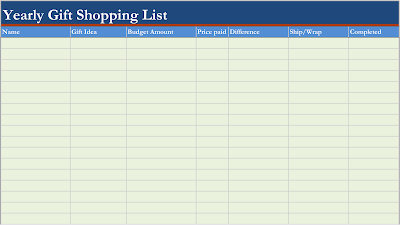 Today's thrifty living tip is to take an inventory of purchased gifts. This is the time of the year I take advantage of clearance sales by purchasing gifts now to give throughout the year. I like to have a stockpile of gifts for teachers, last minute gifts, kid birthday parties, or gifts you know a certain person would love. You aren't saving money if you forget you have Aunt Sally's gift sitting in the closet so go out to buy her another one. What if no one else on your list likes poodles? Then you're either stuck with it or donate it to charity.
I like to keep a list either on my smartphone or computer with all the gifts I have purchased. I know what I have in my gift closet, and I know who is getting what. I do make changes if I find something else during the year, but I make sure to change it on my list. This keeps me organized and on budget. I also have a special closet where I store all the gifts. Lately I have started storing them in a chest, and I keep an extra list taped to the inside lid. I have my list in two spots. Do you have a system to keep you organized for extra gifts? I have also created a gift list that is printable for anyone to use. I would appreciate a link back to my blog if you decide to post it on your blog or website. Just save the picture and then you can print. Enjoy the free printable gift list.
Anything to Add? Leave a Comment!