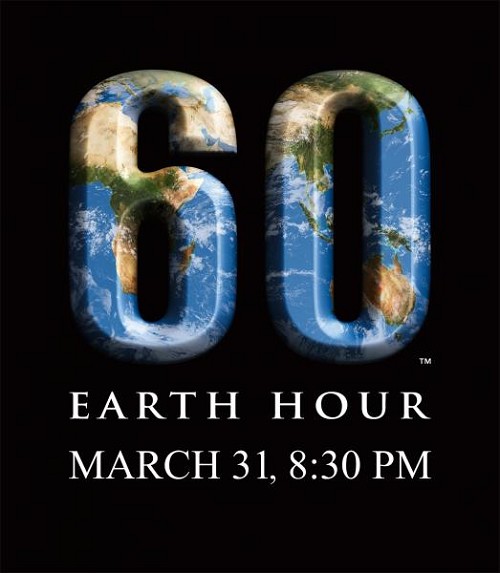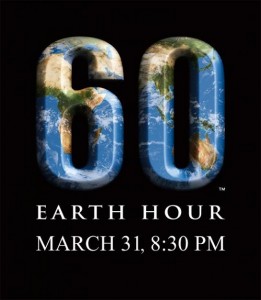 I'm not sure what rock I had been living under, but I never heard of Earth Hour until last year during my speech class. An exchange student from China gave a wonderful speech on Earth Hour. I try to live a "greener"  life by conserving more of our resources, planting more of my own food, and recycling. I plan on participating in Earth Hour by turning off my lights for one hour. It seems inconvenient in our super busy lives to not be on the computer or to watch television, but maybe Earth Hour can help us to slow down a little and spend more time together as a family.
Earth Hour originated in Sydney Australia in 2007 by the WWF (World Wildlife Fund) by asking everyone to turn off their lights for one hour. The date is March 31, 2012 (Saturday night) at 8:30 PM until 9:30PM. The initiative is to help offset the climate change, but it also conserves energy. From the Earth Hour website: "It's scheduled on the last Saturday of every March – closely coinciding with the equinox to ensure most cities are in darkness as it rolled out around the Earth." Last year more than 135 countries and millions of people participated in Earth Hour.
What else can we do to help preserve our planet?
Earth Hour asks everyone to go beyond the 60 minutes of one year by doing more to help conserve and preserve our world. The things we do to conserve are usually what helps to save you money. No matter what your views are, we do need to help preserve our planet for our generation and future generations. What we do now impacts us all now and in the future.
Get involved . It is also a great way to slow down and spend time with your loved ones. There are lots of great ideas by making a nice dinner by candlelight, play games with your flashlights, go outside and pretend to camp or look at the stars, talk, tell stories, or spend time with the neighbors and play cards. The possibilities are endless, and some communities have big events for the whole town or city to participate together.
I dare you to participate in Earth Hour on March 31, 2012 from 8:30-9:30. Will you join Earth Hour?