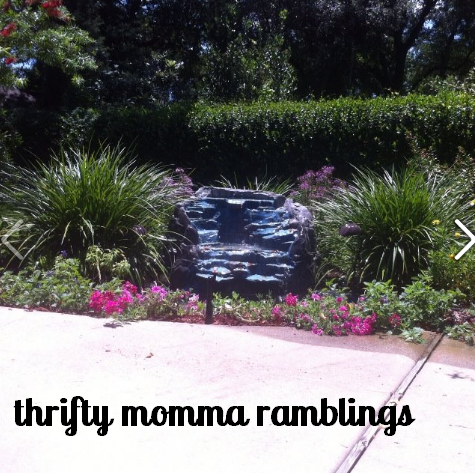 Frugal Tips & Tricks for Getting Your Backyard Ready for Summer Fun!
Summer is just about here which means is your backyard ready for summer fun? Just as we spring clean inside the house, we can often neglect the outside especially our backyard. That picture is of my brother's yard and his wife does a wonderful job of maintaining it. It's absolutely gorgeous with all the landscaping and her pool. She also uses many frugal tips to help get her yard and pool ready each summer for outdoor entertaining!
I was extremely fortunate to interview Sarah Saucedo from Thrifty Decor Chick Blog! She has amazing tips and I also have embedded a video of our phone interview below! She is such a sweetheart and she also has a gorgeous house with many of the projects that she did herself including her own backyard!
Sprucing up your outdoor space doesn't have to break the bank. I have done very small things like nice outdoor planters with plants that need very little maintenance. Also, learn which plants are right for your area and if you have a certain amount of sun or shade. The front of my house gets lots of shade so I planted cast iron plants, holly ferns, and for color caladiums. Very easy to grow and they multiply. It's pretty but I'm not out in the hot sun slaving away in my yard. I only have to do some pruning and dividing (cast iron plants will multiply) about twice a year.
Simple things can make a HUGE difference like spray paint or just cleaning! Watch this amazing video to learn more of her great tips!
Some of Sarah's tips will include:
Maintain what you already have – find out how to keep your existing outdoor furniture looking fresh and new all season long, how to remove clutter effectively and maintain your area
Set the mood – décor doesn't have to be expensive. Sarah will teach you how to use lighting and cheap table settings to up the festivity level
Let outdoor items perform double duty – use planters as food stations, buckets at fire places, and other creative fixes to maximize space and function
And much, much more!
Anything to Add? Leave a Comment!