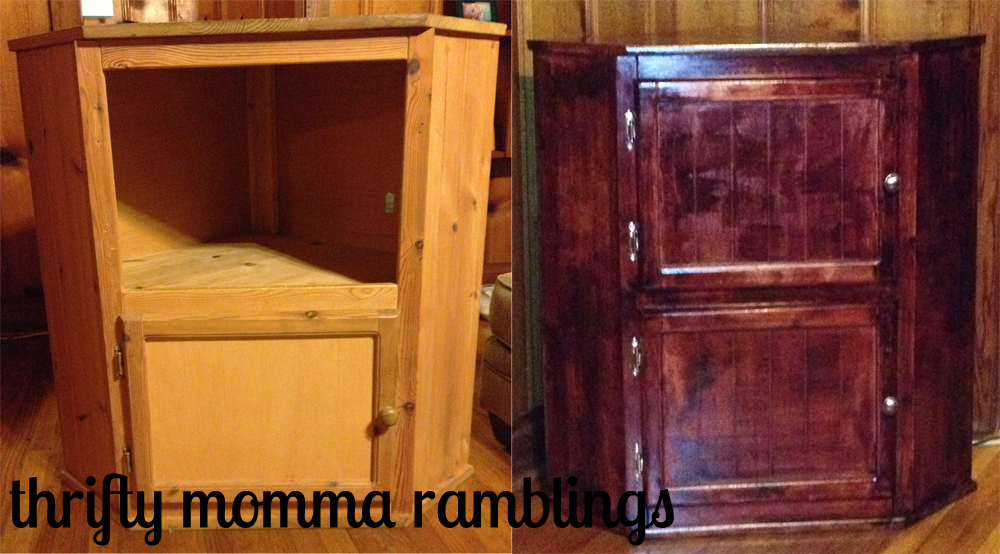 We bought new living room furniture and decided to do a DIY makeover to our current TV Cabinet stand. This is solid wood and a nice piece of furniture. I didn't want to get rid of it as it has been around for over 14 years and still has lots of life left to give. I easily saved over $100 by redoing it myself.
We bought the one step step stain that has the polyurethane already mixed in so 2 coats and you are done. I went with a Bombay shade as I wanted a dark rich look when it was finished. I spent $10 on nickel plated hardware and got rid of the wood knob and brass hardware.
Hubby used a lint-free piece of cloth to clean it. Then he used a sand block so the stain would penetrate the wood. Then the cloth again to clean up any excess dust. Then stain it and let dry. Once dry use a piece of fine steel wool and again a cloth to wipe off excess dust. Apply the second and let dry and done! Voila!
Super easy and less than a couple of hours of work. The long part is allowing to dry during coats and after. Total cost with tax was $25.67! Not too shabby and it looks like a whole new piece of furniture. What do you think?
Anything to Add? Leave a Comment!