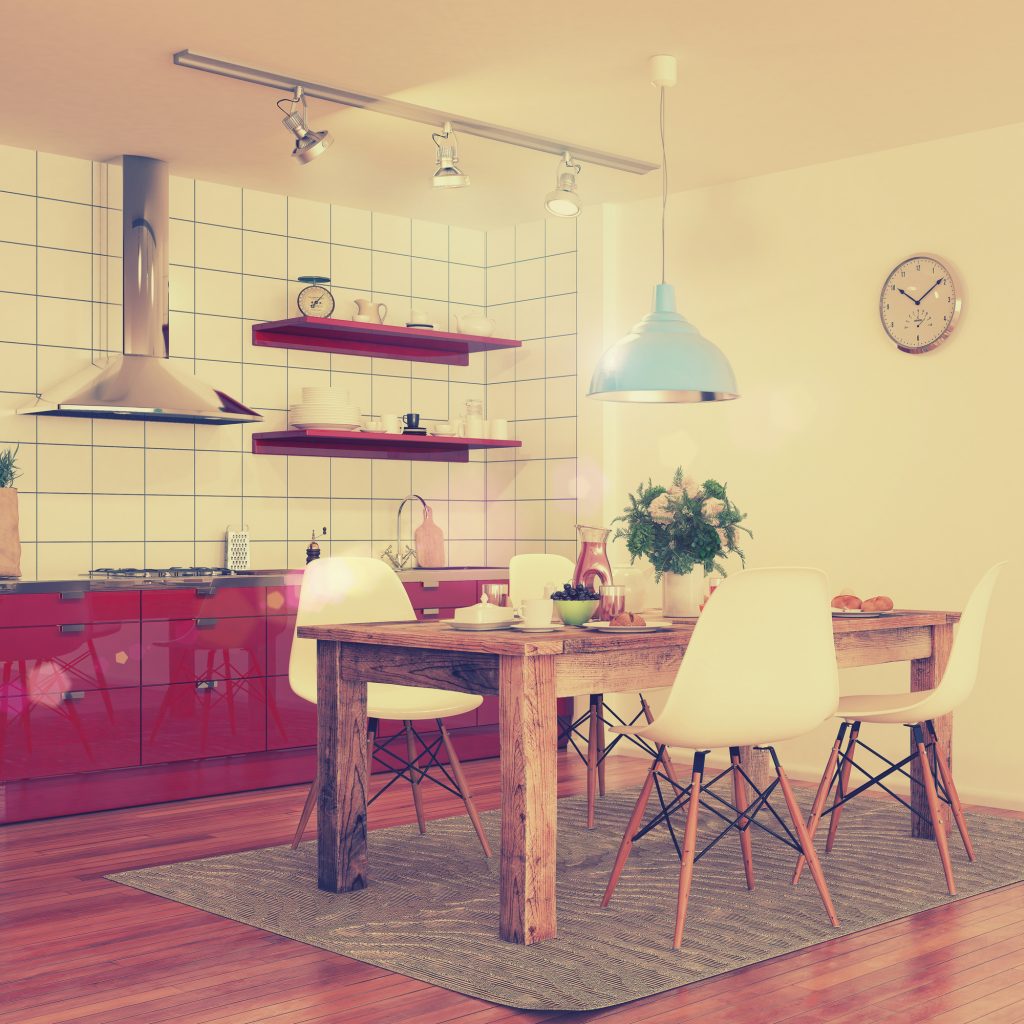 Home renovation on a dime can be a big challenge. The kitchen is the heart of the home but tends to be one of the most costly to remodel.
If you're craving a modern kitchen with all the newest styles, it doesn't have to break the bank. The 2019 kitchen trends are perfect for DIY lovers since they focus so much on colors and finishes bringing out the natural beauty of your kitchen space.
Color
The white kitchen is out of favor, and bright colors have come out to play. Appliance manufacturers are even getting in on the trend, producing high-end refrigerators and ovens with colorful patterns and textures.
Though you might not want to spring for a pricey muraled fridge that could fall out of style in a few years' time, color is one of the more impactful (and affordable!) changes you can make to your kitchen.
Painting cabinets, walls, and more is easy and cheap! Bold, moody colors in dark tones reflect a modern flair and are easier to keep clean- who wouldn't love that?
Copper is King
A huge trend in kitchen decor is copper or gold-tone accents. Appliances are going copper, sinks now come in brass, and gleaming metallic finishes cover every knob and handle.
Fortunately, this can be an easy trend to imitate. Skip the entire wall of hammered brass tiles, instead opting for some brass or copper fixtures to make your new color scheme shine. Beautiful faucets with matching drawer pulls and copper counter accessories can really tie a room together on a budget. 
Low-Profile Hoods
More than a trend, new low-profile hoods are beautiful and space-saving technology. You might have to make this item your splurge purchase, but the decision could be worth it.
Modern hoods are much less intrusive, which is perfect for a small kitchen that seems over-crowded. They also function smarter and quieter and leave more room for storage opportunities! Some models sit nearly flush with the ceiling, making them almost invisible.
Metal Shelving
Floating wood shelves may have been the biggest cabinet trend in the last few years, but metal versions might be taking the lead in 2019. Industrial-chic, these copper or galvanized pipe shelving units look classy and can be any size.
The great thing about this trend? It's easy and cheap! Metal pipes, joints, and more can all be found at your local hardware store for far cheaper than the cost of new cabinets. Pair naked pipe supports with chestnut boards for shelves, and you'll have the trendiest kitchen in the neighborhood. 
Bare Uppers
Have you heard about Hygge? A Danish concept of comfort and simplicity, hygge is a huge trend in kitchens. Stripping your upper cabinets from the walls and leaving things bare and simple declutters for peace of mind.
Affordable? We'd say so, since no purchase is required! However, it might take some ingenious reorganizing of your bottom cabinets to streamline your kitchen. 
If you can't bear the thought of parting with precious storage space, you're not alone! Should the thought be too much to bear, consider some beautiful new cabinet door styles like the ones from Jarlin Cabinetry. Opt for something simple in similar shades to your wall to mimic the clean style of bare uppers.
Black is the New Gray
Bold, elegant, polished- black is back. Once a popular trend, trading out subtle gray on gray kitchens for black with accents is a hot choice again in 2019. Matte black textures mixed with warm, natural-finish woods and gold details reigns supreme. 
Painting your cabinets black is a quick way to bring a dark and dramatic tone to the kitchen. Keep it modern by incorporating copper accessories, fixtures, and decor. Adding in items like a large natural wood butcher block will tie in the modern, mixed-texture feel that keeps black from seeming too overbearing.
Backsplashes Are Back
With bold color coming back into the forefront, creative backsplashes can liven up a space and tie in the other design elements of the kitchen. Backsplashes can fit any budget since the options are endless. 
Colored tiles, hammered metal, painted panels, and even wall decals can make perfect accents choices. Use colors that highlight the other areas of the kitchen, and match your linens and kitchen items to the colors for a unified feel. 
Accent Lighting
Recessed lights are timeless, but you can bring a personalized feel to your space through the addition of accent and feature lighting. Trendy 2019 lighting styles include task lighting under cabinets and defining pendant lights.
Pendant lighting can create a focal point by dangling a fixture close to a bar, breakfast nook, or island space. Anchor the area with updated lighting that transforms your kitchen from prep area to entertaining space with the flick of a switch.
2019 Kitchen Trends On Any Budget
While most homeowners want to preserve an element of timelessness in their kitchen design, it can be fun to mix things up once in a while! Incorporating some of the best design ideas in your kitchen renovation can be done on the cheap, without sacrificing style.
To save the most on your reno, choose a few complimentary upgrades that fit with your dream kitchen. Take color inspiration from this year's hot designs, upgrade your fixtures and accessories, and incorporate some of the textures you love.
What to skip? Pass on the expensive appliances. While certain finishes can be styled year after year, you likely won't want that bright red metallic stove or geometric pattern fridge when you refresh your kitchen style a few years from now. 
Trendy for decor and accessories, timeless for big-ticket ticket items. That's a recipe for success!
Looking for some more design ideas that you can use in your kitchen remodel? Check out our guide on budget interior design!
Anything to Add? Leave a Comment!