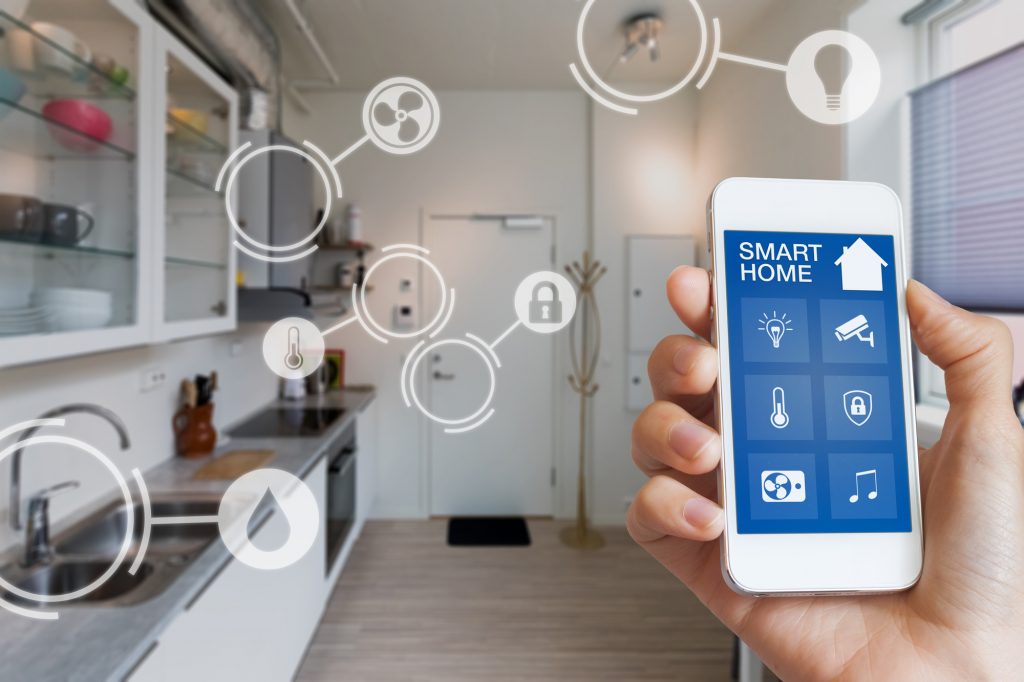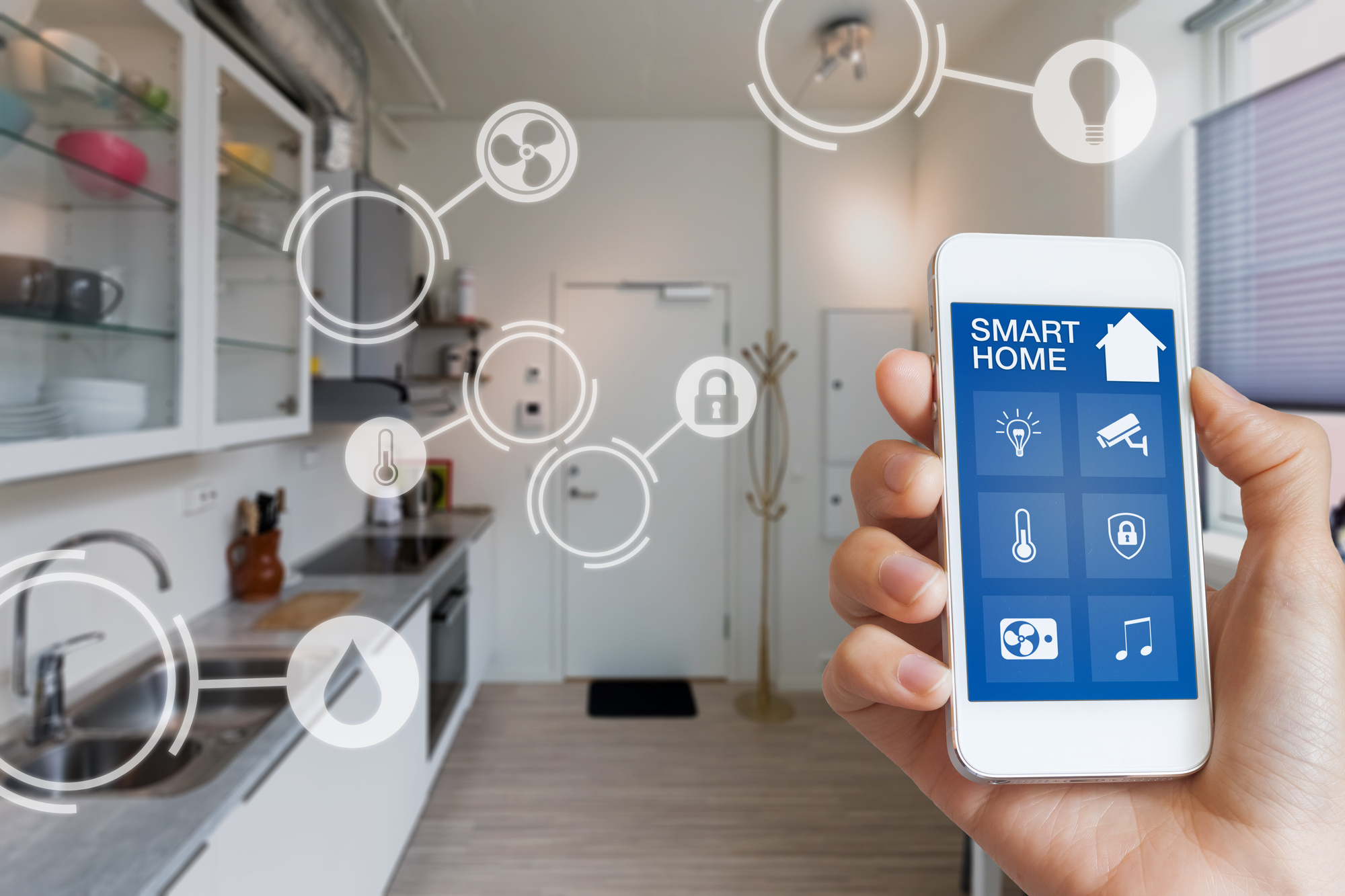 Transforming your home into a smart home can make your house more convenient, efficient and also fun. You don't have to break the bank to turn your house into a smart home. Here's how to make your home smart on a budget.
How to Make Your Home Smart
Making your home smart doesn't have to cost thousands of dollars. Instead, it's small investments in cost-efficient products that can improve your home's security, lighting, communications, energy, and efficiency and audio and visual appliances.
For more reasons on why you should make your home smart, read more about the benefits of a smart home.
Start With a Problem
When deciding which products you need to make your home smart, start by trying to remedy any problems your home already has. For example, let's say you always stress about leaving your house and wondering if you locked your door. If that's the case you might want to invest in a device that can solve that problem.
Once you've mastered how to use your new smart home appliance, then look into other technology that can help you with other home headaches.
Build Over Time
Don't stress about having to replace every appliance in your home with it's smarter upgrade. Smart products can take a second to learn how to use and set up, so give yourself time with this. Adding items gradually over time will not only save you money, it will also save you stress.
Here are some of our favorite smart items right now, broken down by the problems they solve.
Safety and Security
Investing in smart door locks, window shades, smoke detectors, alarm systems and internal and external cameras can really help give you a peace of mind. Here are some of our favorite smart home security devices.
Blink Security Camera
This basic security camera records in 720p and has infrared that can detect movement up to 20 feet away. It might not have the highest fidelity, but it can store up to 20 hours of footage for free in your cloud. This device also works with IFTT making it easy to connect with other smart home devices like Phillips Hue smart lights, Alexa, Google Home and the Nest learning thermostat.
Lighting and Switches
Smart switches, lighting, and outlets make it easy for you to turn off or on your lights remotely. You don't have to fuss around the house flipping off switches or worry if you left a light on when you're away from home for a while.
Here are some of our favorite smart switches, lights, and outlets.
Sengled Element Starter Kit
This doesn't work with as many smart home systems as Phillips, but these bulbs are much less expensive. A bulb costs about $9 each, which is great for smart lighting on a budget.
Belkin WeMo Mini Smart Plug
This plug can turn any of your basic devices smart and it lets you control all your appliances via a smartphone app. It's best to use the Belkin WeMo with items like floor lamps, but you can even use it to turn on your coffee maker at a set time. It works with Alexa, Google Home, Nest and IFTT without blocking the second outlet.
TP-Link LB120 Smart Wi-Fi LED Bulb with Tunable White Light
We love how these bulbs can directly connect to your Wi-Fi network without a hub. They are dimmable and turntable so you can turn them from bright to daylight. These settings allow your lights to keep you alert during the day, or calm with soft white light in the evening.
This set also comes with a circadian mode that adjusts the lights automatically based on the time of day. You also can control these lights with Alexa or Google Home.
Logitech Pop Home Switch
Manually turning off all your lights, thermostat, TV and whatever else you have can be incredibly time consuming and annoying. Logitech's Pop Home Switch allows you to do all of these tasks with a touch of one button.
Each button on your switch can be programmed for more than one action with the single, double or triple press. This lets you conveniently adjust all of your smart home devices at once, and it easily works with your Apple Homekit.
TP-Link HS105 Smart Plug
This smart plug has a great small design, easy to use app, and low price. You can make a lamp or anything else in your home that isn't smart, with this simple plug, Just plug it into the HS-105, and you can set a schedule of when you want your devices turned on or off just by using your smartphone.
Philips Hue White Starter Kit
Philip Hue lights are one of the most popular for smart homes because they're easy to use, they have a strong app and they can easily work with a number of smart home systems. While these bulbs don't change colors but can dim and are an affordable way to get into smart home gadgets.
Ecobee Switch+
This switch takes the idea of an Internet-connected wall switch to another level. Alexa is already built into this switch so you can use it without having to get an Echo or other devices.
The switch also has a motion sensor so it can turn your lights on and off when you enter or leave a room. There's also a temperature sensor making it easy to link it to Ecobee's smart thermostat.
Aukey Wi-Fi Smart Plug
This plug doesn't have the scheduling features like some other smart plugs, but it works well with Google Assistant and Alexa at about half the price of its competitors. At $24 these plugs are also small enough that you can easily fit two into an outlet.
Samsung SmartThings Hub
This lets you connect with smart-home devices that usually don't work with each other. The app also lets you group items together. With this device, you can adjust shades, lights, and the thermostat at a certain time of day or when you come home from work.
iHome ISP100
Most smart plugs only work for indoor use, but not this one. The iHome ISP100 works with a ton of home systems so you can turn on and off your Christmas light or that outdoor fountain. It's also easy to set up and use.
Energy Efficiency
There are some other smart devices that can really help the energy efficiency of your home. These devices include smart thermostats, window shades, and fans that can help cut down on your energy bills.
Roost Smart Battery
This Wi-Fi connected battery can insert into any smoke detector and it notifies you on your smartphone when the detector is activated. The app also allows you to alert other people. There's also a snooze button, in case you were just cooking a steak and the alarm went off.
Honeywell Wi-Fi Thermostat
Most smart thermostats can cost over $200, but this one isn't as flashy as the Nest or Ecobee and still gets the job done. It works well and even better with most smart home devices than it's competition.
Audio and Video
Improving your audio and video is always a nice upgrade. There are devices that stop you from searching for multiple remotes and can easily improve your experience.
Amazon Echo Dot
The Echo Dot is an inexpensive way to get a voice control in your home. It's only $49 and it lets you control all of your devices. From playing music, to ordering pizza without lifting a finger.
Vaux Portable Speaker
The Echo Dot's speaker isn't great, which is why the Vaux is a great addition. It's also super easy to use and only needs to be plugged into work. It also has six hours of battery life is there isn's a plug nearby, and its sound quality is incredible.
Google Home Mini
This is Google's version of the Amazon Echo Dot. The Home Mini is a small smart speaker that brings Google Assistant to your house. It's super cost-effective that sounds better and looks better than Amazon's.
Logitech Harmony 665
This is one of the most affordable universal remote and it can easily control up to 10 of your entertainment devices at once. While it doesn't work well with other smart home devices, it's affordable and a great solution if you're on a budget.
Amazon Echo (2nd Gen)
This second generation Echo is smaller and more visually appealing than it's original but it sounds just as good. It also gives you full access to Alexa and you can swap out the cover to one that matches your style.
Google Chromecast
This is the least expensive way to stream content on your TV for only $35. It easily plugs into an HDMI port and lets you stream TV shows and movies from your phone, tablet or PC. It also works with Google home so you can control it with your voice.
Make Your House Smart Today
Now that you know how to make your home smart, start doing the research to transform your home today. Start with where you can really use the help and gradually add devices one day at a time. For more information on home repairs, check out our blog.
Anything to Add? Leave a Comment!