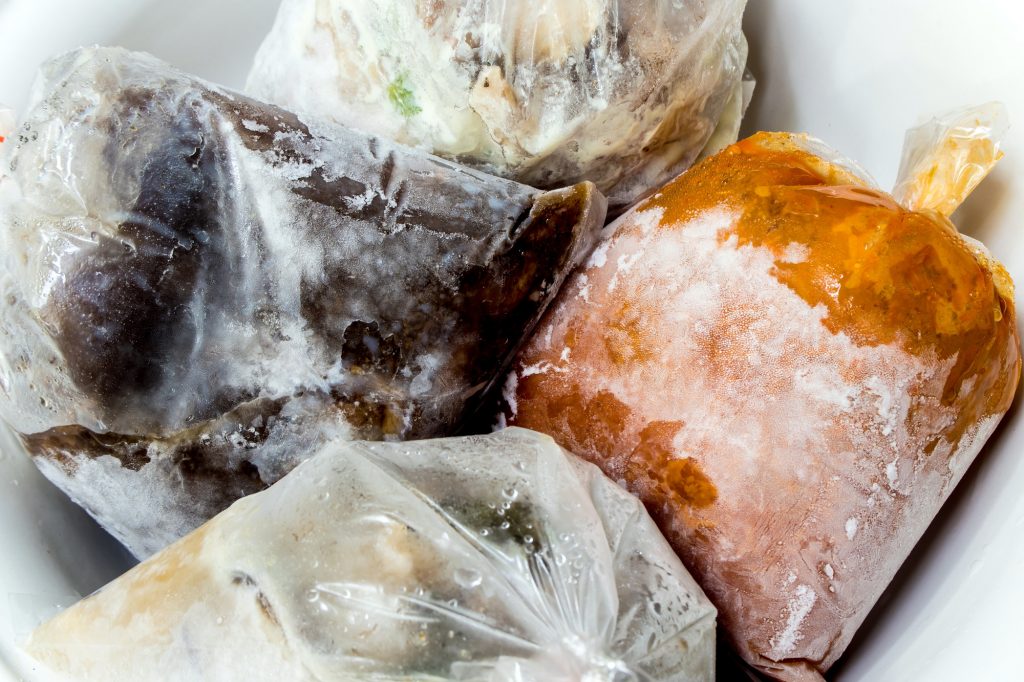 Picture yourself after a long day, trying to come up with a dinner plan. In your head, are you blinking slowly at the contents of your fridge, wondering what meal to make for you and your family that will take the least time possible?
Don't worry; you're not the only one. There's plenty of days where the last thing I want to do is put my remaining energy into cooking and making a huge sink-full of dishes.
Sometimes we all opt to pack the kids into the car and go out to dinner. This is understandable given the amount of work that goes into prepping a meal for your entire family. Chopping, pounding, slicing, stirring, cutting, skewering, and roasting can seem like daunting tasks on exhausting days.
But the truth is, going out to eat isn't always in the budget. That's why I love make-ahead freezer meals! Having a handful of delicious, easy-to-reheat meals in the freezer not only saves you time, but it saves your wallet too.
Whether tight on money, time, or both; you need to check out some of these great do-ahead recipes. Pick your favorites and take a few extra hours to get some of them stored away for later. Next Week You will be so thankful that you thought of her!
Freezer Enchiladas
The best part about freezer enchiladas is- no dishes! Prep these delicious tortillas and filling in a disposable aluminum pan, and they'll stay safely stored and ready to pop right into the oven. You'll need:
12 six inch tortillas, warmed to soften
2 cups of protein (shredded chicken, ground beef, black beans, etc.)
1 1/2 cups shredded cheese, divided (cheddar or Mexican blend)
2 1/2 cups enchilada sauce, divided
1/4 cup fresh chopped cilantro
1 4 oz can of diced chilies, green
1/2 cup sour cream or Greek yogurt
The recipe is super quick and simple. Combine protein, half of the enchilada sauce, 1/2 cup of cheese, cilantro, chilies, and sour cream in a large mixing bowl. Spread a quarter cup of the mixture inside each flat tortilla, rolling up with the seam on the bottom.
Then, pour half of the remaining enchilada sauce in the bottom of your foil pans. Lay the enchiladas in the pans, top with leftover sauce, and sprinkle with cheese. To prep, just cover with plastic wrap and then aluminum foil before freezing.
When you're ready to cook them, remove the plastic wrap and bake, covered, for 30 minutes at 375. Uncover and cook for another 5-10 minutes so the cheese can get bubbly and slightly browned. You can keep these in the freezer for up to three months.
Easy Stir Fry
There's nothing better than fresh, delicious veggies. When you make these freezer bags full of pre-made stir-fry mix, you'll have that fresh taste on hand whenever you want it without having to do all the prep that's usually involved. Plus, it only takes about ten minutes to cook!
You'll need:
1 1/2 pounds peeled and deveined shrimp, or cubed chicken
5 cups of veggies (try chopped bell betters, broccoli florets, sugar snaps, grated carrots, or your favorites!)
1/2 cup of your favorite Asian sauce (such as teriyaki or schezwan)
Simply toss your protein in the sauce of your choice, and put it in the bottom of a freezer bag or two. Add veggies on top, seal, and freeze for up to a month.
When ready to cook, add the entire bag to a tablespoon of olive oil that's heated in a skillet on medium high. Saute, mixing for around 8-10 minutes until veggies are tender and meat is cooked through. Super easy!
Slow Cooker Southwest Chicken
The easiest do-ahead meals are ones you pop out of the freezer straight into the crockpot. It's great to have a couple of variations on this theme in your recipe book, but this one is a zippy cilantro lime flavored chicken that's zero work to cook. Set it and forget it until it's dinner time!
Ingredients:
1 1/2 pounds chicken breasts, boneless
1/2 cup salsa
One can of rinsed black beans
One can of mild tomatoes with chilies
One cup of corn (frozen or canned is fine)
One diced onion
1/2 cup fresh cilantro
Cumin, chili powder, salt/pepper, and garlic to taste
This recipe couldn't be easier. Just dump all of the ingredients into a large freezer bag and freeze for up to a month. The day before eating, thaw in the fridge for 12-24 hours. Cover and cook on low heat for 7-8 hours, or on high for 3-4.
Stir in some fresh lime juice at the end for extra zip, and serve over rice with sour cream and guacamole for instant burrito bowls!
The Best Broccoli Cheese Soup
What's more satisfying than a warm, cheesy bowl of this classic comfort food? Sure, you can find it in eateries listed on this website, but this recipe is so good that you might prefer it over your favorite restaurant version! Frozen in gallon bags, it reheats beautifully for a delicious fall or winter meal that's a crowd-pleaser. You'll need:
5 cups chicken broth
1 cup finely chopped onion
1 cup grated carrot
4 cups chopped broccoli, medium and finely chopped
1/4 cup butter
One tsp minced garlic
One bay leaf
1/4 cup flour
1 cup half & half
1 1/2 cup shredded cheese
Salt and pepper to taste
Combine chicken broth with onion, broccoli, garlic, carrots, and a bay leaf. Bring to a boil, then simmer for 15 minutes on low.
In a separate pot, melt the butter and add flour. Whisk it together, cooking over medium heat as you whisk for 3-4 minutes. Strain the chicken stock from the first pot into the flour mixture, whisking until thickened.
Add the veggies from the first pot and mix until heated through. Remove the pot from the heat, mixing in shredded cheese until melted. Season to taste.
Allow the soup to cool, then divide into freezer bags. When ready to eat, just empty the frozen bag into a pot on the stove or a microwave bowl! Fresh, delicious soup that tastes great with a side of bread will be ready whenever you want!
Roast Beef Sandwiches
From the freezer to the crock pot, zero work required! Buy a nice cut of the beef roast when you see it on sale at the store, and freeze it away for later. You'll need:
One beef roast
Two cans beef consomme
Rolls or buns
Simply take the frozen beef roast out of the freezer and thaw it for 12-24 hours. Put the roast in a crockpot with both cans of consomme on low for 6-8 hours, for the most tender roast.
When it's done, shred the beef roast with a fork. The tender meat will fall apart with little effort. Serve on a roll or bun with cheese if you like, with a cup of the remaining juice for french dip style!
The easiest freezer meal yet!
Lasagna Roll-Ups
Lasagna is always a crowd-pleaser, but the leftovers can be a pain to store and prepare. Roll-ups are an easy, single serving version that's much easier to freeze and heat up for later! This is another great use for those disposable aluminum pans as well.
Ingredients:
20 lasagna noodles
Two 24 oz jars meat or marinara sauce
30 oz ricotta cheese
Two eggs
3/4 cup grated parmesan
1 pound grated mozzarella
1/2 teaspoon salt
1/2 teaspoon pepper
One tablespoon minced parsley
One tablespoon minced basil
Cook lasagna noodles in boiling, salted water until al dente. Drain the noodles and lay them flat on a large foil sheet. To make the filling, stir together ricotta, parmesan, eggs, salt & pepper, basil, and parsley.
Spoon a small amount of sauce into the bottom of disposable foil pans to cover. Spread 2 or 3 tablespoons of filling into each noodle, then roll them up. Lay each roll in the pan, fitting as many as possible in a single layer.
Top each pan off with sauce, mozzarella cheese, and the remaining parmesan. Cover your pans with plastic wrap and tin foil.
When ready to eat, cook from the freezer in a 350-degree oven. Cover the pans in foil and bake them for 45 minutes, then uncover for an additional 15 minutes.
Make-Ahead Freezer Meals are a Lifesaver
When you spend a day preparing some of these family-pleasing dishes, you'll find yourself with so much extra time that you'll wonder why you weren't doing it in the first place! Use all that free time to do some fun activities with the family, or catch up on some well-deserved me time- you've earned it!
An important note about make-ahead freezer meals is always to label your containers at the time of preparation. Adding the date, contents, and expiration date will take you to superhero status!
Are you looking for some more family-friendly tips on a dime? Visit Thrifty Momma Ramblings for ideas that suit your family's lifestyle.
Don't forget to leave us some recipes for your favorite freezer meals in the comments below!
Anything to Add? Leave a Comment!