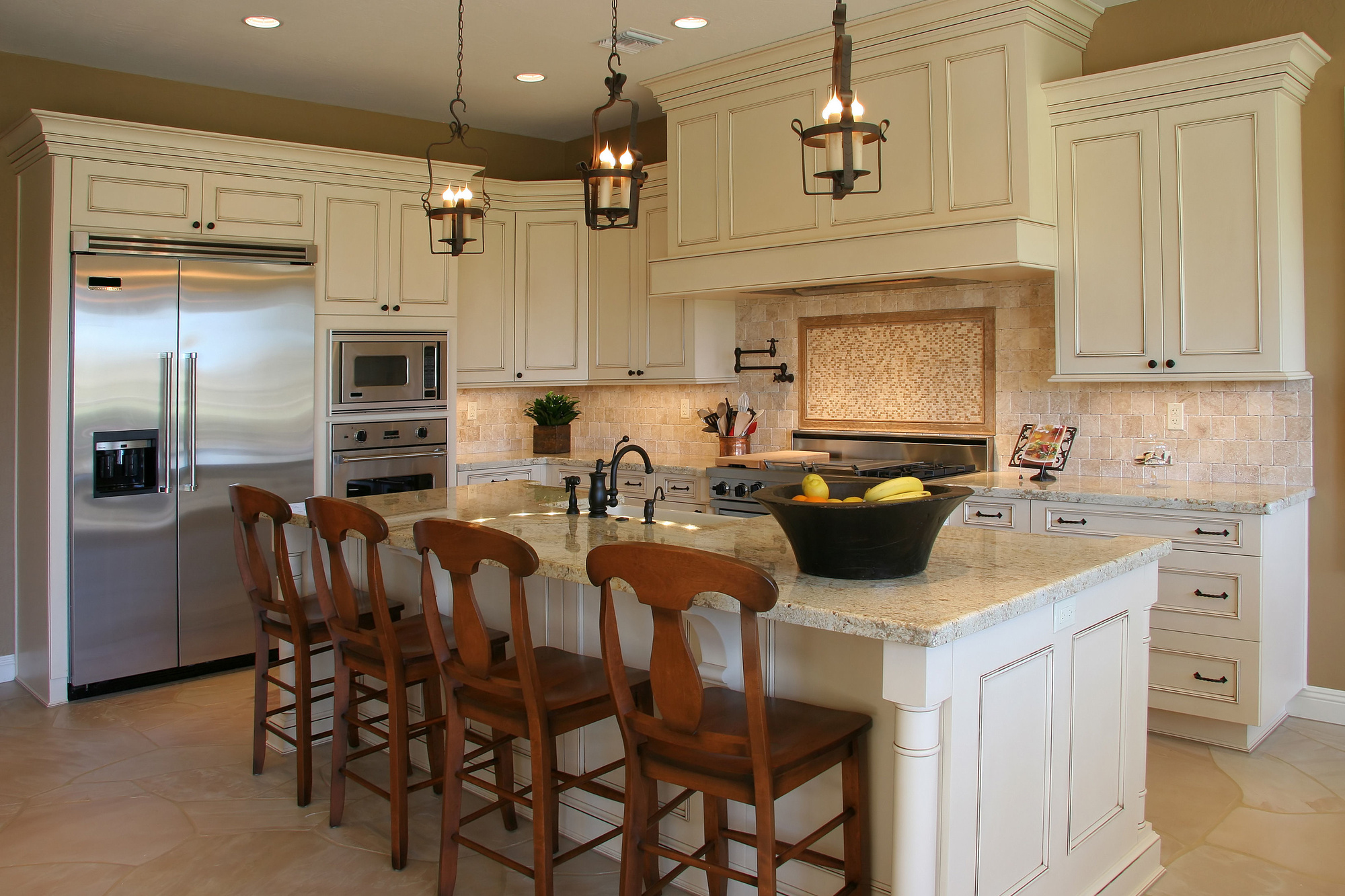 Kitchen cabinets are the true face of your kitchen. Sure, they serve a practical function to store our pots, pans, and plates. The truth is very few people will ever see the chaos on the inside.
The overall style, color, and hardware have a direct effect on how your kitchen's style is perceived. Beautiful cabinets can even increase the value of your home.
As always there is a cost for style. It's said that 30% of your kitchen budget should be allocated to cabinets.
There are some fabulous ways of saving money and making an impact at the same time. Choosing kitchen cabinets should be a fun experience.
Follow our tips and you'll see what an impact new cabinets will have on your kitchen space.
The Value of Your Home
Perception is such a large part of determining a home's value. That's why home staging has become so critical to selling a home for it's highest price.
Buyers want to see themselves living their best life in the new home. That often includes saying goodbye to the outdated ways of their previous home.
Hardware
Replacing hardware will increase the value of your home. It gives the impression of custom cabinetry, without the full replacement cost.
Choosing hardware doesn't have to be boring. Take it as a design opportunity and feel free to add antique handles or interesting pulls. Buyers love the idea of having something unique. Making this simple change can affect their perception of your home's value.
Looking for some cool ideas? Check our these hardware styles.
Choosing cabinets wisely will guarantee your investment comes back in property value.
Paint and Finishes
Don't forget that a fresh coat of paint goes a long way. New buyers are often making a large purchase and therefore want a home as close to new as possible.
Take the time to put on a new coat, fix cracks, or any damaged panels. Simple flaws can make a bad impression on the buyer.
Semi-gloss paint will add an attractive sheen to your cabinets without allowing small stains and fingerprints to show.
Cabinets with an antique finish adds charm to your kitchen. But that finish can add significant cost to your project. Sometimes going with something clean, and timeless is the best decision.
Wondering what your options are for finishes and materials? Check out . Exotic woods, unique finishes, and colors are all available to explore.
Don't Be Afraid of Color
When choosing kitchen cabinets color is an important choice. The decisions you make can have an effect on the overall look of your kitchen, as well as the budget.
Did you know that buying pre-painted white cabinets is often cheaper than hiring someone to paint them later on?
Determining the overall color scheme of the kitchen in advance can save you time and money. A mood board with images of your ideal kitchen will help to narrow your choices.
Natural wood stain and white are definitely the most popular cabinet look. However, cabinets that have a bold color can spice up your kitchen.
When choosing kitchen cabinets two-tone cabinetry color is a great look. If you're having a lack of inspiration, check out these popular cabinet color combos.
There are some basic color rules to consider when choosing kitchen cabinets.
White

: This color will open up the space
Black

: Very sleek and modern, but can make the space close in
Red/Yellow

: Research shows these colors are the most appetizing
Blue/Green

: These colors have a calming effect on the space
Another clever idea is DIY chalkboard painted cabinets. How many times have you arrived at the grocery store only to find out you've forgotten what to buy?
Keeping a running list on one chalkboard painted cabinet is a fun way to stay organized. Write down the item you need to buy as soon as you realize it. Simply snap a photo every time you leave for the grocery store and never miss an item.
As well, every parent knows that small children need constant entertaining. Allowing them to scribble and draw on a lower cabinet in chalk keeps them occupied and keeps them close by while you're cooking.
Choosing kitchen cabinets can be fun for the whole family.
Here are some other great ideas to inspire your kitchen design.
Budget
When choosing kitchen cabinets you should aware of your budget at all times, costs can quickly add up. It's important to note that cabinets, appliances, tiles, and countertops are often left out of a contractor's quote. This can lead to a deceptively low price for the kitchen remodel.
The cost of demolition, walls, floors, and windows is often included in this initial quote but only account for one-third of the budget.
A detailed quote is a must. Does their price for cabinets cover installation only? Or does it also cover the cost of the cabinets themselves?
You can even ask to see a sample of the cabinets they will be installing. It's important to be specific when choosing kitchen cabinets. If not, you might run into a conflict with your contractor.
Don't be afraid to ask for specifics when choosing kitchen cabinets. So often contractors just say things are included but give no indication of the quality.
In cabinetry, good quality means:
Dovetail joinery
Solid wood sides
Plywood bottoms
Over-travel slides (allows the back of the drawer to open beyond the face of the cabinet)
Typically higher-end products have longer warranties
Check out some additional tips on how to get a chic kitchen for less.
Choosing Kitchen Cabinets
Choosing the perfect kitchen cabinets is like giving your kitchen a facelift. You will notice the home looks more modern, clean, and valuable. There are options to simply refinish what you have or go all out and get brand new ones.
Either way, if you follow these expert tips you'll be sure to make the best decisions. Choosing kitchen cabinets should be fun and painless.
If you have questions about more ways to save on everyday goods, contact us.
Anything to Add? Leave a Comment!