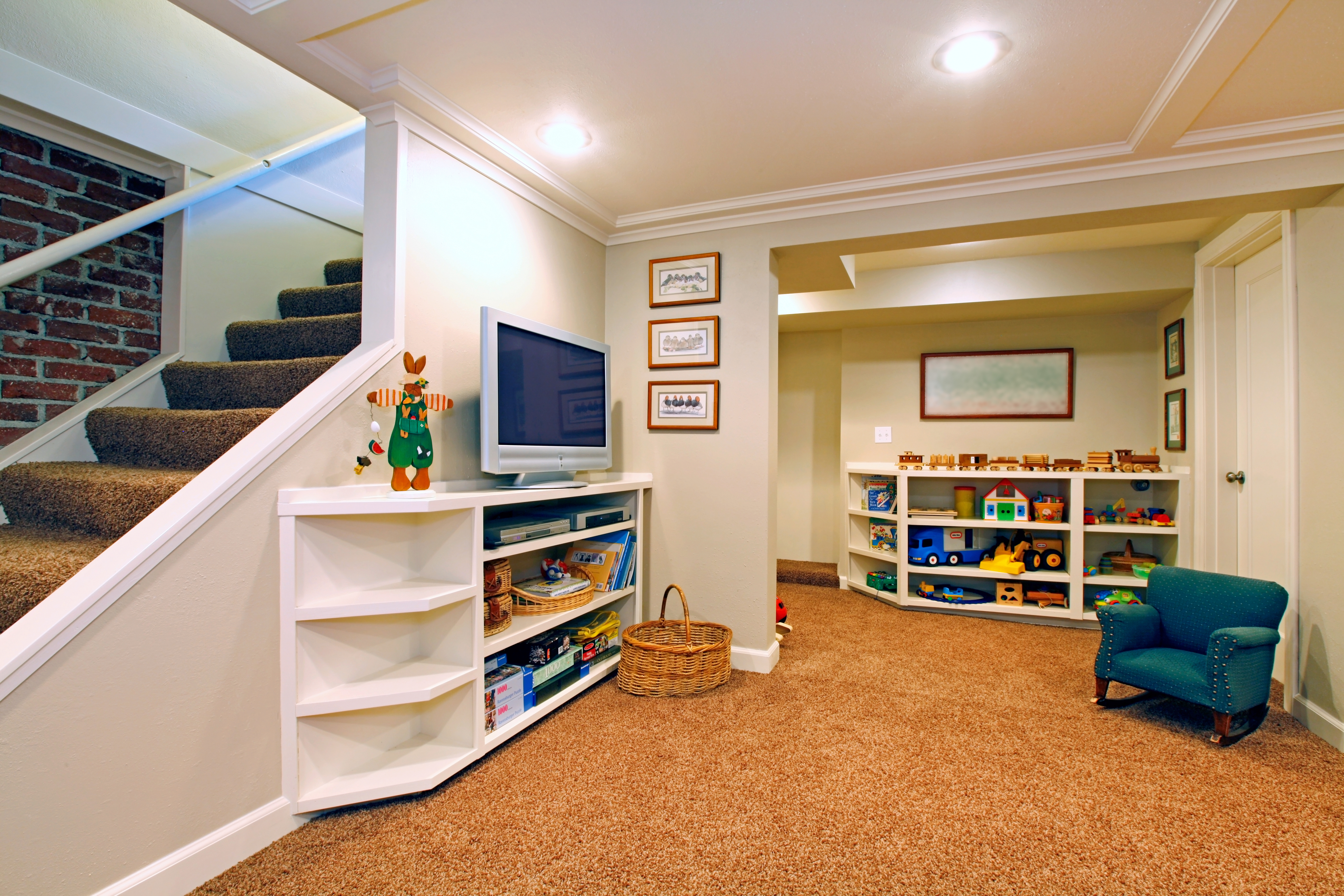 Is your basement wasted space? Do you wish you could create a useful room that's both organized and functional?
There are lots of awesome ways to make use of your basement. And none of them involve filling it with boxes of junk, old bikes, or broken pieces of furniture.
Take some inspiration from the basement design plans below. These can turn your disorganized basement into a functional space the whole family can enjoy.
Read to start? Let's do this!
Playhouse Basement
Need more space for the kids to play? Turning your basement into a playhouse is a fun, creative way to make use of your space.
Use siding screens to separate the basement into two halves – a garden and a playhouse. You could also add doors and windows to complete the look.
Install fencing outside the playhouse to section the rest of the basement into different zones. You could use a picnic bench for activities, put down green carpet to look like grass, or decorate the walls with painted trees and sky.
Inside the playhouse, install storage for books and toys and provide plenty of beanbags for the kids to relax on.
A converted basement is the perfect place to store loose toys and keep kid-related messes contained.
Gaming Basement
Are you a big kid at heart? A games collection can quickly make your living room seem cluttered, and too many wires around the TV isn't a good look.
Converting your basement into a games room is the perfect solution.
Install built-in, wall-to-wall shelving to store video games, consoles, and memorabilia. Use a large media cabinet to house your TV and favorite systems.
Hang game art on the walls and use dimmable lighting to create the right atmosphere. Add some comfy seating, and you're good to go!
Art Studio Basement
Have you always longed for a proper place to practice your art? Are you sick of painting at a wobbly kitchen table?
Employing a basement renovation company to turn your basement into an art studio is the perfect solution.
Stick to rustic walls and flooring and install plenty of good lighting. You might also look at plumbing in a sink if you'll need access to water. There's no need to section off the room – leave it as one large space that can be filled with supplies.
This is one of the easiest basement design plans, and also one of the most rewarding.
You'll have the freedom to work on large projects and store unfinished pieces. You can also experiment with new techniques without worrying about making a mess.
How to Choose the Right Basement Design Plans
Before you settle on one of our basement design plans, you need to think carefully about what you want to get out of the room.
Do you need extra storage space? A place for your noisy teenager to play video games? Or a studio for your art? Having a clear picture will help you decide on the right plan.
Make sure you get a balance between organization and functionality by installing smart storage systems. You'll also want to leave plenty of space in the center of the room to make it feel welcoming.
Want more advice on organizing your life with DIY? Check out our blog for more handy tips.
Anything to Add? Leave a Comment!