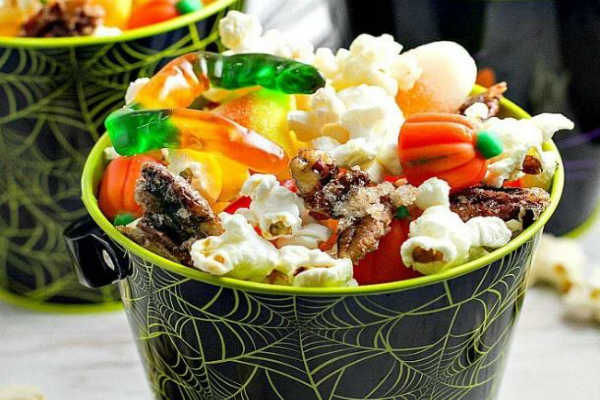 Monster Munch Popcorn Snack Mix Recipe!
Looking for a festive treat to make your kiddos for Halloween? If so, I recently found this Monster Munch Popcorn Snack Mix recipe! I haven't made this holiday mix yet, but it looks both fun and simple to make. This snack would be great for any Halloween party. Am I right? Plus, my children would love helping me in the kitchen with this fun snack. If you'd like to make this mix too, be sure to pick up the following ingredients:
¼ cup vegetable, peanut or canola oil
¼ cup Dixie Crystals powdered sugar
6 tablespoons popcorn kernels
3 cups pecans
1/2 cup boiling water
2 cups Dixie Crystals granulated sugar
1 teaspoon pumpkin pie spice
1/4 teaspoon cream of tartar
dash of cinnamon
1 teaspoon vanilla
12 cups Kettle corn
3 cups Pumpkin Pie Spice Candied pecans
2 cups assorted candy (candy corn, mellocreme pumpkins, gummy worms, etc)
For further directions on putting this snack mix together, be sure to visit the A Dish of Daily Life Webpage for more details. Let us know what you thought of this recipe, because we'd love to know.
Anything to Add? Leave a Comment!