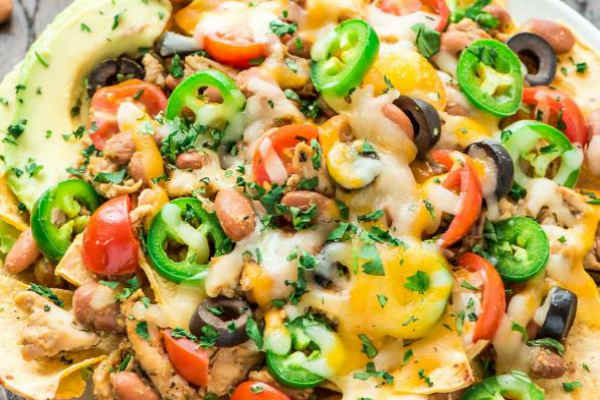 Crock Pot Healthy Nachos Recipe!
Do you love nachos, but want to eat healthier? If so, do we have the recipe for you! This recipe has homemade tortilla chips with smoky crock pot salsa chicken, beans, and more! A friend recently made this Crock Pot Healthy Nachos dish for me and I loved it. If you'd like to make this recipe as well, be sure to have the following ingredients:
1 1/4 pounds boneless, skinless chicken thighs
3/4 cup salsa verde (choose mild, medium or spicy, depending upon your heat preference—I used medium)
1 small poblano pepper, seeded and diced (optional for extra heat)
1 tablespoon ground cumin
1 teaspoon ground chipotle chili pepper
1 teaspoon dried oregano
1 teaspoon garlic powder
1 teaspoon kosher salt
1 (14.5 ounce) can low sodium pinto beans, rinsed and drained
8 yellow corn tortillas
1/2 teaspoon kosher salt
6 ounces Sargento 4 Cheese Mexican Blend
Other desired nacho fixin's: chopped green onions, sliced black olives, sliced jalapenos, cilantro, diced avocados, diced fresh tomatoes, sour cream
For additional directions on making this recipe, be sure to visit the Well Plated Webpage for more details. Let us know what you thought of this recipe in the comment section below, because we'd love to know.
Anything to Add? Leave a Comment!