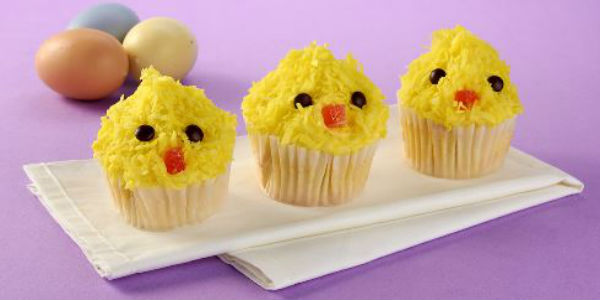 Baby Chicks Cupcakes! Perfect for Easter!
Want to make Easter even more fun for your kids? If so, why not make a holiday-themed treat?! You can make the  All-in-one Cupcakes & Frosting – Baby Chicks Recipe! I have not yet made this sweet treat with my kids, but I know they'd love the adorableness! Do you think your kids would enjoy this? If so, you'll need the following:
6 oz. – cream cheese, softened
1 cup – butter or margarine, softened (2 sticks)
1 tablespoon – vanilla extract
1 – (2 lb.) pkg. Domino® Confectioners Sugar
2/3 cup – milk, divided
4 – large eggs, slightly beaten
2 1/2 cups – all-purpose flour
1 teaspoon – baking powder
1/2 teaspoon – salt
2/3 cup – water
Decorating Ingredients:
1 (14 oz.) bag – shredded coconut
yellow food coloring
1 (12 oz.) bag – mini candy-coated chocolates
24 – orange jellybeans or gumdrops
Let us know how your recipe turns out and if you enjoyed it, we'd love to know! For additional details on how to make this sweet treat, be sure to visit the Domino Sugar Webpage!
Anything to Add? Leave a Comment!