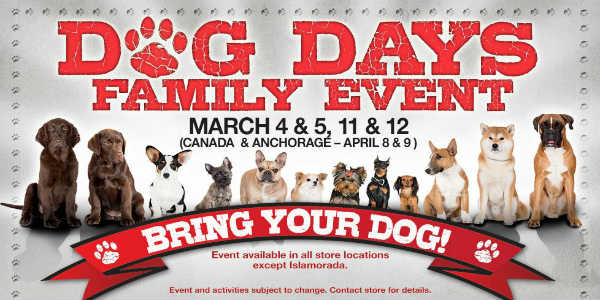 Bass Pro Shops Dog Days Event – FREE Photo, Goodie Bags & More!
Do you have a dog and have a Bass Pro store near you? If so, you'll want to attend the Bass Pro Shops Dog Days Family event and take part in freebie activities for you and your dog! You'll receive a FREE 4×6 photo with your pet, which includes a FREE certificate with your dogs paw prints on it! Isn't that fun?
They'll also be giving away a limited amount of free goodie bags, FREE k-9 Advantix samples, and seminars for puppy training. You could win in one of their various contests as well, so do not miss out on this fun opportunity. Valid March 4, 5, 11 and 12. Canadian and Anchorage events are held  on April 8 and 9. Be sure to call your local Bass Pro shop to see if they are participating.
Anything to Add? Leave a Comment!