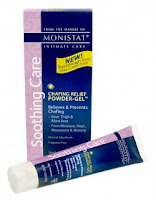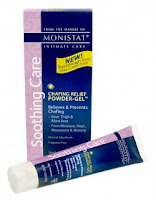 Today's thrifty living tip is instead of using an expensive makeup primer, you can use Monistat Chafing Powder-Gel. You read this correctly Monistat. I can hear you saying I am not putting stuff made for feminine itching on my face! Gross!
I realize this sounds a little crazy but it really works great as a makeup primer. The reason it works so well is that it contains dimethicone which is the same ingredient that the other expensive makeup primers use. It's a fraction of the cost plus you will get more for the money.
I was skeptical at first as I have used MAC primer which is wonderful. I never tried Smashbox, but I know it's another very popular makeup primer. I found it at my local Wal-Mart for $6.37 plus tax, and I read that it will last for at least a year. You don't use much as in the size of a dime. Trying is believing, and it really does work!
I live in very humid south Louisiana and if the heat doesn't melt off your makeup then the humidity will. My makeup still looked wonderful at the end of the day especially my eye makeup. I couldn't believe how well this stuff works and for a fraction of the more expensive primers. I also have oily skin but my face doesn't look like an oil slick at the end of the day. My foundation went on flawlessly and it just feels nice. Some people say it can be hard to find and not found in Canada.
Leave me a comment either if you have tried it or you want to try. I would love to hear from you.