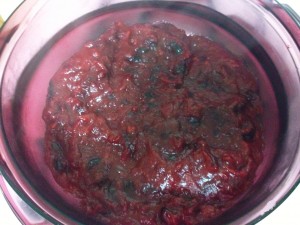 My Cranberry Sauce Recipe
I began making my cranberry sauce from scratch about three years ago. I decided to make a sauce that tastes better than the one from a can. I won't say this is cheaper, but I can buy a bag for $1.50 on sale. This recipe makes more than enough to feed my entire family including second helpings!
Making your own cranberry sauce is so easy. Anyone can make this and make your family think you slaved all day over it. I like to make it a day or two ahead of time and keep it in the fridge to chill. I take it out a couple of hours before serving so it's not too cold. My husband who refused to eat cranberry sauce loves this cranberry sauce recipe! He always thought he hated cranberry sauce, but it turns out he just dislikes the canned stuff!
What you will need:
1 bag of Cranberries like Oceanspray
1/4 cup orange juice
1 tsp Cinnamon
Cranberry Sauce Recipe Directions:
I open the bag and pour into a colander. Rinse them really well and pick out the bad ones.
I put them into a heavy saucepan like my Magnalite. I add about 1/4 cup orange juice and a 1 tsp of cinnamon.
Then I allow it cook over a medium heat for about 15 minutes. Yes the cranberries will pop but it's fine.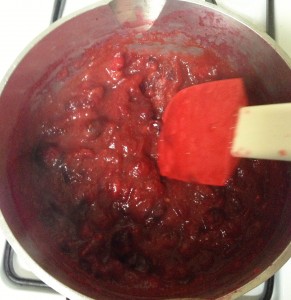 I keep stirring it and mashing it a bit while it's cooking. Then remove from heat when it's thick and cooked down.
I allow it to cool off and pour into a bowl. If you have a fun mold you could pour it into a ring mold to make it even more festive!
I don't have one so I just pour it into a Tupperware bowl that won't stain. Then I put it in the fridge to chill overnight.
That's it! Super easy and fast and extremely tasty!
Anything to Add? Leave a Comment!