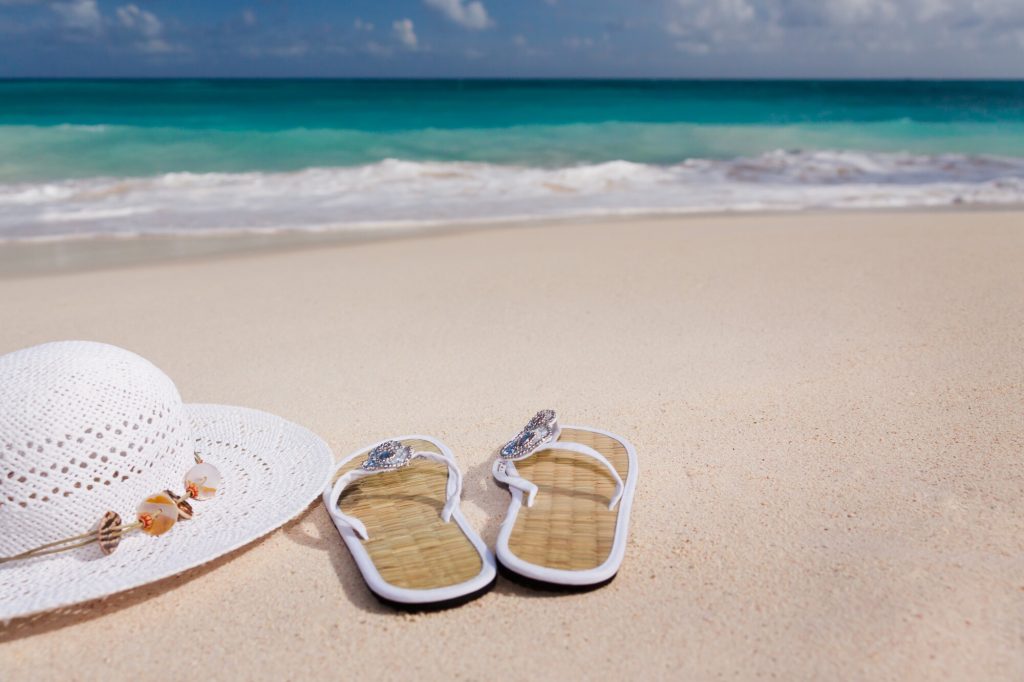 Whether it's a sunset stroll down the beach or trekking across powder white sand to find the perfect sunbathing spot, your shoes will make or break the experience. Now, while some of us love a good barefoot stroll, sometimes we don't feel like getting dirty, or the sand is way too hot. Either way, we won't blame you.
But when it comes to deciding what the best shoes to wear on the beach are, there are a few factors you have to take into consideration. For the answers to all your burning questions about beachy footwear, keep reading.
Flip Flops
Your choice of footwear all depends on what you plan to do on the beach. However, there is one shoe option that outshines all the rest. That's right, the flip flop. Classic and timeless, the flip flop has always been around for all your beach-going needs. 
Yet, when you think about actually walking on the beach with flip flops, flashbacks of kicked up sand and dirty feet might arise. So why choose flip flops? 
You can easily clean flip flops of sand and saltwater, as well as your feet when you wear them. Rinse off the sand, and you're good as new! While most flip flops air dry pretty quickly, make sure yours won't absorb water. This can lead to blisters and chafing!
Tennis Shoes and Sneakers
This is a controversial opinion; however, there are people on both sides of the aisle on this one. To wear sneakers at the beach or not? Well, if you're going on a run, bike ride, or working out, it's probably a given you'll want something with support and tread, like a tennis shoe.
Tennis shoes can also be great for the beach when you want to keep your feet clean and dry too. They don't have to have laces either; you can consider slip-on sneakers too! The careful thing to note here is that either you invest in waterproof sneakers or stay away from the water.  
I mean, I'm sure you can imagine now; cold, wet feet trapped inside soaked socks bundled up in heavy water-logged sneakers. Not the relaxing beachy vibe you were going for. 
Sport Sandals
The great debate over sandals and sneakers ended the day sport sandals came to fruition. Why choose between 2 when you can have 2-in-one!
Sport sandals are an awesome option for the beach because they can usually handle water and rocks. Whether you're hiking, kayaking, taking a walk, or collecting seashells, sports sandals will allow you to do it all in one!
Unlike flip flops, they won't spray sand everywhere. Make sure you have ones that are fit well to your feet but can also be loosened to shake out any sand you might trap.
The Best Shoes to Wear on the Beach
When choosing your beach footwear, you have a lot to consider. But the most important factor? How they make you feel! Choose the best shoes to wear on the beach for YOU, regardless of if they're "beachy" or not. 
Your shoes should be worn as an extension of you! If you're not comfortable, then it doesn't matter what you pick. Remember some of the basic factors when choosing your shoes, like waterproofing and tread, and you should find the perfect fit!
For more deals and tips on thrifty living, check out more articles like this!
Anything to Add? Leave a Comment!