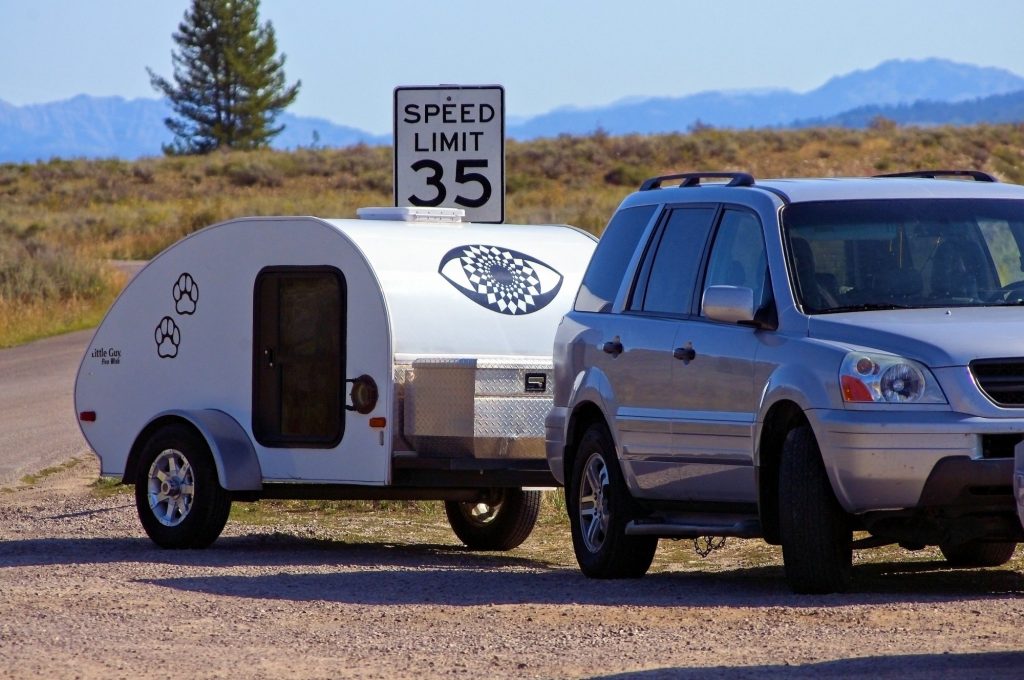 Did you know that 11% of US households own a recreational vehicle? In fact, it's estimated that there are more than 9 million households in North America that owns an RV. 
Having a motorhome or a camper trailer can be a great way to travel and save money, but RVs can be expensive, which is why many people don't look into buying one. However, there are several ways you can reduce the cost of your RV purchase. Read on to find out our 5 tips on how to buy a trailer for less.
1. Work Out Your Budget And Save Money
When it comes to how to buy a travel trailer, you need to work out your budget and get saving money for it, just like any big purchase. Buying a trailer outright will often mean that you save money in the long run. However, if you can't save money fast enough and want an RV sooner rather than later, then you could look at getting a loan or making monthly payments.
Whether you're buying the RV outright or making regular payments, you need to work out what you can afford. This figure needs to be realistic, so make sure you calculate your finances correctly. It might help to know the cost of RVs too, so during your budgeting, you might choose to research the costs of RVs that you want.
You might also decide to plan how you can save more money for the purchase or payments. For example, you might look at ways you can reduce your monthly outgoings, like switching electricity suppliers or choosing to eat in more. 
2. Research RVs
If you haven't already looked at RVs, then you need to do this now. Your budget should help to inform you about what type of trailer you can afford. There are two options available for those looking into how to buy a camping trailer; new and used.
If you have a small budget, then looking at used or pre-owned RVs will be the right option for you. Remember, pre-owned doesn't necessarily mean old and nearly broken, it just means it will save you more money. Have a look at the best camping trailers for sale now to see if you can find one in your budget.
New RVs will cost much more money. However, they're often cleaner, have done no miles, and come with all the latest gadgets, so if you have a hefty budget have a look at new trailers.
Price isn't the only thing to consider when researching trailers.
You also need to think about the practicalities of the RV. For example, look at trailers that have enough space and bedrooms, the right kind of mileage, and ones that offer the kind of living you'll need. If you only plan to use the trailer for a week or two every couple of months then you won't need loads of space, whereas, if you want to travel a lot then you might want to find a more spacious trailer.
3. Look Online
Remember, when it comes to how to buy a used travel trailer, RV dealerships aren't the only place you can look. You can also use the web to find RVs near you. Look on Facebook, Craig's List, or other local apps where people might be selling RVs.
Many people have bought RVs online before and had no problems. However, there are some horror stories of people buying RVs, so make sure you arrange a viewing of the RV and ask the seller any questions before buying it. 
If there are no camping trailers for sale in your area, why not expand the search and look a little further afield? After all, you could go and pick it up, and bringing the RV back could be your first trip.
4. Negotiate the Price
How to buy a used camping trailer 101 starts with negotiating the price. Many people assume that the price is non-negotiable and as a result, could end up paying more than the RV is worth.
Upon inspecting the RV and asking questions about it, don't be afraid to negotiate the price. Look for any potential problems with the RV and use them to your advantage in trying to lower the price. For example, if you're looking at a used RV and it's done a lot of miles, you might be able to ask for a smaller price tag. 
RV dealerships might not be as flexible as private sellers in regards to price, but there are always options. For example, if you're buying from a dealership you might ask for the basic RV and get the seller to remove the extras, which could help lower the cost. Alternatively, you could ask about the dealership's payment plans or ask for money off by trading in a car or RV that you don't want anymore.
5. Get a Fixer-Upper
Those who are on a really tight budget might look into buying a fixer-upper. These RVs might be much cheaper, but you will need to dedicate time and treat the project with respect. However, the great thing about getting a fixer-upper or creating your own RV is that you can design it exactly how you want it.
You can find many guides online and communities of people who can offer advice on how to transform a van or old RV. Converting a van or upgrading an old RV could cost as little as $1,000 (without the cost of buying the van), however, this depends on the work that needs to be done and the cost of materials used. 
Save Money by Following Our Guide on How to Buy a Trailer for Less
No matter what your budget is, there are plenty of options for getting a camping trailer and living the RV dream. Try implementing some of our tips on how to buy a trailer and see if you can get on the road sooner.
Check out some of our other articles for more tips on how to save money and travel around in your trailer for less.
Anything to Add? Leave a Comment!