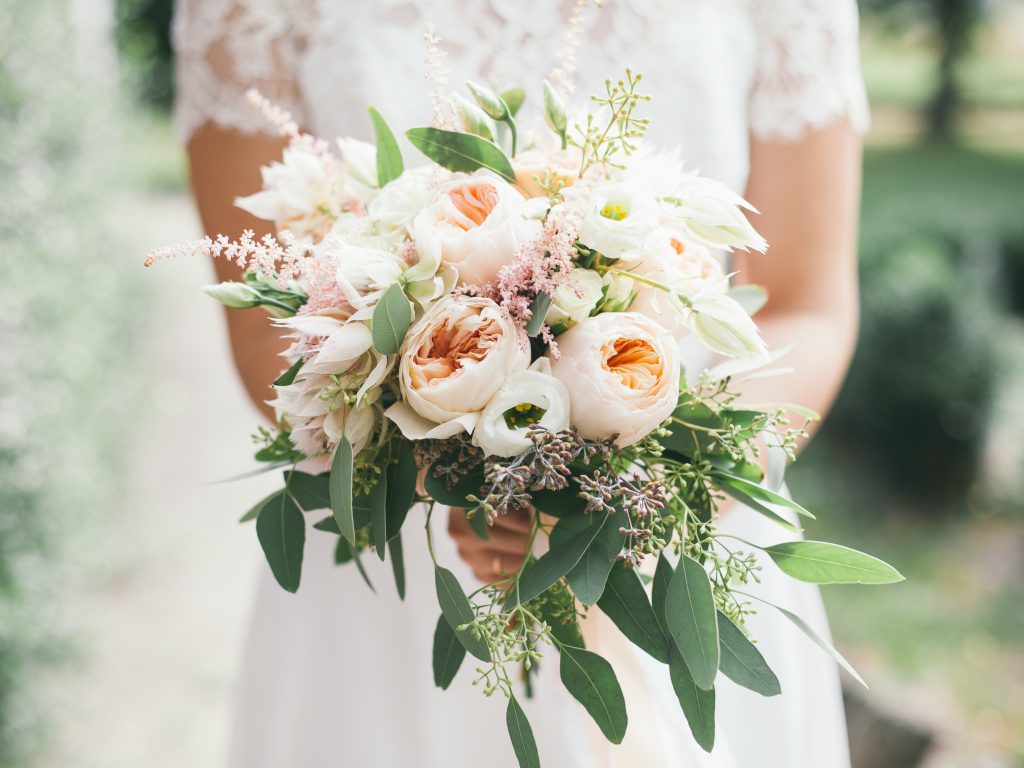 Did you know that couples will spend about 10% of their wedding budget on flowers? With the cost of a bridal bouquet between $150 to $350 and the table centerpieces ranging from $75 to $250, wedding flowers are a big expense.
If you want to have beautiful flower arrangements at your wedding but don't want to go over your budget, there are 10 simple ways to do so.
Read on for these tips to get wedding flowers on a budget.
1. Stick to Seasonal Flowers
If you have a specific flower in mind for your wedding, you might be surprised to find out it's out of your budget.
For example, if you're having a summer wedding and you want tulips in your bouquet, it might not be budget friendly. Since tulips are in season from November through May, it might be more challenging for your florist to find them, escalating the cost. 
Peonies, another popular wedding flower, are only available in spring. If you're having a fall or winter wedding, it will come with a higher price tag if you're set on peonies.
Other flowers, like the Calla Lily, are available year-round and could be a more budget-friendly option.
When you meet with the florist, go in with an open mind and ask them to see only flowers that are in season. This is the first place to start if you want to save money on the flowers.
2. Share Your Flowers
Since cut flowers have a lifespan of about 3 to 14 days, why not share them? Recently, it has become more common for couples to share flowers to save a bit of money. 
There are two options, you can be the first event or the second event. 
If you're the first event, you get to pick the flowers you want. After the wedding, the flowers are posted online for other couples to reuse. If your flowers are selected for the second event, you will get 10% back.
Those who wish to be the second event can browse from all of the available bouquets available from the first event. Couples can see significant savings on their wedding flowers. 
3. Greenery is Your Friend
Another way to save a little bit more money on wedding flowers is by adding more greenery. 
Greenery is a lot more affordable than flowers so it can help you save some money on the table arrangements. Most centerpieces don't need to be made up of all flowers in order to look great. 
You could also skip the flowers all together if you decide to use a greenery table runner to decorate the ceremony or the reception. 
Talk to your florist to see what greenery options are available to you.
4. Stick to Only a Few Flowers
During the wedding planning process, you've probably seen centerpieces that have multiple types of flowers. While these arrangements might look breathtaking, they're not always budget friendly.
You can cut back on floral arrangement costs if you limit the types of flowers you use. If you choose one or two types of flowers, your florist will be able to put in a larger order. 
Larger orders usually mean better prices. 
As we mentioned earlier, you can count on greenery to complete your centerpieces if you choose to only do a few types of flowers.
5. Repurpose the Flowers
Sometimes wedding flowers designated for the church or ceremony don't make their way to the reception. This can be a waste of money for couples who are trying to stay on a budget.
You can repurpose your flowers by asking the florist if they can bring the flowers from the church and decorate the reception.
Repurposing the bridesmaids' bouquets is another way to add more flowers to the reception. The bouquets can be converted into centerpieces or even used mainly to decorate the sweetheart table.
6. Stick to Local Florists
As tempting as it would be to pick the sough out wedding florist in another town, this choice is not budget friendly. 
Local florists will stick to suppliers in the area to make the flowers as affordable as possible. Not to mention it will help you save money on transportation fees.
The location where the flowers grow is also important. It doesn't help that you're using a local florist when your flowers are imported. 
Make sure your florist will order from local suppliers if you want to save a bit more money. You can do your research to find out more about where flowers come from.
7. Set an Iron-Clad Budget
It might be tempting for couples to go over their budget as they're in the process of planning for a wedding. However, this can cause unnecessary financial stress.
The florist is a place where couples might be tempted to overspend. 
To prevent this from happening, talk to your florist during the initial meeting and explain the importance of staying within your budget.
If you have this conversation, they'll be less likely to show you flowers outside your budget.
8. Choose Bigger Blooms
If you choose bigger blooms, your arrangements will look fuller and you won't have to get as many. 
Ask your florist to recommend bigger blooms such as cymbidium orchids.
9. Avoid the Month of February
Although some venues and caterers might be cheaper in the winter months, florists advice couples to stay clear of the month of February.
Couples have fewer seasonal flower options in February. Also, Valentine's Day means a spike in flower prices. 
10. Choose Alternatives
If you have a modest flower budget, you don't have to stick to flowers to decorate the reception venue. 
Some couples take advantage of non-floral centerpieces to decorate their wedding. Candles can make modest floral arrangements pop. Tealights or pillar candles are a great choice.
Try to pick a wedding venue that doesn't require a lot of decorating so the flowers don't have to be the focus.
Wedding Flowers on a Budget: The Bottom Line
Keep these tips in mind and you'll be able to have beautiful wedding flowers on a budget. Remember to look at flowers that are in season, add greenery, or even share your flowers.
Looking to also make the most out of your honeymoon budget? Check out this article. 
Anything to Add? Leave a Comment!