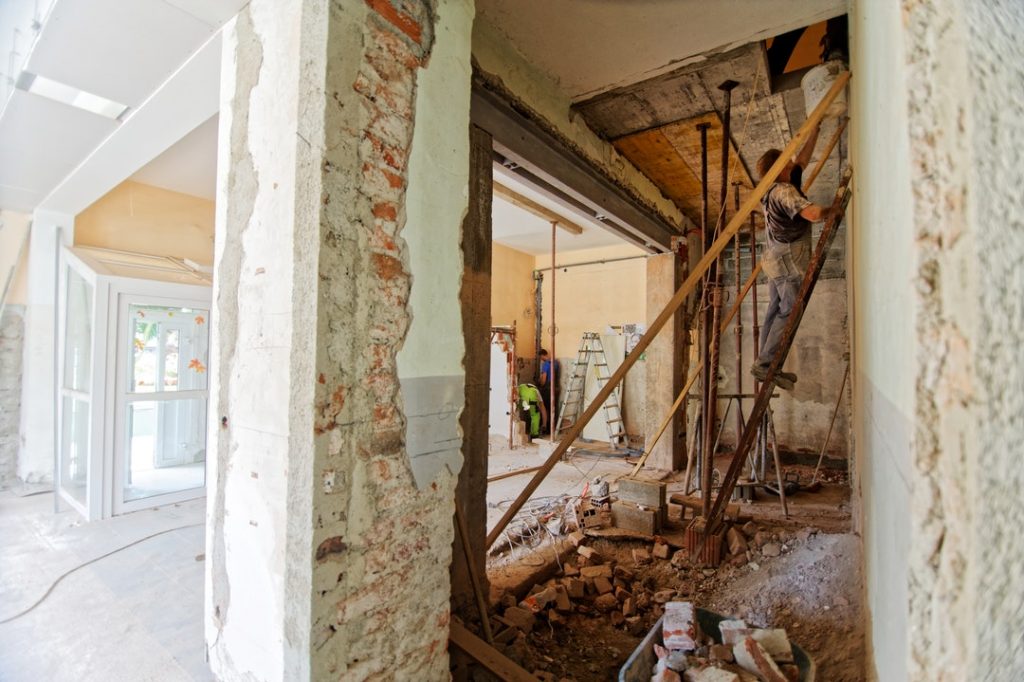 Americans spent roughly $340 billion dollars on home remodeling in 2018, a number expected to grow by more than seven percent in 2019. If you're planning to join the ranks of the fixer-uppers, it pays to know what you're getting into.
Renovations can be expensive. In fact, the average price for a kitchen reno is $23,307. A bathroom remodel costs, on average,$10,301. We've put together our top home renovation tips and 13 ways to save money on your next project.
1. Set Your Budget
The easiest way to keep your costs from spiraling out of control is to decide up front how much money you can spend. Then when you're looking for appliances, fixtures or flooring, you'll know right away if you can afford to do everything you want to.
Here's a kitchen remodeling budget you can use as a guide for creating your own. 
Tip: pay cash for everything to avoid interest charges on your credit cards. You'll also be much less likely to impulse buy an expensive light fixture if you have to hand over the cash.
2. Do Your Research
Once you have your budget set, start window shopping for the items you'll need. Get a sense of the prices by looking both on line and in stores. A lot of people underestimate the price of kitchen cabinets or counter tops. Hint: granite can be expensive! 
Research the prices of the items you really, really want and then see if you can find something nearly identical for less. You might be surprised how many look-a-like faucets there are.
3. Hire a Professional 
This seems counter-intuitive to your goal of saving money, but a contractor can save you money in the long run, especially if this is your first major renovation. Contractors will know what permits you'll need from your local government, for example. They'll also be able to tell you if that wall you want to knock down is load-bearing and therefore, an extremely expensive project.
Get bids from three reputable contractors and check their license.
Tip: Hire a contractor and do the work during the off-season. If you live in an area that gets a lot of ice and snow during the winter, contractors don't get as much work. You might be able to negotiate a lower price, if you hire a contractor during the slow months.
4. Reuse and Recycle
You save a lot of money if you're willing to re-purpose cabinetry. If you're renovating your kitchen and bathroom, see if you can use the old kitchen cabinets in the bathroom. They may just need a coat of paint and some new hardware.
Even if you have to cut them down to fit, it will still be much less expensive than buying a whole new set.
If you're only remodeling your kitchen, you might just need to refinish or repaint the existing cabinets. Fresh paint and new handles can make old cabinets look brand new.  You might also remove some of the old cabinets and replace them with open shelving.
Tip: Cut the center out of an old cabinet door and replace it with a glass pane for an upgrade that only looks expensive.
5. Don't Pay Full Price
You can save a pile of money by shopping at salvage warehouses, auctions and at resale stores. Habitat For Humanity ReStores are filled with new or nearly new building materials, light fixtures and appliances. Many of the items are donated by builders who simply ordered too many sinks or bathtubs.
Check on those buy/sell/trade websites. It's not unusual to find a set of bathroom cabinets or a box of hardware listed for a fraction of the cost to buy new.
If you're looking for specific building materials, ask your contractor exactly what he needs. Then, shop around for the best price and order it yourself. You'll avoid paying the contractor to shop, along with any additional costs he may add to the product.
6. Pick up Your Supplies
You can save a small fortune by picking everything up, rather than having them delivered. Unless you can negotiate free delivery, you're going to save money by lugging everything home yourself. Most of the big box stores rent trucks by the hour, which will be much less expensive then paying the store to deliver your items.
7. Don't Move Plumbing
Moving a sink from one side of the room to another or relocating the bathtub can add thousands of dollars to your project. If possible, preserve the original footprint of the room and avoid having to re-pipe the whole thing.
8. Plan for Standard Sizes
If you're replacing doors and windows, use stock or standard sizes whenever possible. You're going to save money if you can simply pop in a new door, rather than have to cut it down or order one custom built.
9. DIY 
The more you can do yourself, the more money you'll save. It really depends on your experience. Painting is relatively easy to do, even if you've never repainted a room before. Wiring and plumbing, however, require a specific skill set and in many cases, a professional license. 
For basic projects, you can find a ton of information and how-to videos on line. If you've never replaced a bathroom faucet, you can watch a video that will walk you through it step-by-step.
We even have some great tutorials on our blog. Here's one that'll walk you through concrete stamping, if you're looking to spruce up the outside of your home. 
10. Sell What You're Getting Rid Of
If you're replacing light fixtures or cabinets, don't toss them. Take a few pictures and try to sell them on sites like OfferUp or even Facebook Marketplace. You won't get full value for them, but you might make enough money to pay for upgraded faucets for your newly remodeled bathroom.
If you don't want the hassle of selling, donate your old items. Habitat's ReStores accept donations of materials that are still in working order. You'll even get a tax deduction for donating to a nonprofit.
11. Do the Prep Work Yourself
The biggest cost in a home remodel is often labor, so why not save some money and do a lot of the prep work yourself? If you're having your living room repainted, you can prep the walls yourself.
Wipe them down with a lint-free cloth and fill in any nail holes or scratches with a little spackling putty. Then, sand the area where you filled in the holes and wipe it down again to remove the dust. It may take several hours to prep the walls, so you could save hundreds of dollars doing it yourself. 
12. Improve Your Lighting Without Adding Windows
Before you start knocking holes in the walls to let in the light, play around with light fixtures. By adding a few ceiling lights or floor lamps, you can save hundreds of dollars. Even if you need to pay someone to wire your ceiling, it's still cheaper than having new windows installed.
13. One of Our Best Home Renovation Tips – Focus on Cosmetic Upgrades
If you're working with a limited budget, you might not have the money for a full renovation. There are plenty of ways to update your space without remodeling it.
Inexpensive lamps can brighten up a bedroom, along with some new curtains and pillows for the bed. While you're at it, go ahead and replace your bedding. Shop the sales for inexpensive sheets and comforters. Don't worry if you're not sure how to buy a mattress or get it home. Most places will deliver the new one and take your old away.
Wrapping It Up
We've got some other great home renovation tips on our blog, including a few ways to spruce up the inside of your home using design tips from the experts!
Anything to Add? Leave a Comment!