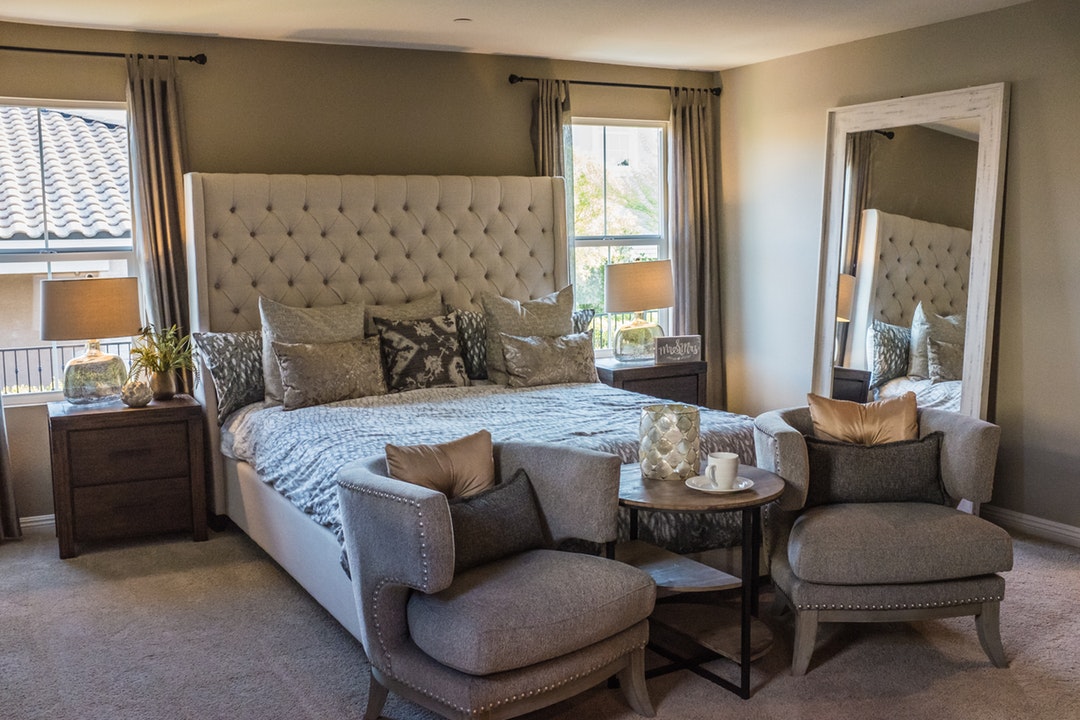 It's the one room of our home most of wish we could spend more time in: the bedroom. After all, it's where we sleep, dress, and ahem…get romantic. But quite often the bedroom gets regulated to the back burner when we start refreshing the look of our home.
If your bedroom is in need of a makeover, you may be tempted to start with buying all new furniture. But that move isn't always affordable; a full set of bedroom furniture can set you back anywhere between $3,000 and $10,000.
Fortunately, it is possible to get a bedroom makeover on a budget by making some simple changes and knowing how to score a bargain. Here are some tips on how you can get the bedroom of your dreams on a budget!
First, Clear the Clutter
You can't effectively redecorate any room without removing all unwanted items and clutter first. Clearing this away will help you see the space more effectively. Now is a good time to sort items to be donated, recycled, or thrown away.
While you're cleaning the bedroom, you may want to think about making it a sacred and relaxing space. Many people avoid putting a television set in their bedroom for this reason. Removing the TV or any kind of entertainment center will also free up more space for you to work with.
Get to Painting
One of the quickest and most affordable changes you can make to your bedroom is to give it a fresh paint job. Darker colors will make a room seem smaller while lighter shades will open it up and reflect natural daylight better.
So if you've been sleeping in a bedroom with dark colored walls, painting it a lighter shade can work wonders. Neutral tones such as cream and light grey will allow for greater versatility when choosing window treatments and bedding.
Be sure to clean the walls first and remove any traces of cobwebs, dust, and dirt before beginning the paint job.
Another option is to cover just one wall with textured neutral colored wallpaper. Today's wallpaper designs come in convenient stick-on sheets that eliminate the hassle of having to moisturize them before applying. These textured styles lend themselves naturally to modern bedroom design.
Shop at Affordable Home Stores
There are so many stores dedicated to affordable homewares and furniture that there's really no excuse not to check them out. Home Goods, Marshall's, and World Market are just a few places where you can find furniture and home decor for affordable prices.
Don't forget online home shopping giant Wayfair, which has every furniture style you can think of for less money. If your bedroom is on the smaller side, seek out multi-functional furniture that does double-duty as sneaky storage spaces.
Update Your Bedding
Something as simple as buying new bedding can refresh your bedroom's look. There are so many colors, patterns, textures, and styles in bedding now that it's easy to find something that not only feels comfy to sleep in, but modernizes your sleeping space.
Purchase a complimentary accent pillow or two and a warm throw blanket and your bed will look and feel as good as new.
Add Personal DIY Touches
There's a lot of simple do-it-yourself projects that you can incorporate into the bedroom for little money.
Don't have a headboard for your bed? Attach a simple shelf the same width as your bed a few feet above it and use it to display framed photos, a floral display, or other decorative touches.
If you're tired of the hardware on your dresser and nightstand, you can easily swap them out for knobs and pulls that are more your style. You can also lean a ladder against the wall next to your bed and use that to hang blankets and clothing on.
You can also devote a corner of your bedroom to your favorite hobby. If you're an avid reader or knitter, consider making a cozy nook in one corner of the bedroom. Include a comfortable chair, blanket, small table, lamp, and a bookshelf to store your favorite reads or storage for your yarn.
Part of your bedroom can also serve as a mini office or inspiration space if you spend a lot of time on your computer. Set up a small desk and chair and consider hanging a board over the area where you can pin ideas or appointments you need to remember.
Don't Discount Walmart and Target
Many national big box stores such as Walmart and Target have upped their furniture game in recent years. You may be surprised by the selection, styles, and yes-quality-of the furniture pieces these two retailers now offer.
Walmart in particular has a partnership with Better Homes and Gardens, the iconic home decor magazine. The store sells a line of BH&G furniture that includes mid-century modern pieces that look like they're straight out of Mad Men. Even if that's not your style, you're sure to find one you love on the website or in stores.
Did we mention that these pieces are affordable? This BH&G Flynn mid-century modern nightstand retails for only $169.00, a fraction of what a similar looking designer piece would sell for. It contains mahogany and weighs in at a solid 42 pounds.
These stores are also great resources for affordable bedroom accessories including bedding, pillows, artwork, throws, and more. Definitely consider them if you have enough in your makeover budget for new bedroom furniture.
Are You Excited For Your Bedroom Makeover?
These ideas just scratch the surface of the endless possibilities you can explore for a budget bedroom makeover. We hope they have inspired you to start making a few changes!
Have you enjoyed reading this post and learning about these tips? Here at Thrifty Momma Ramblings we're all about teaching others how to be stylish and enjoy life on a budget. Be sure to visit our other frugal living posts for more home decorating tips!
Anything to Add? Leave a Comment!