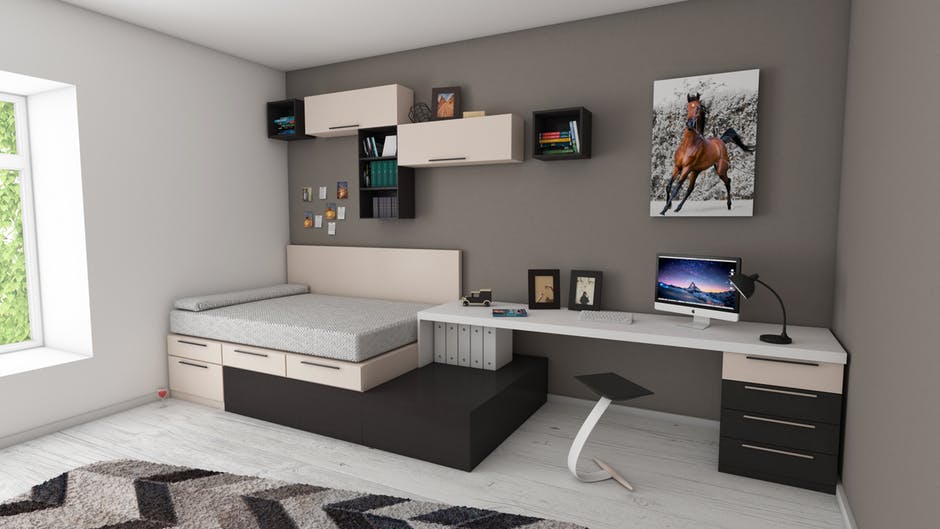 Trying to find furniture that you can squeeze into your small apartment is definitely frustrating. But just because you have a tiny living space doesn't mean that you have to cut back on furniture.
More people are choosing to make the most out of their space with multi-functional furniture.
Why not use furniture that serves multiple purposes and helps you conserve space in your room? We're giving you a list of some of the most helpful multi-functional furniture that you should consider purchasing for your small room or apartment.
1. Workstation and Bed Combo
You have a bed, but maybe you don't have enough room for a full-sized desk. With a loft bed, you won't have that problem.
Loft beds are raised above the ground, leaving more than enough room for a desk. Although you'll have to climb up a ladder to get to your bed, you'll soon find out that being able to have a place to work and sleep all-in-one is totally worth it.
2. Moveable Kitchen Island
You probably never thought that you could add an island to your kitchen without making it cramped and spending a lot of money. The truth is, you don't need to spend a lot of money to make trendy home improvements.
A kitchen trolley can be the perfect fix if you're looking for an inexpensive way to add extra table room and storage to your kitchen. The best part is that when you're all done having your morning breakfast on the island, you can simply wheel it out of your way.
3. Ironing Board with a Mirror
Let's face it, who has enough room for both an ironing board and a mirror? If you don't want two pieces of large furniture in your room, then having a mirror on the back of your ironing board could be your solution.
Iron your clothes on the board, then flip it up to reveal a mirror. Now you can see what a great job you did ironing your new dress.
4. Corner Sofa Bed
Don't make your guest bring their sleeping bag the next time they stay over. Instead, let them have a relaxing night's sleep on your corner bed sofa. Sit and enjoy a movie or take a comfortable nap on your sofa.
Top Sofas offer a variety of sofas perfect for small apartment living. To find your next corner sofa bed, visit the site.
5. Armrest Trays
You enjoy having your daily cup of Joe, but you don't have enough room for an end table or a coffee table to rest your mug on. If you're into minimalism, you'll probably be impressed by armrest trays.
Armrest trays are pretty self-explanatory. They hug your chair's armrest and form a flat surface that you can use to place your drink on. Some even come with a phone holder for maximum convenience.
6. Adjustable Chair
When you're living on a budget, buying new chairs for your growing child is not ideal. Luckily, with a height adjustable chair, you'll only ever need one chair for your child.
Use an adjustable chair with your toddler until they reach adulthood. Quickly adjust the chair from a highchair to a regular seat to accommodate whoever is sitting down.
7. Nesting Tables
If you're looking for convenient space-saving furniture, nesting tables are a great choice. A set of nesting tables consist of smaller tables that fit underneath a larger one.
When you're having guests over in the morning, simply take out the smaller tables so every guest has a table to hold their coffee. As soon as breakfast is over, put the smaller tables back under larger ones so you can save space.
8. Ottoman Storage
Everyone loves an ottoman – you can sit on it, put your feet up, and you can even use it as an end table. But what if you could use it as a storage unit too?
Ottomans that double as a crate are becoming a popular piece of multi-purpose furniture. Fit blankets, toys, electronics, and more all inside of your ottoman.
The next time you have friends over, they'll never know that you stuffed all of your clutter inside of the classy ottoman that they're resting their feet on.
9. 2-in-1 Toilet
Small apartment living usually means a bathroom with very tight space, making it difficult to fit an entire sink and toilet in the same room. Go minimalist with a toilet that doubles as a sink.
A 2-in-1 toilet comes with a sink on top of the tank. When you flush the toilet, the sink activates. Not only does it save space, but it can also save you water.
If you already have an existing toilet, you'll just need to buy a sink topper to fit on top of your tank. You can even try building your own toilet topper as well.
10. Bed Desk
Whether you work from home or want to have a cozy breakfast in bed, a desk for your bed can make your day much more comfortable. Plus, it even comes with wheels. When you're ready to turn in for the night, you can effortlessly push the desk away.
11. Hidden Litter Box
Litterboxes take up a lot of room in your apartment that you can't afford to spare. A litterbox disguised as a table can keep your cat happy while adding a stylish look to your room.
The bottom half of the table is designed to look like a cabinet. However, unlike a typical cabinet, it has a hole leading to a litterbox that your cat can easily step in and out of. The top half looks like a typical nightstand that you can place a decorative lamp or a vase on.
12. Shoe Storage Bench
If you love collecting shoes, you probably don't have enough room in your closet. With a shoe storage bench, you can store your shoes out in the open without making your space look cluttered.
Plus, it's super convenient to use the bench as a seat while you put your shoes on.
13. Bed with Storage Underneath the Mattress
We've all heard of trundle beds that have drawers under the bed. But have you ever seen a bed with storage underneath the mattress?
All you have to do is lift up the mattress to access a hidden storage space. Better yet, the storage area is big enough to fit extra blankets, sheets and more.
14. Extendable Coffee Table
Typical coffee tables are too short to comfortably use your laptop on. However, multi-functional coffee tables can quickly swap between holding your drinks and holding your work.
When you're ready to work, lift up the top of your coffee table to extend it to a comfortable height. Some of these tables even reveal a space underneath the lifted top for extra storage.
15. Stackable Chairs
Dining room chairs can definitely get in your way if you're living in a small apartment.
In order to avoid tripping over bulky chairs, try buying stackable chairs instead. Unstack the chairs when you need them, and store them away when dinner's over.
Save Money and Space with Multi-Functional Furniture
Full-sized, regular furniture is overrated. Making your room more spacious with less-expensive, multi-functional furniture is the new trend. Impress your guests by adding clever pieces of multitasking furniture into your living space.
If you're looking for more ways you can live on a budget, take a look at our thrifty lifestyle blog.
Anything to Add? Leave a Comment!