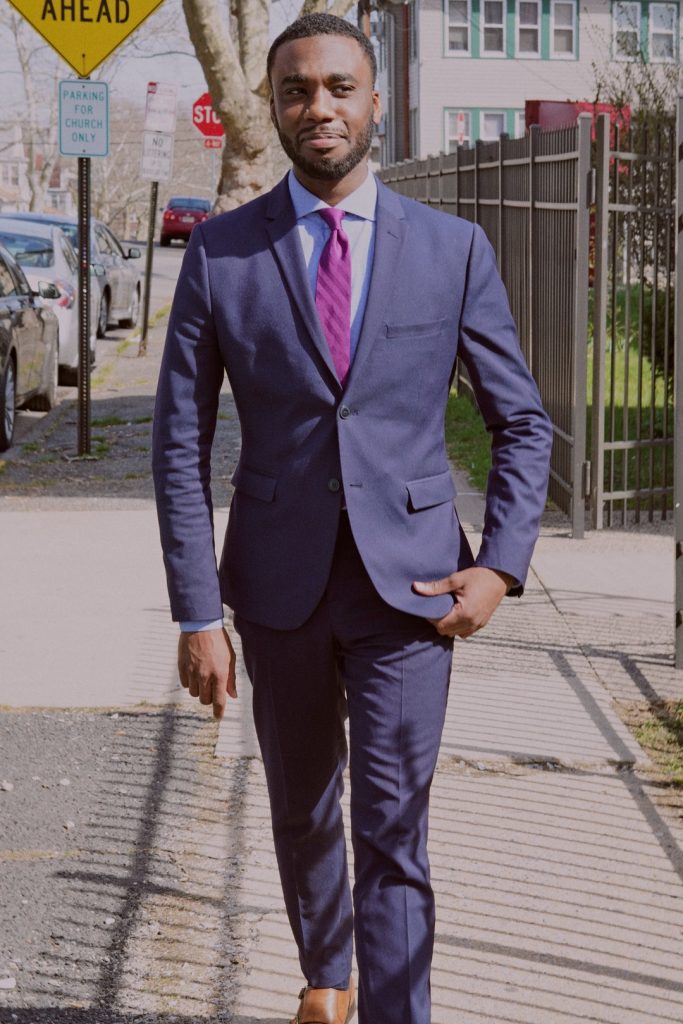 There are thousands of articles for finding women's clothing on a budget. What happens when it's your man's turn? Is there a way to buy the best men's suits on a budget?
Men's fashion is often less expensive than women's fashion. That's because women's fashion changes almost every season, and men's stays the same.
The best men's suits, though, are the great exception. Most full suit set prices range from $60-$2,000. While price is not always a guarantee of quality, suits are a "get what you pay for" item.
They may be more expensive, but that doesn't mean you can't find a suit on a budget. You have to apply the same thrifty tricks from women's fashion to men's suits.
If you're patient and you have a plan, you can find the best men's suits on a budget.
How to Find the Best Men's Suits Without Breaking the Bank
Most of these tips work to find men's suits for work or for special occasions. No matter why you're buying the suit, keep in mind that some of that money needs to go to tailoring. A good tailor can make a $60 suit look like a million bucks.
Set a Budget
What's the first step to finding anything on a budget? You need to set a budget in the first place!
This is especially important if you're looking for a special occasion tux or suit. You don't want to get overwhelmed by the choices and spend money you don't have.
Set your budget before you even walk in the store, and you'll save yourself some pain later.
Don't Wait for a Suit Emergency
Have you ever received an invitation to a wedding and found out at the last second that you need a suit? Wouldn't it be nice to already have one in the back of your closet?
Men's suits are expensive, and you end up spending the most on them when it's a last-second purchase.
You can avoid this by keeping an eye out for the best men's suits now. Put some money away and watch the sales. That way you can get them for the price you want rather than the price they offer.
Know What You Need Before You Buy Them
Making a grocery list is great for helping you remember things, but it also keeps you on budget. The same goes for men's suits.
Even if your man is a t-shirt and jeans guy, he'll need 1-3 suits over the course of his life. Before you go shopping, find out if he needs
A black suit.
A grey suit.
A navy blue suit.
You can find different seasonal ties and shoes later. Those are the three kinds of suits that will help him on any occasion.
Shop in the Season
Everything in fashion has a "season," and that includes men's suits. If you know you have a formal event coming up after prom and the winter holidays are a good time to look.
Don't Forget the Department Stores
We know department stores can be expensive.
You know what they also have? Store-wide sales and coupons.
They also have great deals on formal wear and suits. Go in during the off seasons, try on some suits, and see what works best. Then sign up for their promotional e-mails or scan the newspaper for upcoming sales. That way you won't have to miss the opportunity for a great deal.
Buy Instead of Rent
It might seem silly to buy a suit when renting is so much easier. But renting is actually expensive, especially if you're doing it for a special event. This might be a good idea if you have to wear a tux, but a suit? Forget it.
Plus if you buy a suit instead of renting, you have that suit for the rest of your life. You can mix it with other ties and accessories to make it appropriate for any event.
Stores like LS Mens Clothing offer great suits at discount, as well as custom-made suits. Do yourself a favor and buy something instead of renting an ill-fitting suit for your big event.
Shop Second Hand
Finding a second-hand suit might sound like a gamble, but it's really not. Suits and formal jackets aren't the kinds of things you wear all the time. By the time they make it to the second-hand store, there's a low risk of wear and tear.
There are a few things to look out for at the second-hand store. Make sure the suit isn't outdated. If it looks weird to you, or something is off, then don't get it.
If there's a tear or stain, you can still consider it. Tears are easy to fix, and you can DIY it or send it to a professional. Stains might be more difficult, but try taking it to a dry cleaner for help.
You can find some of the best men's suits at the second-hand store, but you have to be picky.
Look Online for a Suit
Again, online shopping is a hit or miss. The best way to shop online is to try some suits on in the store. That way you have a better idea of what to shop for online.
Continue your experiments with second-hand suits by searching on eBay. People who sell things on eBay are typically trying to clean out their closets. That means the suits they offer aren't defective, they're just unwanted.
Search for name brand suits online, and see what's out there. You might be able to find a great deal on the best men's suits in the business.
Buy Your Accessories Elsewhere
Instead of buying the full suit set, look for shirts and accessories in less expensive stores.
It's easy to find sales on button down shirts, and you can iron them yourself. You'll also be able to find better shoe sales and accessories online or in specialty stores.
Borrow a Suit
If all else fails, borrow someone else's suit. This might be your best option if your husband is not a suit wearer, and you need something soon.
Ask your friends and family if they have a suit they can lend to you. You'll have the suit for the event, and you won't have spent any unnecessary cash.
Want More Thrifty Ideas?
If you're looking for more thrifty tips on shopping, then stop by our fashion and beauty section. We have lots of tips about beauty, special occasions, and finding the best men's suits for your loved ones.
Have more ideas? Let us know in the comments below!
Anything to Add? Leave a Comment!