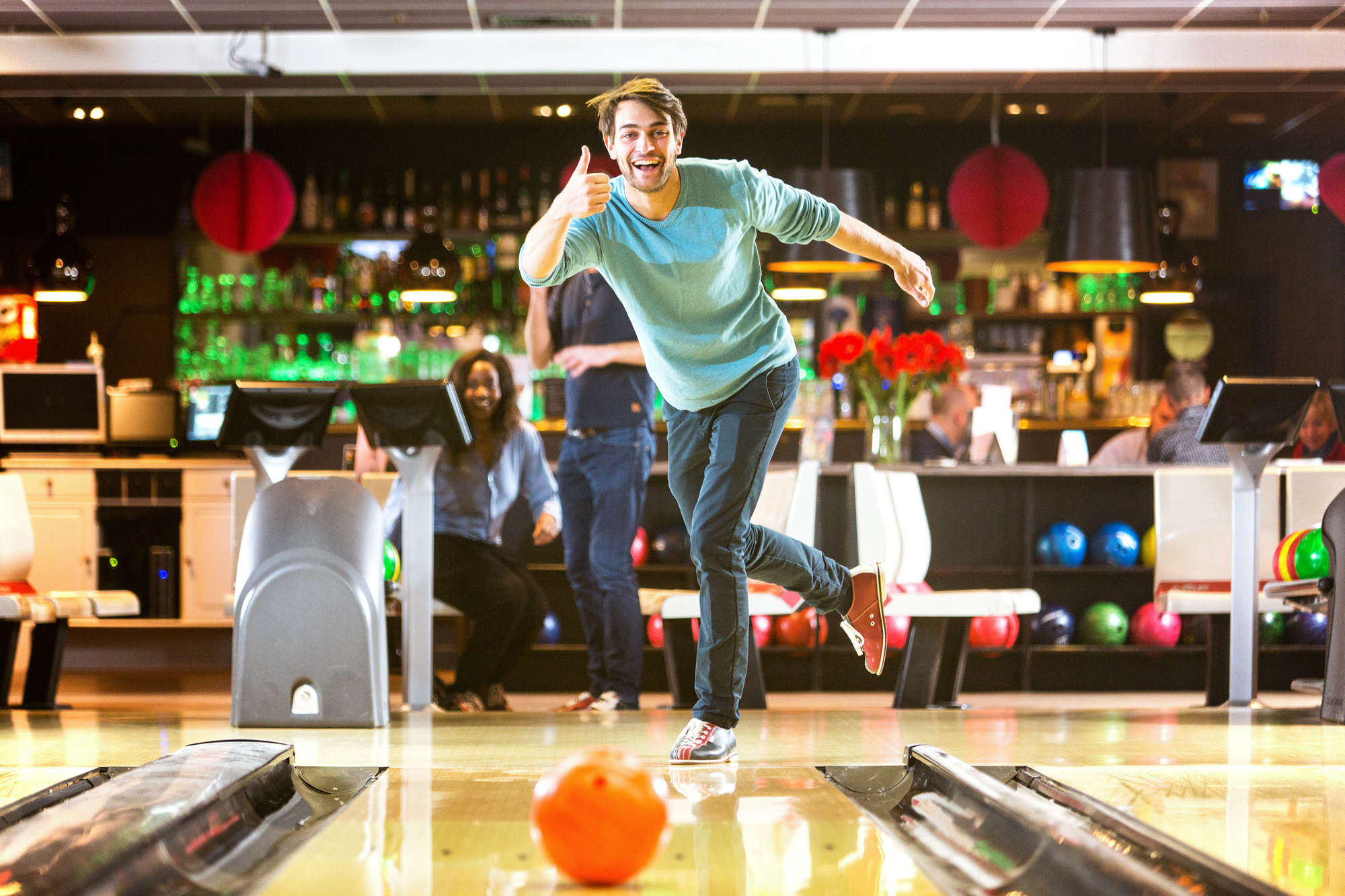 If bowling's your thing, why not throw yourself a bowling birthday party?
It was great fun when you were a kid. It can be even more fun as an adult!
And don't think it has to cost a lot of money. It's not uncommon for bowling party invitations to include a flat contribution to offset the cost of renting the lanes.
Will that reduce the fun? No. Like any party, it's people having fun that makes it or breaks it.
With a bowling party, the key is to help party-goers know what to expect and feel comfortable. Especially anyone who hasn't bowled in a while. Or ever.
All you need is a theme. The rest will fall into place. From the paper or electronic invitation, food served, recommended style of dress, and decorations, you'll have an easy plan for throwing a memorable party.
To get you rolling, here are a few bowling birthday party ideas and tips.
Retro
What's your favorite bowling era?
Is it the 1940s and 50s, which many people consider the golden age of bowling?
If so, asks guests to dress in poodle skirts and sweater sets (for the gals) or casual trousers and button-down shirts (for the guys). Serve burgers, soda in bottles, and traditional french fries. Offer yo-yos or hula hoops as prizes for a top score or player most likely to improve.
If the 70s are more your scene, break out the disco ball!
Encourage guests to wear their best spandex and platform shoes. See your favorite venue has a neon or psychedelic night, which would be perfect for your 70s bowling birthday party. Have prizes of pet rocks and macrame plant hangers.
Or maybe The Big Lebowski is more your style.
In that case, send invitations that incorporate The Dude. Ask everyone to wear their best (or rattiest) bathrobes. Make sure that canned tuna is the menu and beverage options include white Russians.
Milestone Birthdays
Will your bowling party be a celebration of a milestone like sweet 16 or the big 5-0? There are lots of ways to underscore the milestone.
If you're throwing the party for someone else, give the guest of honor a bowling shirt with their age incorporated in name embroidered on the front.
Offer a prize to the first player to get the exact score that represents the age being celebrated.
Friendly Competition
An appealing aspect of bowling is that it can be a relaxed, friendly game or be fierce and competitive. A successful birthday bowling party strikes a balance between the two.
To keep things light and party-like, design the teams like you would seat people for a dinner party. Place couples or BFFs on different teams. Mix high-scorers with novices. If you have some intense players, don't put them all one team.
Give prizes at the end of each game instead of a "best of" series.
Most people's interest and energy wane after three games. Keep things lively by rearranging the teams after each game.
Don't play elimination style. The point of a bowling birthday party is to bowl, not sit on the sidelines watching other people bowl. Nothing can make the party fall apart faster than dividing guests into camps of active and inactive participants.
At several points during play, remind people that it's a friendly game. You know which of your guests is competitive. Do what you can, as host, to not let their intensity spoil the fun for others.
Special Rules
One way to take a birthday bowling party up a notch is to implement unusual rules. You can apply them to the whole game or specific frames. It's a great way to break the ice and level the playing field if guests have different skill levels.
For the best outcome, keep special rules simple to understand and follow. A few suggestions are:
Odd frames are played right-handed while even frames are played left-handed
Players must dance, never walk, toward the foul line
Players predict which pins they'll knock down before they throw the ball
Sitting at the foul line and pushing the ball down the lane (This one might work best toward the end of the party!)
Give them a try.
Make It Easy
You might be a bowling enthusiast with frequent shopper status with equipment retailers like BowlingShoes. But some of the people who want to go to your bowling birthday party might not be so familiar with the game.
Make it easy for newbies or the less confident among your guests to enjoy the game. Offer links to the United States Bowling Congress (USBC) page with video tutorials. Remind them to wear comfortable clothes and wear or bring socks to wear with rented bowling shoes.
At the start of the party, outline if you'll be using any unique rules for the game. And offer all kinds of prizes to encourage skilled and novice players alike.
Give people time to find the right ball in terms of weight. Help newbies understand how their choice could affect speed and control, not to mention hand and arm muscles they probably didn't know they had!
The Bowling Birthday Party Invitation
Invitations do more than tell people when and where the party is. They also set expectations.
With bowling parties, there are aspects that differ from your ordinary kind of party.
For example, make it clear on the invitation that guests don't have to be expert bowlers to attend. Keep the tone light to reinforce that it's about having fun, not perfecting one's game.
There's an additional way to reinforce the expectation that everyone is welcome. Ask people to state their bowling comfort level when RSVPing 'yes'. Keep it fun and simple with three choices such as Total Beginner, Know My Way Around the Lane, Bowling Is My Life's Purpose.
If you need contributions to make renting the venue affordable, say so in the invitation. Give people three options such as $10, $20, $30 per person to not exclude anyone.
Also, tell people how to get the money to you. Electronic transfers and cash at the event are the two most common ways.
At the Party
A final tip about bowling parties is to focus more on the people than the game. Mingling and chatting between frames doesn't cost anything extra. Yet, it boosts the value of the experience for everyone.
Now that you know how to throw a great bowling party, there only one thing left to. Get ready to have fun!
For other frugal living ideas, check out more blog posts!
Anything to Add? Leave a Comment!