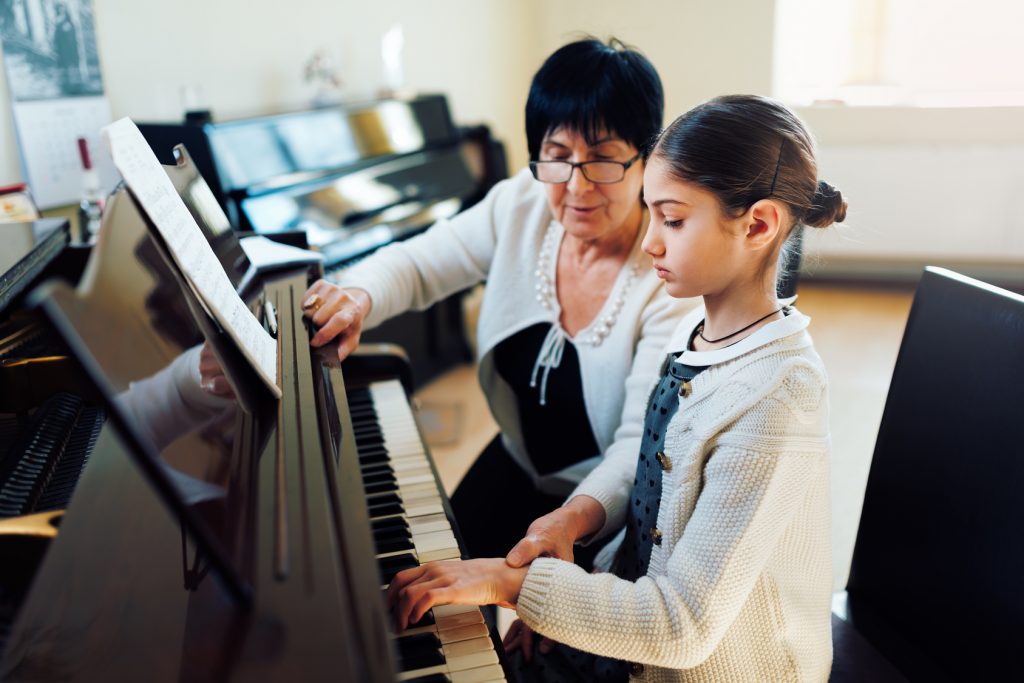 Teaching piano form home isn't as hard as you may think. Even if you're not an accomplished musician, you can easily line up a few students to start teaching. Plus, you get to work in the comfort of your own home.
This earns you a nice income of about $35.49 an hour.
You get to flaunt your skills while helping others and earning cash. What could be better than that?
And it's easier than you think. Teaching piano from home requires little effort but comes with big rewards.
Ready to start making money? Here we go!
What You Need to Start Teaching Piano From Home
There isn't much required to get started. If you're a stay-at-home mom, this is a great way to work from home. Here's what is needed.
Experience
This one is obvious but you don't need to be classically trained to teach. If you start out by teaching little kids, there isn't much experience needed.
You need to know how to read music and learn the basics. This can be easily researched on the internet.
A Piano
Another obvious one but sometimes people think keyboards will suffice. They don't.
You need to teach your students how to get a feel for an actual piano. This will also allow them to start gaining strength in their fingers.
Training Books
These are good to keep on hand for both you and the students. You can lend it to them to study overnight so they'll be prepared for the next day.
A Quiet Space
Your students will want a quiet place to practice. You don't need a fancy studio as a guest room or a clean garage will work.
Chatalbash piano teachers created their own home studios to get the job done. This proves you don't need to rent out a tiny apartment or music studio to get started.
Create a Business Plan
While you are teaching piano from home, it's still good to write up a business plan. This will help you keep on track with your goals.
You'll want to include your business concept. Are you set on teaching children or do you want college students?
What about your competition? You'll need to know how many others are teaching piano as well. You're not only competing against other at-home teachers but institutions too.
Set Up Payment Terms
You want to get paid for your hard work, right? The first mistake work-from-home people make is that they're too flexible with getting paid.
You need to set strict payment guidelines to ensure you're getting what you're worth. You can have students pay for a group of lessons or on a weekly or monthly basis.
Don't worry so much about pleasing the students with your pricing. If they want the best, they'll pay for it.
Promote Your Business
You can't get students by sitting at home hoping someone will come knocking on your door. Take your business to the streets by handing out flyers or putting an ad on social media.
Once you have a few students, don't forget to book more lessons for them. That loyalty is what you'll need to stay afloat. Don't think of it as pressuring them; if they loved your teaching style, they'll be more than happy to sign up again.
Wrapping Up
Teaching piano is a great and rewarding experience. And making a little cash on the side doesn't hurt either.
You don't need expensive equipment or years of knowledge. All it takes is willpower and ambition.
Looking for more ways to earn money while working from home? Check out our most recent blog posts!
Anything to Add? Leave a Comment!