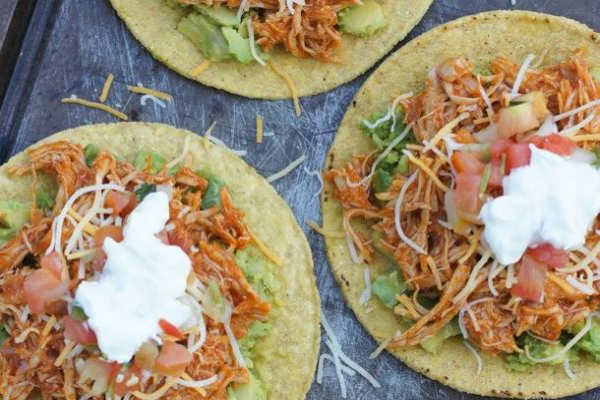 Chipotle Chicken Tostadas Recipe!
In the mood for a fast recipe that you can make your kiddos for lunch or dinner? If so, check out this Chipotle Chicken Tostadas recipe! Not only is this recipe fast to make, but delicious as well. If you have any trouble locating these ingredients, be sure to check your local store's ethnic food aisle. This recipe has been a staple in our monthly meal's list, so try this dish for yourself as well. You'll need:
1 pound, boneless skinless, chicken breast
1 small red onion, cut in half
1 garlic clove
1 tablespoon homemade sofrito
2 teaspoons salt
2 chipotle peppers in adobo
1 small tomato, cut in half
2 tablespoons canola oil
1 small red onion, chopped
1 garlic clove, minced
1 small tomato, chopped
4 store bought tostadas (fried tortillas)
1 avocado
½ cup shredded cheese
4 tablespoons pico de gallo
4 teaspoons sour cream
1 pickled jalapeño pepper, chopped (optional)
For more directions on making these tostadas, be sure to visit the Smart Little Cookie Webpage for more details. Let us know what you thought of this recipe in the comment section below.
Anything to Add? Leave a Comment!