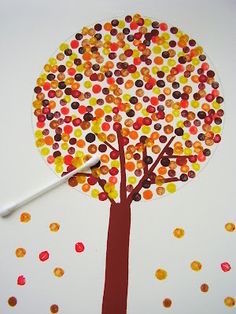 Are you ready to start decorating for fall? Maybe you have already! This is a good one to get the kids to do! Everyone loves to paint and there is little talent needed for this one! I can't paint at ALL, but I can do this!! The materials like and directions are below!
Materials:
*Card Stock (preferably white)
*Acrylic Paint (pick fall colors like: orange, red, brown, yellow, greens)
*Q-tips
*Brown Construction Paper
*Glue
Directions:
1. First it would be a good idea to go ahead and cut out some tree trunks from the brown construction paper and glue to white card stock.
2. Put a little bit of each color of paint on a plate for your palate.
3. Begin dipping the tip on the Q-tip in the paint and make dots on and around the tree!
4. Keep doing this with all the colors until you feel your tree is complete.
5. Let dry and hang up!
This DIY is very simple and let you be as creative as you want to be! We would love to hear what you thought about this DIY and see all the fun creations you made! For more crafts, please check us out here!
Anything to Add? Leave a Comment!